[bet] [sexual-bet] A Bet is a Bet
Mandy and I have been married for about four years now. She is still as stunning as the day we got together. She is about 5 foot 5 and maybe 115 pounds. She has an absolutely great set on perky low C cup tits. When we met, she was a dirty blond, but recently has changed her hair up to a deep brunette with thin purple streaks on the sides. She was incredibly hot before, but her new hair suites her amazingly. We used to have quite a regular party/sex life but have since moved away from our friends due to professional reasons.
A few weeks back we took a short vacation to spend a little time back where we grew up. While we were there, my high school buddy Nick called and invited us over to hang out with old friends, and hopefully watch the Bears beat the crap out of the Vikings. We've had several adventures with Nick in the past, but haven't in a couple of years. Since Mandy and I moved Nick had met a new girl and gotten married. We did not believe she was as open as us, so we were not expecting to re-live any old times.
It was a Monday Night game, so we showed up to do some pregame drinking around 6:00. Nick showed us to the basement where we would watch the game. Nick's basement is fully finished with a 50-inch HD TV. He also has a game room where he has a pool table, foosball table, golden tee, dart board, and full bar. His place is pretty much set up parties. Mandy and I were the last to show up. Looking around, I saw most of the gang we grew up partying with. Dave and Meat were on the couch watching the pregame show, Jen, Tosha, and Laura were all at the foosball table. I didn't see Nick's wife anywhere. I asked him where she was, and he told me she had driven over to Ohio to spend the week with her pregnant sister. Mandy joined the girls in the game room, while Nick and I joined the guys at the TV.
After a bit, we noticed the girls were getting loud in the other room so we got up to get a drink from the bar and see what was going on. We walked into the game room just in time to see Jen score the last point in foosball. Tosha told me to pour Mandy and Laura a shot since they lost. After she downed her shot, Mandy demanded a rematch.
– This time, you take a shot for every point scored against you! – she said. Tosha and Jen took the challenge.
This was better than watching the pregame show, so we decided to hang at the bar and watch the girls get each other drunk. The game was back in forth, point for point, the whole way through. Laura knocked in the game winning shot, and her and Mandy high fived.
– You went down bitch, just like your pre-Maddona Viking will! – Mandy said to Jen. Jen is huge Vikings fan.
– I'll bet the Viking are up by at least 10 by half time! – was her come back.
– If there not, you have to take off that ridiculous Favre jersey and wear a Bears jersey instead. – Mandy replied.
Jen took the bet. We all sat down to watch the game. As luck would have it, Jen was teased with a quick Vikings TD to start the game, but it all went downhill from there. Favre was knocked out of the game to start the 2nd quarter and the Bears led by 10 at the half. Jen kept her end of the bet and put on a little Hester Jersey that belonged to Nick's wife. Everyone was riding her really hard about how her team was doing. She let her frustration get the better of her and made another bet. She bet that by the third quarter, the Vikes will at least have tied the game.
– Your on – Mandy said – but if not, that Hester Jersey is the only thing you were the rest of the night. – The Bears were up 37-14 at the end of the third quarter. We were gonna let the bet slide, but Jen said no, "a bets a bet," and took everything off except that Hester Jersey. She even removed her bra from under the jersey. She finished the game with her little triangle shaved pussy out there for everyone to see. It was at this point I suspected this may turn into another interesting night.
The combination of the Bears kicking the crap out of the Vikes, and a lot of alcohol had everyone feeling good. We all went back to the game room for more drinks, and to play some games. Mandy and Laura were trash talking Jen pretty good about the Viking's loss when she challenged them to another game of foosball. Nick said:
– Let's make this interesting, you lose a piece of clothing for every point the other team scores. – The girls all agreed and the game was on. Tosha and Jen scored three quick goals and quickly had Mandy and Laura down to their bra and thongs. Mandy was wearing a white shear bra with a matching string thong. You could easily see that she had nothing but a tiny bit of hair just above her clit through the sheer triangle of her thong.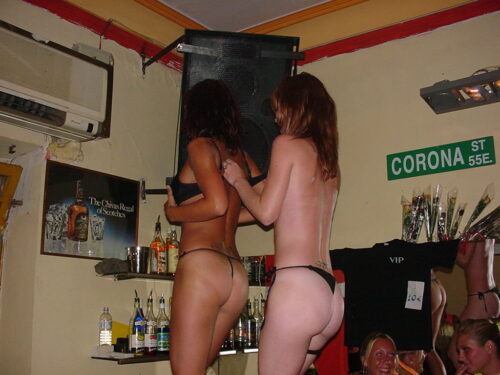 Laura has a good body, maybe not as hard as Mandy's but she had a nice large set of D cup tits. She has long blond, wavy hair that rests just above her cleavage. She was wearing a black and red bra and thong set that pushed her cleavage up. Jen was getting a little cocky about their scoring streak so Mandy quieted her a bit by pointing out that one goal would have her completely nude. Sure enough, Mandy and Laura scored the next five points and had both Tosha (who is a petite 5 foot 1 inch red head with little perky A/B cup breasts and a completely bald pussy), and Jen completely naked. Jen is the tallest of the girls at 5 foot 8, and is the only one with a bought pair of tits. I've never been a fan of silicone myself, but I will admit her fake D cups were done well so they fit her body well and make a nice tear drop shape. Jen wears a manicured bush above her fully shaved pussy lips.
Jen and Tosha took two of the next three points leaving all four standing in their glorious nudity going into the last point. After a little back and forth between the girls, Mandy said:
– Lets up the ante. – Jen agreed, and asked what she had in mind. Before either could answer, I made a play:
– How about the losers have to service all the guys at the party?
– Fuck it, why not… no way they beat us. – Mandy challenged. After a bit Jen agreed:
– Your on… no way I loose than many bets in one night.
Tosha wasn't up for that big of a wager, so her and Laura opted to sit out the last point and have Mandy and Jen go head to head. After a couple of near misses by Mandy, Jen knocked one toward Mandy that she blocked. Mandy's next shot rebounded off her own man and went into her own goal.
– FUCK, are you kidding me! – she yelled.
– A bets a bet – Jen grinned – looks like you have four horny cocks you better start servicing.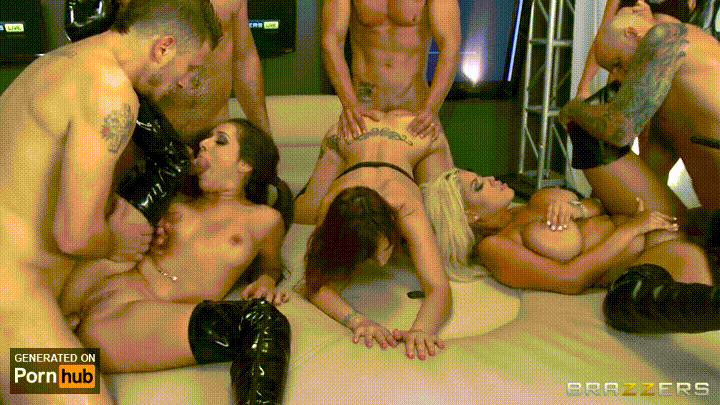 Before Mandy had even turned around from the foosball table, Nick was behind her with his crank pressed on her ass crack and messaging her perfect breasts.
– Damn, Nick, you are horny aren't you? – Mandy said as she knelt down and swallowed his already swollen cock. As she bobbed her head on Nick's cock, Dave and I took up position on either side of her. She spit on her hands and started stroking our rods as she went back to deep throating Nick.
– Looks like you've been left out – Laura said to Meat. – I'll take care of you – she said and knelt down and started working Meat's enormous 10 plus inch black rod into her mouth.
Tosha and Jen slid upstairs while we took turns throat fucking Mandy and Laura. Mandy has always had a special talent for sucking dick. Anyone whose dicks she's sucked swears it's the beast head they've ever had. That being said, she was in rare form that night, giving some of the best head she's ever given. Mandy was now taking turns being throat fucked by Meat and me. She was gagging with every one of our thrusts, and it formed a thick mess of saliva that coated her chin and ran down her chest. As the flow of saliva ran between her breasts, she was smearing it over her tits making them glisten with the sticky mess. Laura was taking as much as she could of Nick and Dave. They were both fondling her huge tits while she sucked their cocks.
After about 15 minutes, I lay on the floor and guided Mandy down onto my cock. Her pussy was so wet that I slid right in. We quickly picked up a good rhythm and she started to Suck Meat's black cock while I fucked her. Dave positioned himself behind Mandy and started to work his cock into her ass. Nick lay on the floor and started fucking Laura reverse cowgirl.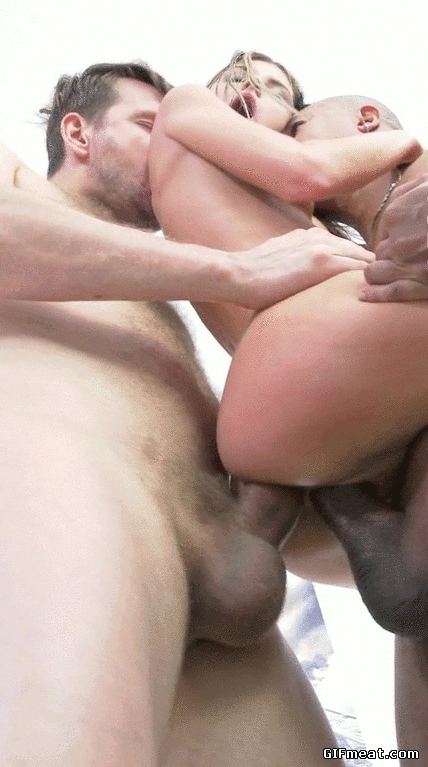 As she was being fucked, Laura leaned forward and took Meat's Prick from Mandy. Nick pulled out and worked himself into her ass. Meat straddled Laura and Forced his enormous prick into Laura's waiting cunt. After a while, Mandy and Laura both got up. Meat lay on the floor and Mandy mounted his prick. As soon as she was onto his cock, I slid my dick into her ass. Dave lay on the floor and Laura mounted him so that Mandy and she were facing each other. Nick then mounted Laura from behind.
As we DP-ed both girls, they made out with each other and fondled each others tits. Nick and I got off the girls and pulled them up on all fours. I penetrated my wife's ass while she sucked off Dave. Meat did the same to Laura while she sucked on Nick's dick. Both girls were having cocks shoved deep down their throats with every thrust from behind. They began to come violently. Laura shuttered and increased the speed that she bobbed onto Nick's Cock. Mandy went very stiff and buried Dave's Cock deeper and deeper down her throat until thick saliva streamed out of her mouth.
Once both girls had finished their orgasm, Meat and I started to DP Mandy. Laura sat on a chair in front of Mandy and guided her mouth to her pussy. Mandy began to lick Laura's clit while working her pussy with two fingers. Dave and Nick stood on either side of Laura so she could suck both their cocks. She grabbed both members and pulled them into her mouth. We fucked in this position for a while, then Dave said we was getting close. The girls got on their knees in the middle of the four of us and began to message each other's tits and clit.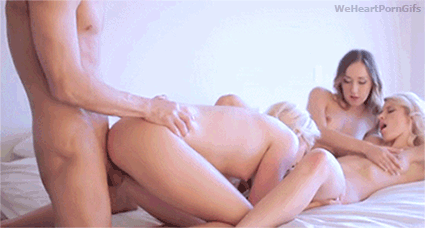 Dave shot a heavy, thick load that hit Laura's mouth and chin as well as got some on Mandy's tits. Meat then let out a series of explosions of jizz that he directed back and forth over both girl's faces. By now both girls had good streams of jizz running down their faces to their tits. Nick and I both exploded at the same time with multiple drenching shots. As our thick mess ran down Mandy and Laura's bodies, the girls worked the jizz into each other's tits and cunt. Afterword Mandy, Laura, and I crashed on the spare bed while Dave and Meat passed out on the floor. Mandy and I are already talking about trying to get a few of the gang to come see us in North Carolina.
You'll also like these stories: