[en] [coworkers] Having Sex at Work
I worked as a par-time employee at a public library, one of only three males other than the custodial staff and the only African-American. I had a regular full-time job which I worked a swing shift and that allowed me to work about 15-20 hours per week on average at the library. I had worked there for some time and since I was an associate instead of a librarian I got to select my hours and come and go as I please, it was a good part-time job.
My section supervisor informed me that she would be interviewing people for a part-time position to assist in the upcoming workload of cataloging and withdrawing books in the archives located on basement levels #1 and #2. It seemed like the interview and hiring process had taken for ever, but finally, after 4 weeks she selected a middle-aged woman that was re-entering the workforce. When I was briefed on who was hired, I learned more about her husband and their social status than her. Her husband; senior vice-president at one of the big industries in the region, country club members, on the mayor's advisory committee, etc…
My first day working with Janette, the new person, there were no surprises; she exuded expensive taste and money. A very-attractive, well dressed 41-year old executive's wife with three kids, and a big house in the rolling-hills district of the city; everything that us common employees didn't have.
After a few weeks, she loosened-up, so to speak. She didn't wear the expensive clothing (like she was an executive) she dressed more casually, but still nicer than anyone else. On the days that we worked together (we were the only two on B1 or B2) our conversation turned more personal in nature. She told me about her kids, her hopes and wishes for them, their short comings, but mostly her love for them. When it came to her husband, she talks about his accomplishments and how he worked hard to get to where he's at. She described his work as cut-throat and that there were only a few people in the institution that he worked at that was trustworthy. I asked if she loved him, she said yes, but she didn't like what he had become. She had a concerned look on her face when she was talking about him, and I called her on that. She admitted that they had some underlying problems, I didn't question any further, and I could see the concern in her face. She quickly turned the conversation towards me. She said:
– It can't be easy for you, you are a black man, living in a white man's world and your wife is white. You didn't think that I was aware of that. – I told her that I didn't and asked how she knew about my wife? She said the four or five of the women and our supervisor made it a point of telling her. She said it may matter to some but, not to me. I told her that me and my wife had been separated for about a year, but we were working on getting back together.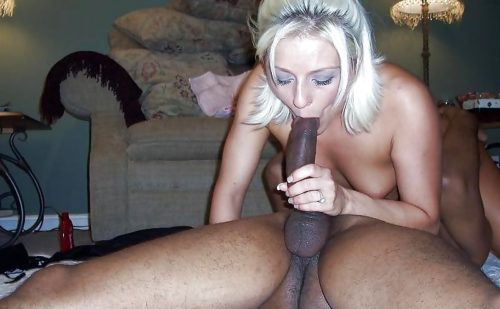 As we continued to work together alone on the lower levels, never disturbed or visited by coworkers, we began to stand closer to each other, brush up to one another, and when I would hand her something I would always rub her hand and she would do the same. It was close to quitting time and I walked over to her and placed my arm around her shoulders and turned her around to a hug and deep kiss, she kissed back with plenty of tongue.
We kissed and kissed like we were teenagers
I undid the top three buttons on her blouse and slid the straps of bra off of her shoulders and proceeded to suck on her breasts. While I was doing this, she moved her hand down and began to rub my cock through my pants. This felt good, but I knew it could feel better, so I moved my hands from her breasts and unzipped my pants and pulled my cock out for her to stroke. This episode only lasted about 10 minutes; we knew we couldn't continue having sex at work, it was time to go home.
The next time we worked together was two weeks later. I was wondering, would she tell me that what had happened was a mistake and that it couldn't happen again. I had hoped not, I couldn't get this woman out of my mind. When I arrived on B2 that morning, Janette was already there and working. I couldn't help but notice that she was wearing a blue-plaid skirt cut just below the knees and a pull-over white blouse with two big buttons on the neckline, no pantyhose and sandals.
She immediately walked over to me and gave me a big kiss, which was reassuring. We worked for about an hour in different sections of B2. She walked over to where I was working and we immediately embraced.
We picked up where we left off. This time, I dropped to my knees, moved my hands up her skirt and pulled her panties down. She didn't hesitate in stepping out of them and I placed them in my pocket. Not knowing what to do next, I walked her over to a heavy straight back chair. I undid my pants, dropped my pants and underwear down around my ankles and sat bare ass on the chair. She walked over, lifted her skirt, straddled me, grabbed my cock and guided it in her wet and waiting pussy.
She rode facing me for about 15 minutes and then whispered in my ear:
– Thomas, you can't cum in me, I don't take anything. We slowed our motion down and she got off and did a reverse cowgirl and rode me for another 10 minutes. I told her I had to stop or I would cum, she got off and let me cum in her mouth.
We had several other love sessions, but none as good as the first. It always would bring a smile to my face when I would see her and her husband's photo on the society page of the newspaper. I've met him and I know that he looks down his nose at me and people like me. However, on the few occasions when we do meet, I kill him with kindness.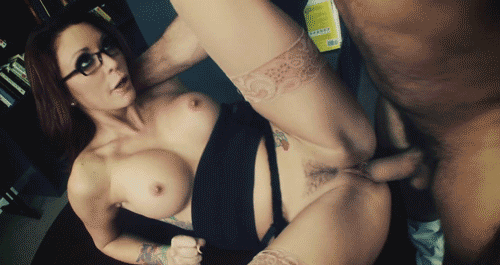 You'll also like these stories: