[en] [cuckold] I Spied Them As They Fucked Her Ass and Pussy Both at the Same Time
We had been in the swinger lifestyle for a few years but always enjoyed new adventures. When 2 guys from out of town came along my wife couldn't resist.
We'd been married for about four years and were around twenty-two when my wife was asked to help while a new computer system was being installed at her job. She would be coming in after-hours to work with people from the company they were buying the new system from. She didn't know anything about them so dressed pretty conservative the first night. It turned out to be two guys in their mid-thirties and from the very beginning, they were cautiously coming on to her. And when they were finished for the night got even bolder suggesting she come to their hotel for a drink. But she politely turned them down.
She couldn't help but notice how they'd been checking her out and whispering between themselves obviously about her. And even dressed conservatively it was obvious to them she had a smoking hot body. So, the second night she decided she'd put on a show for them just for kicks. She wore a pair of skin-tight jeans and a tight button-up blouse and a pair of spiked heels. She looked hot as hell but had everything covered. But wasn't wearing a bra, letting the shirt outline her firm tits. So, they got a good idea of what she'd look like naked as every curve of her 5-8, 110lb, 34D-24-35 body was showing. Being topped off with her sexy green eyes and waist-length red hair. They could hardly do their jobs being too busy watching her.
The office was kind of tight and she took every opportunity to squeeze past them letting their crotch rub against her sexy round ass or her firm tits rub against their chest. And it was getting her turned on, so her nipples were rock hard and poking through the thin material of her tight blouse. As the night went on, she let her blouse come out of her jeans some letting it get more loose-fitting. She also let the buttons "accidently" come undone one at a time until it got to where every time she'd lean over it would fall open and give them a nice view of her big tits and huge pink areolas that covered the entire end of her tits and rock hard nipples.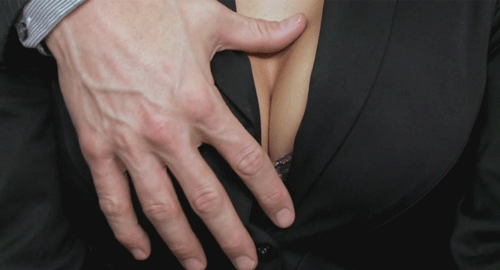 A few times she'd look up and catch them looking down her top and she'd just smile and button a button back, only to unbutton it as soon as she could. And by the end of the night, she'd unbuttoned almost every button and was leaving it that way. They'd also gotten bolder and both had fondled her ass and tits without her resisting or appearing to be offended. And they were almost begging her to come back to their hotel but she told them too many people knew her and it was a small town so it wouldn't be cool for her to be seen going into a hotel with two hot guys. Knowing calling them hot would appear she thought they were in fact hot. And said also I'd wonder where she was.
At the end of the night, one of them caught her alone and pulled one of her tits out and sucked on it and suggested they could meet, and she decided to plant a seed in his mind and said she wouldn't want to cause friction between him and his co-worker she'd want to do both of them if she actually did anything. But she let him feel her up and suck on her big tits all he wanted even after his friend had come in the room and was getting off watching.
She was horny as hell by then and couldn't wait until the next night
She showed up in a black wrap-around dress and all she wore under it was a sheer pair of very skimpy panties and a garter belt and stockings. And was wearing a pair of four-inch heels putting her at six-foot tall. As the night went on the leaned over a lot letting them see her firm young tits and stooped down a lot showing off her long sexy legs all the way up to her see-through panties and her fiery red bush. They were both feeling her up every time they got a chance and early on were trying to get her to come to their hotel.
She knew this was their last night there so if she was going to do anything it had to be that night so we'd worked out a plan and at a designated time I called and in front of them she pretended I'd called to tell her I was going to have to go out of town right away because of an emergency and wouldn't be back until the next day. As soon as they heard this, they were begging her to come to their hotel but she said again she'd be afraid she'd be seen. But then suggested they come to her house, saying the neighbors would just think it was a couple of my friends.
They were nervous, but after looking her over a couple of minutes jumped at the idea. As soon as they finished up she gave them directions and told them to wait for a half-hour so they wouldn't get there at the same time. And directed them to a store to buy some wine. When she got home she quickly fixed her make-up & hair and put on a white half bra that lifted her tits up and pressed them together but left them totally exposed only looking huge. A white garter belt and sheer silk stockings and white high heels. And a totally transparent white housecoat that stayed wide open. She'd put on dark red lipstick and dark eyeshadow adding to the slutty look she was going for.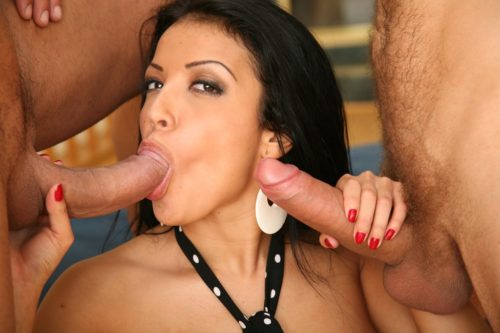 By the time they got there, she'd put a porn movie in showing a girl being fucked by two guys and had glasses ready for the wine. She'd lit a couple of candles and was ready to play. And of course, they had no idea I was in the next room watching through a hole I'd put in for just such occasions.
She answered the door letting them in as she stood behind the door and only after closing the door could they see every inch of her sexy body there on full display to them. They went in the room and poured each a glass of wine and she turned on the movie. They sat on the couch with Lynn in the middle and right across from my vantage point across the room.
They fucked her ass too…
Soon she was out of the housecoat and was undressing them which at first seemed to be a little unsettling to them as neither had ever been in a threesome. But by the time she had them both naked and was stroking their cocks they were ready for anything she wanted. She took off her half bra and let them both suck her tits while she rubbed their cocks. Then she took turns sucking them off and having them fuck her tits as she squeezed them together. Afterward to see their reaction she had them lick and suck her tits some more and neither even gave it a second thought that both of their cocks had been pumping between the tits they were now licking and sucking on.
So, she had them stand up facing each other and sucked them both off, eventually getting them beside each other and was pressing their cocks together taking both in her mouth at the same time. Then she got on her knees and had one fuck her from behind as she sucked the other off and had them swap places a couple of times. She'd let them fuck here bareback up until then and they looked surprised when she reached under a couch cushion and pulled out some condoms until she said they'd have to glove up if they wanted to fuck her in the ass. I saw them both get a big smile.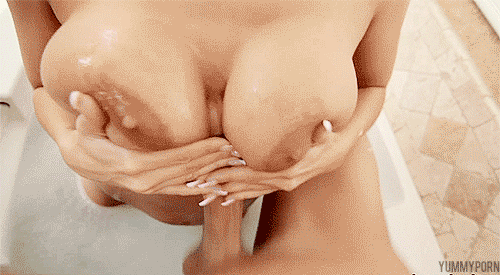 She had them take turns fucking her in the ass then took the condoms off and sucked and jerked them off having them both shoot off on her big tits. After licking them clean she lifted her tits licking off all the cum she could reach, then wiped the rest off, sucking it off her fingers. She got some warm washcloths and cleaned them up and then cleaned herself up. Leaving just a little cum on her tits. Something she secretly likes to do. They drank another glass of wine and watched the movie and it got to a spot she'd been waiting for and told them she wanted to try that.
On the screen was a girl with one guy fucking her pussy and another fucking her in the ass at the same time. At that she pulled their heads down and they started licking her tits she'd left both of their cum on and neither said a word and she knew they were bound to taste it. She sucked them both off getting them rock hard again then had them both put on a condom and proceeded to fuck her ass and pussy both at the same time. She acted like she'd fantasized about this but had been double stuffed lots of times. But neither of them had ever been in a threesome much less done anything like this.
But all three were loving the hell out of it and they were pounding their cocks in and out of her hard as hell but she'd told them to pull out before they shot off. They finally were on the edge and pulled out and she had them pull the condoms off and jerkoff shooting off on her tits again. Then told them to do something she'd tried to get other guys to do and up until then only one guy had done it. She asked them to lick her tits clean. And I was as surprised as her when without hesitation they both started licking up every drop of cum off of her tits. Making me wonder if they were bi and used to sucking each other off.
But they licked up every drop then I found out I was right when she asked them to lick each other clean saying it would really turn her on and without hesitation, they started to lick and suck each other's cock. When they were finished she asked if they were bi and they said a little and said they'd never fucked each other but did suck each other off on occasion. But that their wives didn't know, then one said he wished his wife was as open as her because he'd like to share her with another guy. Then surprised me when he asked if I'd ever suggested that to her. And she quickly lied and said no I was kind of old fashioned.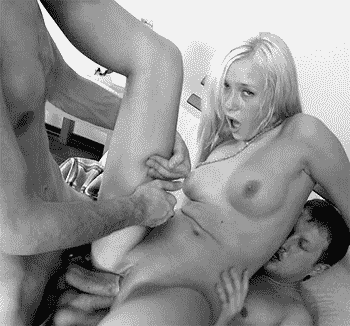 It was getting late so they left and Lynn only saw them once more the next morning at work when everyone was there and they told her boss what a great help she'd been. If only she had known what all Lynn had done for them. It wasn't the only time I watched her through the hole with other guys/girls but one of the hottest.
You'll also like these stories: