[en] I Love to Be Dominated by Such a Thick Cock
He is a former co-worker. He is married to a woman. A couple years younger than me, 6 ft tall, husky, full head of curly white hair, vivid blue eyes and 8 in cut thick cock, very masculine.
About 4 years ago he called said he had seen an ad with my pic on Craigslist for sex with men and I told him that was my ad. After talking a while I told him that I was still in the closet but I'm completely gay and love to suck cock more than anything. We made a date for later that evening. I was a little nervous; I didn't want to be outed but I was turned on thinking about sex with a friend. Most of my encounters with men are one time and anonymous.
Anyway, at the time I got showered and went to meet up at a motel. As I entered the room, he was standing there in his boxers looking so sexy with his hairy chest and sexy eyes. I grabbed him and stuck my tongue in his mouth and grabbed his thick cock. As he quickly got hard I went to my knees to suck his thick cock and he pushed me back and said he wanted to take a shower. Meanwhile I stripped naked and took my dentures out. I went in the bathroom and staying out the shower I started rubbing and washed his back and rubbed his butt, and then turned him around and washed his hard, thick cock. When he got out I toweled him off as we made our way to the bed kissing and rubbing each other like a couple of horny teenagers.
I sat him down on the bed and knelt between his powerful thighs and took him into my mouth and started sucking him all the way down my throat. I was sucking him very aggressively, without teeth to get in the way I can really enjoy feeling a cock in all of my mouth.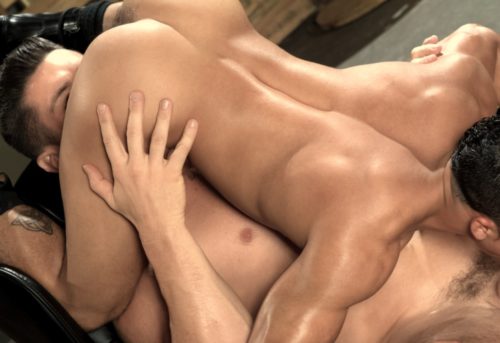 After a while we laid down on the bed, kissing and stroking each other a long while.
I told him I wanted to 69 with him…
With me on my back he climbed on to me and stuck his very hard and thick cock in my mouth. He was fucking my mouth with increasing speed and force and shortly he was cumming, depositing his cum right into my throat. I was loving it. I was so hot and turned on. While he was feeding me he had been playing with my cock and balls and fingering my asshole.
After catching my breath I started stroking and kissing his cock and licking up what little cum had spilled when he came in my mouth. Meanwhile, as I was trying get him hard again I was telling him how much I wanted him to fuck me. After he got hard I got on my knees at the edge of the bed and him standing behind me, and after lubing up his dick and smearing my asshole with lube and positioned his cock head right there at my asshole entrance, he slowly leaned onto me and entered my tight asshole. O my god! It hurt so good. It had been a while since I had been fucked.
When he got his dick all the way into me, he started pulling back out and slowly began a slow rhythm. He was getting faster and faster, ant the pain turned to ecstasy. I was loving this, but I really prefer to be fucked and dominated in missionary position. I climbed up higher on the bed pulling off his cock, laying down on my back and I pulled him onto me. He was kissing me as he re-entered my ass, totally dominating me. As he laid on me I felt my hard cock trapped against his hard stomach. As we kissed deep and passionately he was fucking me faster and harder.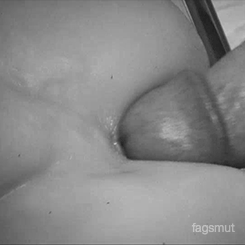 My hard cock was being rubbed by his belly and I came there, bucking under this stud while he fucked me. His cock was swelling up harder and thicker than ever as he climaxed in my ass. He didn't shoot much, since he had fed me a large load just a little while ago.
After cumming he collapsed on top of me, still with his cock still inside me. I was so happy and felt well fucked. He slowly pulled out of me and as he laid back, I licked my cum off of his belly and scooped what was on me and licked it off my fingers. I hate to waste sperm.
What a great time! I was so happy having been treated as a horny lil' bitch. After getting cleaned a bit, we lay there in each other's arms, kissing a while and then I rolled over and snuggled up to him and he spooned me, holding me in his strong arms, with his semi erect cock in my crack. I was so content and fell asleep in my married man lover's arms.
You'll also like these stories: