[en] [sex-with-a-stranger] My Cock and the Strangers in a Quarter Booth
As I walked out of the hot Arizona sun into the darkened sex shop, I gave a little shedder at the chill in the air and the smells assaulting my senses. My cock, already stirring in my shorts, was rapidly getting harder as I made my way down the hallway; past the booth for the full movie viewing, and into the rental area.
I glanced at the few patrons in the area – it was normally slow in the middle of the afternoon. I walked back into the rear of the store, where the quarter booths were. After getting my quarters, I wandered for a bit, checking out the couple of other men in the area. My slim, 5'6 frame got lots of looks, which is what I wanted. I was sure they could see the hard outline of my cock through my shorts as I wandered back and forth in front of them.
I stood looking at the sign indicating the movies playing for a bit, letting them get a better look at me, before heading down the dark, narrow hallway to the last booth on the left. I liked this one because if you had the door open, it left a nice size area at the end of the hallway where the camera couldn't see.
I entered the booth, closing the half – door, (the bottom part is cut out, allowing full view of the person sitting there), and inserted some quarters. I scrolled thorough the movies as I freed my cock from my shorts, my T-shirt already becoming sticky from my increased horniness.
I watched for a while, slowly stroking my cock, before I heard the footsteps come down the hall. I opened my legs wider to allow whoever it was to see better, then quickly pulled off my T-shirt to avoid it getting in the way. I glanced under the door, and saw him stop outside. I pulled at my cock harder, pre-cum leaking slowly out the tip. Out of the corner of my eye, I watched him slowly lean over, watching me from under the door. I tried to put on my sluttiest show for him, rubbing my hand up and down my hard cock, smearing my pre-cum all over my dick, and rubbing my balls with my other hand.
Suddenly, I felt his hand on my thigh, stroking me as I jacked off for him. I turned towards him, spreading my legs more to allow him better access to me. His hand wandered down my thigh, the hair on the back of his hand tickling the hairs on my legs. His fingers reached my balls, lightly stroking them as I moaned loudly. I stroked my cock harder, the head swelling as I enjoyed his fingers on my balls. I heard a sound, and looked up to see the door opening. I ended up staring into his eyes as the door opened, his fingers still tickling my balls.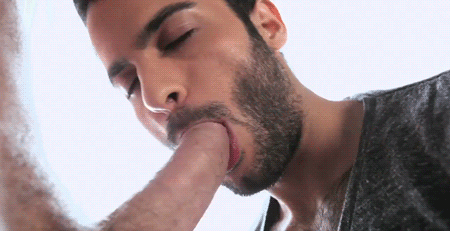 I noticed him smiling, and looked down to see him unbuckling the belt holding up his pants. He was about 55, dressed nicely, probably here on a lunch break. Well, I hoped to give him a relaxing time as I freed his semi-soft cock from his pants and sucked it deep into my mouth. He sighed, and stood up to enjoy my mouth on his cock. After a few seconds in my mouth, my tongue licking his head, he hardened just enough for me to get totally into my mouth. He tasted wonderful, as I fucked his dick with my face. I heard him moaning, and opened my eyes to look at him, standing there, eyes closed, his hands holding my face against his crotch.
A complete stranger was fucking my throat
I looked behind him, and was startled to see another man there watching us. He has in his 40's, and heavyset. I shuddered with pleasure, as this is my favorite type. I fucked my stranger's cock harder, fucking him with my face like the slut I am. I really wanted to put on a show for my voyeur. As I fucked his cock harder, I could feel the head start to swell in my mouth. I quickly pulled my mouth off, licking the head and jacking his cock hard. I looked into the eyes of my voyeur friend as I felt jets of hot cum shoot onto my face, landing on my forehead, my cheek and my nose before dripping down my face. My stranger, his cock now starting to soften, looked down at me, smiled, and ruffled my hair as he stuffed his cock back into his pants. He turned and left, buckling his belt as he walked away. I looked at my voyeur, who just stared back at me with a half-smile on his face. I got up, and reached down for my t-shirt. I started to wipe my face off when he spoke.
– Leave it on your face – he said. I turned to look at him, holding my t-shirt.
– Want to go outside? – he asked me. I could only nod.
– Leave the cum on your face, and leave your shirt off. Follow me out back – he told me before turning and leaving me standing there. I was so horny, the stranger's cum dripping down my face, some now dripping onto my chest. I slowly walked down the hallway, back into the main area. It seemed like everyone stopped to watch me (and they probably did) as I walked to the back door and opened it. I saw him standing the next to a large Plymouth. I slowly walked over, the cum starting to dry in the heat. He got in the drivers side, starting the car and unlocking my door. I got in, and heard the doors lock behind me. We pulled slowly out of the parking lot and into the road, making an immediate right into a quiet, residential neighborhood. As we drove, he glanced at me.
– Take off your shorts – he told me. I slowly pulled my shorts down, lifting my feet to pull them over my tennis shoes. He noticed my lack of underwear, and smiled. – Play with that cock for me – he said, as he turned into an empty parking lot. He drove to the back, out of the sun, and pulled into a spot before turning off the car and turning and looking at me…
You'll also like these stories: