[en] [lesbian-dildo] I Put a Dildo Into My Dyke Double's Asshole
My boss did a real number on me recently, asking if I would show the new girl, Sandra, around, then laughing when I saw she was virtually my double. Actually, my dyke double. She'd recently moved to our town and gotten a new job after breaking up with her girlfriend. We hit it off pretty well. One afternoon, it was just the two of us in her office and she got flirty with me. It felt a little strange – sure I'd fooled around with girls in the past, but not for a while. I could call it vanity, but suddenly I felt the urge to wanna bang my mirror image.
We kissed, a little awkwardly at first, but then it felt surprisingly natural to me, trading the smooth curves of her ass, which looked and felt identical to my own. We stripped each other down to our shoes, although she fessed up to a panties fetish. I was glad I'd put on a cute pair that day, and promised if she made me cum enough, she could take them home. Well, she was real determined! She got me kneeling up between two stools, and started licking me through the fabric, using her tongue to mold it to the contours of my cunt. I just felt the juices stick to my panties to my flesh, and then, so gently and slowly, she peeled them down around my thighs.
Now she was licking down my crack, dipping her tongue between the top of my ass cheeks, then parting them with her hands. I felt her thumbs press up against the pucker, so close to dipping in. Then her tongue rasped down to tease it instead. She rimmed my asshole until my entire crotch was trembling with pleasure, so my cunt was all wet and squishy by the time it got a licking. She was scooping out the juices, swallowing them down, flicking and thrusting her tongue in & out of my hole. I could feel myself getting more aroused by the second. She then pulled my panties back up, let them soak up more cream, then took a dildo from her purse. She said she often liked to wank herself in the bathroom, or just in the office when while our boss was out.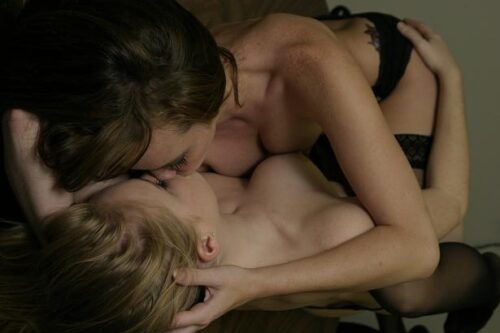 My dyke double took a dildo from her purse
She fantasized about him catching her, then using his cock to "teach her a lesson for being a little tramp". I'd never thought of him in that way but, as she ran the toy over the crotch of my panties, and told me I was a very bad girl too for or fucking on the job.
I felt my body start to glow red, from my face down to my toes. Sandra slid the dildo inside my panties and used it to pull them down. Then she rubbed the shaft against my slit, before pushing the length of it into my hole.
– Maybe I could fuck you with this while he's doing me – she moaned, timing her words to the rhythm of her thrusts. Then her other hand began to twiddle my clit, and I started cumming hard.
She pulled out the dildo, and stuck it in her own snatch while she lapped the juices from my pussy. And, after giving me a lick on it, she jammed it back into me. She had to help me off the stools, and we both ended up on the floor. My head was spinning, but I was still able to grab the dildo and give it a few hard thrusts in her juice snatch. Then I swiped it back and stuck it in her asshole.
She looked a little shocked, like suddenly here I was teaching her a thing or two. Then she lay back as I settled my face between her thighs, convulsing from cum after cum as I licked and teased her clit with my tongue.
All we worked on that day was having orgasms and touching and exploring each other's bodies. Our boss is really pleased with how things are working out in the office, saying we've got a great team. It could be a double team in every sense, if Sandra and I ever get our way with him!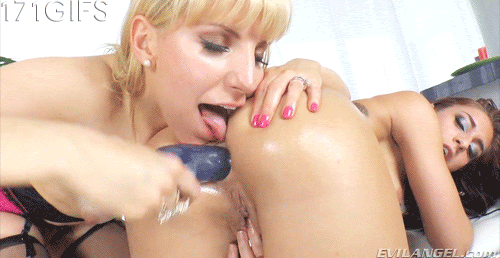 You'll also like these stories: