[en] Sarah's Needy Asshole Was Filled With Cum As Hot as Lava
It's only a little blowjob – Sarah said to herself in the mirror the first time. It had been so long since she had given a blowjob. It had also been so long since she had felt the touch of a man. And she's never put anything inside her little needy asshole…
Late in the evening with the lights down low. Sarah laid her head in Mike's lap. It was innocent enough at first. Sarah is a woman on a mission had played things in her favor. Without ever saying a word or even making eye contact with Mike, Sarah nervously eased Mike's shorts down and spent forty-five minutes sucking and stroking Mike to orgasmal bliss, swallowing every drop of his of salty-sweet nectar.
After Sarah licked and sucked every drop of Mikes delicious succulent juice she could from his large cock. She stood wiped the corners of her mouth with her fingertip. Then without looking at Mike, she provocatively licked her fingers tips clean and headed off to bed without ever saying a word.
It was only till she was she alone in her bed that she could breathe again. That night dreams of Mike's cock rushed through her head. The size, the smell, the taste. It all stayed with her.
– Morning sweaty. Breakfast. – Sarah smiled as nothing had ever happened as she set Mike's breakfast on the table. Mike thought about saying something. But, decided to let it go.
For the next three days, everything was as they always were. Sarah cooking, cleaning, and doing her everyday routine. But, what Mike didn't see was her desire and need. Sarah would not let it show. She would not even give a clue. It was Thursday afternoon the birds sang and the sun shined. Sarah listened to the water run of Tim's shower as she enjoyed the breeze as it swept lightly through the kitchen window. As Sarah enjoyed the summers smells, she started thinking about the smell and taste of Tim's wonderful cock and how good it felt on her lips.
Sarah enjoys the memory that played in her head of Tim's body tensing underneath her as she swallowed his length to the base and he blasted several large wads of nut nectar down her throat. Sarah smiled to herself as she thought of how good it tasted and the power she had to make a man ten years younger than her submit to her as he did.
A devilish smile spread across Sarah's thin lips when she heard the shower quit and the curtain slide open. Slowly, Sarah walked down the hall almost floating as she went. Opening the bedroom door slowly. Almost stealthily. Sarah smiled softly as she met Mike's eyes. Never breaking eye contact, Sarah eased across the room where Mike stood wrapped in a towel. What a body. My God, is the gorgeous – Sarah thought herself admiring Mike's six-pack abs and toned chest.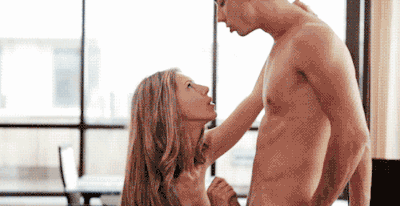 Standing in front of Mike looking up at him, never breaking eye contact, Sarah gently took hold of Mike's towel and pulled it open letting it fall to the floor at his feet. Sarah didn't look down to seeing if he was hard. She didn't need to. She knew he was. Besides she was too scared to break their eye contact in fear she would lose her confidence. Placing her thin strong hands on Mike's hips, Sarah slowly squatted to her knees submissively in front of him till she was eye level with his large sexy cock. Keeping eye contact with Mike, Sarah opened her mouth and starting from his smooth ball sack, all the way to his large purplish head.
Sarah ran her tongue along his veiny shaft. It was a blowjob to remember
With a wink, Sarah opened her mouth wide and engulfed Mike's cock swallowing him to the base in one move. Holding him in her throat, Sarah relaxed and started swallowing hard flexing her throat muscles around the head of Mike's cock, As she looked deep into his blue eyes. Going all the way to her knees with her sopping pussy on the soft carpet and her hands planted firmly. Sarah continued her brutal assault on Mike's cock, never breaking eye contact. Grinding her cunt into the carpet, she bobbed her head back and forth, swirling her tongue around on her love muscle. Mike was in awe. He had never had his dick suck in such an erotic way.
When Sarah felt the first taste of Mike's precum, she smiled devilishly at him and start rocking back and forth, taking his entire length into her throat on every stroke as saliva ran from her chin. The more precum oozed from Mike's pulsing member, the harder Sarah sucked him enjoying the taste, as she continued her lewd eye contact.
– Jesus fucking Christ! – Mike groaned out Just as he erupted in Sarah's mouth with his head thrown back and shaking from head to toe. Sarah diligently swallowed every drop of Mike's tasty juice as he stood stiff-legged blasting shot after shot down her throat. This time Sarah didn't jump and run immediately. She continued sucking on Mike's cock trying her best to get every drop she of his sweet nectar she could from his cock.
When Sarah was satisfied, there was no more coming out. She stood up. Looked Mike in the eye wiped the corners of her mouth with her finger, licked them clean, then turned and sashayed out of the room giving her tight little bubble butt a sexy wiggle never looking back.
– I need to run to the store. You need anything? – Sarah smiled as she picked up her purse when Mike entered the kitchen.
– No, I don't think so – Mike said in a confused tone, watching Sarah as she moved around the kitchen as nothing had ever happened.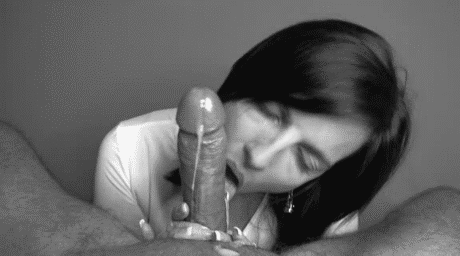 Three days had past and Sarah went about her business as normal. Cooking, cleaning, and normal routine. Mike thought several times about saying something. But, didn't know what to say or go about saying. Instead, he watched and wondered.
It was on the fifth evening Sarah came calling. Mike was laying in his bed naked reading a book when he heard the door creep open. There stood Sarah in a white t-shirt and thong lace panties with her curly golden locks in pigtails. Without saying a word, Sarah moved towards Mike. Slow and seductively across the floor, Sarah moved like a tiger on the prowl with a light smile. Mike waited. Never saying a word. Just watching Sarah as she came closer. Seductively, Sarah slithered up on Mike's bed. On her knees at the foot of the bed, Sarah locked eyes with Mike and gently started removing the sheets with a lucid smile and fire in her green eyes.
But, Sarah's 5'1″ 110-pound athletic body was no match for Mike's powerful arms as he reached down and took hold of her and pulled him to her. Sarah struggled to get loose as Mike rolled over on top of her and nestled between her tone legs holding her hands pinned above her head. Neither broke eye contact in their struggle of power and neither willing to submit to the other. Sarah knew what Mike wanted and was more than willing to give it to him if he was willing to take it.
Slowly, Mike reached between them taking hold of the fine lace panties. Mike started to pull on them till the thin strap on the side broke under the stress as Sarah's molten hole heated up. Pushing the now tethered panties to the side, Mike took his large cock in his hand, lined it up on Sarah's molten mound, and started to push into her as he looked deep into her crystal green glazed eyes.
As Mike sank deeper and deeper into Sarah's welcoming hole, Sarah laced her legs into his as her breathing becoming more and more labored and the intensity in her body heat grew. Then Mike pushed as far as he could go. He slid his large cock back through Sarah's dripping pussy lips and pushed again. Sarah came as Mike's cock entered places no man had ever been before.
With a steady rhythm, Mike fucked Sarah looking deep into her soul through three powerful orgasms before he shoved his full length into her sopping hole to the hilt and blasted her full of his molten seed, causing Sarah to wither underneath him from her own torrid orgasm.
– Shittttt!!!! – Sarah whimpered in pleasure from Mike's powerful cock as her body aches in need. To Sarah's surprise and joy. Mike didn't stop. Releasing her hands. Mike continued to pump his length into Sarah's overactive pussy with his still rigid cock. Sarah, with her hands now free, pulled Mike to her and held him tight as she kisses him deeply working her needy pussy in circles on his cock.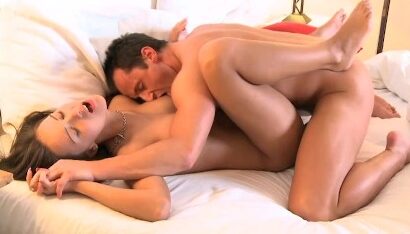 – Roll me over – Sarah said in a soft lusty voice into Mike's ear. – There is another whole that needs attention. – She finished whimpering.
Setting up in his hunches, Sarah let out a ragged breath as she instantly missed Mike's large member sliding in and out of her greedy slit. But, with another mission on hand, Sarah rolled over grabbing a pillow and stuffing it under her taut belly, causing her ass to stick in the air for good access to another needy hole. Mike admired her sexy bubble butt for a moment before he gently spread her plump ass cheeks. Lining his hard cock up with her puckered hole Mike started pushing. Slow and steady, with just enough force.
"There is another whole that needs attention…"
Sarah closed her eyes enjoying the feeling of his cock as it pushed into forbidden territory, as she relaxed. As Mike's large head pasted through the rubbery ring of Sarah's needy asshole she let out a soft, welcoming moan, letting Mike know she enjoying what he was doing. Gripping the sheets. Sarah arched her back, driving her ass up higher in the air. She pushed back into Mike shoving his hard member deeper into her sphincter. Mike took the hint and shoved hard into Sarah driving his large powerful cock deep into her needy asshole.
– Yessssss!!!!!! – Sarah cried out in lust and pleasure. – Fuck my asshole – Sarah grunted hard as she shoved her ass back at Mikes large cock again. Unlike before, the sex was now rough, hard, and vocal.
Each giving as much as they received. Each trying to prove themselves to the other. Each knowing things would never be the same between them again.
Sarah knew Mike was getting close as she felt his large lushes cock starting to swell as her needy asshole gripped it harder and he started to jab into her pushes asshole with a powerful grunt.
– That's it. Fuck my slutty needy asshole. Ram that big cock into my guts – Sarah grunted hard with need meeting Mikes powerful thrust with her own. – Cum in my asshole – Sarah spat out as Mike's large nuts bounce off her open cunt.
– Fuckkkkkkkk!!!! – Mike grunted hard as his whole body shook as he rammed his cock as deep into Sarah's asshole as he could, and erupted.
– YESSSS!!!!! – Sarah moaned quivering underneath Mike as her own powerful orgasm overtook her and she soaked the bed below them.
– God damned – Mike moaned as he collapsed on top of Sarah slowly pumping into her in post-orgasmic bliss.
– That's it. Pump my ass full of that yummy cock juice – Sarah moaned in need ramming her needy asshole back hard at Mike, enjoying the feeling of her guts filling up with his molten lava.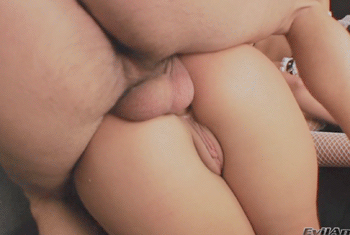 – Jesus! – Sarah smiled as she laid cuddled in Mike's arms.
– You are a very naughty woman – Mike chuckled.
– You have no idea how naughty I am – Sarah giggled.
– Is that so? – Mike laughed as he pulled her close to him.
– But, your gonna find out – Sarah laughed.
You'll also like these stories: