[en] [orgy] [cuckold] [black-cock] It Didn't Take Long for All of Them to Cum Together
Carol's job was hosting a Christmas party. She decided to wear a skirt and no panties. I was turned on by the idea. The company party was being held at a hotel about a half hour from where we lived. She said that they expected about 30 people to show up.
We arrived at the hotel that evening. The parking lot was almost full but we found a place towards the back. We entered the lobby and made our way to where the event was taking place. As we entered the room, one of Carol's co-workers, Darnell, approached us. He was a short fat black male in his upper fifties.
I shook his hand and Carol gave him a hug. We all went to the bar to get some mixed drinks and headed to the back of the room. The place was starting to fill up as other people trickled in. Everyone seemed to be enjoying themselves and standing around socializing.
When we made it to the back corner of the room, I saw that Darnell had his hand on my wife's butt. She leaned into his ear and said something. He replied but I didn't hear him either. She laughed and gave him a quick kiss on the lips.
The event was noisy with everyone chatting and moving around. About 20 people had showed up and half of them left within an hour. I guess they just wanted to make an appearance. The remaining guest were either buzzed or drunk.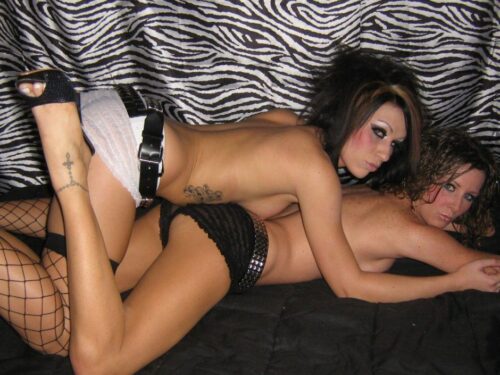 One of Carol's coworkers, Rebecca, approached us and started talking to Carol. Several minutes went by and then Darnell got behind Carol putting his arms around her. She turned her head to the side smiling and they passionately kissed for a few seconds. I was shocked but Rebecca didn't seem fazed.
Rebecca and I looked at each other and she saw the look on my face. We both turned to see Darnell reach under Carol's shirt and began rubbing her breasts. Rebecca moved closer to Carol and whispered. Carol raised her skirt high enough to where her pussy was exposed while Rebecca licked her fingers. She reached down and began rubbing Carol's pussy while Carol and Darnell continued to kiss.
The other seven people in the room started watching them. Carol's hips starting swaying and she moaned as Rebecca fingered her. Carol told Darnell:
– Baby, I need your dick right now!
They moved to a nearby couch and Carol put both her knees on the cushions and bent over. Darnell unzipped his pants unleashing a massive 9 inch thick black cock. Rebecca reached down to grab his dick and started stroking him. I could almost immediately see the pre-cum oozing from his manhood.
Soon they managed to cum together
Rebecca squatted down and put him in her mouth. She sucked him for about a minute and then guided his dick to where it pressed between Carol's pussy lips. The thick black monster slowly disappeared inside my wife. Darnell's thrust gradually increased. Rebecca stood up and walked over to me and kissed me on the mouth. I could taste the pre-cum she had on her lips.
This made the other people in the room horny as well because some of them started making out. The group consisted of one white couple, one black couple and three black males.
Rebecca unzipped my pants and pulled my cock out. She dropped to her knees and started sucking me while I watched Carol being fucked. Carol's moans could be heard over everyone else.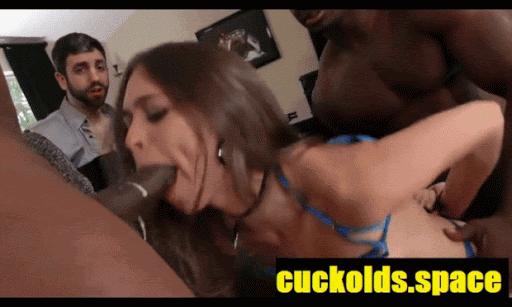 One of the single black guys, Chris, who had been watching, walked up to Carol with his cock out. He stood on the couch in front of her and sat down on top of the back cushion. He wasn't as big as Darnell but Carol reached out for him. She began to give him a handjob. Darnell told her:
– Put'em in yo mouth baby.
I couldn't believe what was happening. My wife was with two black guys and I was getting a blowjob watching her.
The black couple and the white couple were seen huddled together. They engaged in conversation, then left the room. The two black males who were by themselves walked in our direction. I told Rebecca I was about to cum. She kept sucking me until I unloaded and swallowed every drop.
Chris came in Carol's mouth fast. He was replaced with one of the other single black guys named Tyrone. Shortly after, Darnell let out a groan as he filled up my wife with his semen. He waved over to the last guy, Jamal, and told him to have a go at it. He was almost as big as Darnell but thicker and entered her very easily. As he began hammering away, Carol looked at Darnell and eventually managed to say:
– I love you so much! – He told her he loved her too.
Carol came several times until Jamal pulled out. He had not come yet but wanted to sit down on the couch and have Carol on top of him. Tyrone got off the couch slowly stroking his dick as we watched Carol ease down on Jamal.
Tyrone got behind Carol and proceeded to enter Carol's asshole. After a couple of minutes, both cocks were thrusting away like pistons as Carol yelled out where everyone in the hotel could hear. It didn't take long for all of them to cum together.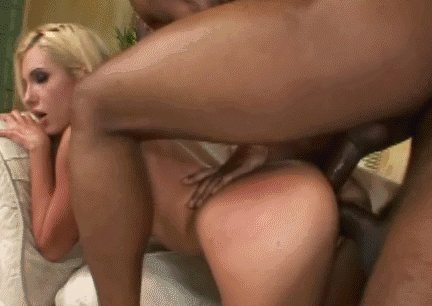 You'll also like these stories: