[en] [ass-to-mouth] It Felt Great to Cum Into Another Guy's Ass After Two Weeks Without
The story of how I found out I was more bisexual than I realized. To say that I've had a normal sex life would be the understatement of the century. Nothing about my sex life makes sense. I knew I was bisexual as young as 10. Dicks, pussies, don't make a difference to me, as long as I'm able to cum. I want them all. I've spent the past 25 years desperately in love with my niece. It seems as though when I'm looking for sex, it's nowhere to be found but when I least expect it, it slaps me in the face.
I was getting pretty deep into gay sex as a teenager. By the time I was 15 I had more gay sex than I ever had imagined. A few of the neighbor boys and I would fool around and then I found an actual boyfriend for a while. Secretly of course. Back in the mid 90's it was still kind of socially unacceptable for some reason. People always fear what they don't understand and try to condemn it.
All of this changed when my niece and I started fooling around when I was 19 and she was 18. She and I have been madly in love, secretly of course, for 25 years. Even though she has a husband and 3 kids now, we still find time to secretly get together and express our never ending love.
When her and I started our relationship, I put all my other sex stuff aside. My relationships with the Joey and Matt fizzled out and went away and my secret boyfriend Jason and I stopped screwing around as well.
When I was 19 I went on a long fishing trip to Canada with a friend of mine. We were gone for 2 weeks and when we got back to his house I decided that I didn't want to drive another hour to my house so I would stay at his place until morning and then drive home. My friend, Jay, is a manly man outdoors kind of guy. We're able to sustain a good friendship, even today because I'm not attracted to him and have never even thought of it. He's aware of my bisexuality and despite his right wing politics, he's ok with it because his dad is gay and he's been around it his whole life.
We were tired from being fishing and camping for two weeks and hadn't had a good night sleep the whole trip. It felt good to be sleeping in a bed again, even if it wasn't mine. I fell asleep as soon as I hit the pillow. When I finally did wake up it was just before sunrise. I couldn't believe I had slept uninterrupted for over 8 hours. Holy shit I had to pee!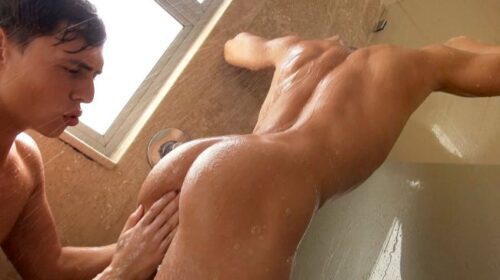 Their guest bedroom was in the basement of his house and the only working bathroom was all the way on the second floor. I was still groggy from being asleep for so long, I'm not much for sleeping that much. Few hours is all I normally need. I stumbled up two flights of stairs and got to bathroom only to find someone was in the shower. My first instinct was to just sneak out to the backyard and pee in a bush but I was only wearing my boxers and on top of having to pee really bad, I had just gone two weeks in the woods without even jacking off and I had the most insane morning wood.
– Jay, is that you? – A voice asked.
– It wasn't Jay taking a shower, it was his dad…
– Uh, no sir. It's me – I responded uncomfortably. – Sorry, I have to pee really bad and I thought I could just go real quick. – I added
– Go ahead, I don't mind – his dad answered.
I quickly stepped in, shutting the door behind me. I knew it was going to be a long difficult pee. My bladder was full and my cock was standing straight up and even knowing someone was in the room with me it hadn't subsided at all. I placed my hand on the wall in front of me and leaned forward making it a little easier to hit the toilet with a boner. Slowly the pee started to come out and a sigh of relief escaped my mouth. It was coming out slow but at least it was coming out. After about 30 seconds it was starting to wrap up and I caught out of the corner of my eye Jay's Dad watching me. I corked what pee I had left in me and turned toward him startled. In no way shape or form was I embarrassed or scared. Even though I had slowed down significantly on the gay sex, while I was peeing the thought did cross my mind that there was another dude in the room with me and he was naked.
– Sorry to startle you – he said with just his head poking out from behind the shower curtain.
– It's cool – I said as I turned to him with my dick still in hand…
– Impressive. I can take care of that for you – he said with a smile…
I think he was half serious and half joking. I'm quite sure he didn't expect me to be so eager to join him. I didn't even respond when he said that. I just dropped my boxers to my ankles and pulled the shower curtain aside and climbed in the shower with him.
Jay's Dad, Bruce, was pretty flamboyant. I knew he was gay and if I had to guess I would've guessed he was a bottom
I pulled the curtain shut and then pulled him close. We started kissing. It was the first time I had kissed a man with a mustache. He had soft feminine lips under that mustache and our tongues wrapped around each other quite nicely. He had a surprisingly small dick, a guess says it was between 5 and 6 inches, and it wasn't thick. The tip was a bit bigger than the shaft and it looked like a mushroom.
I was squeezing his ass and pressing our cocks against each other. He pulled his tongue out of my mouth and started running his hands thru my thin amounts of chest hair. He then leaned in and licked and bit one of my nipples. It tickled and felt great! Then he got on his knees and started licking my shaft and cupping my balls. Before I knew it he engulfed my entire cock. I couldn't believe it! All 9 – of my cock disappeared. His mustache and my pubes became one. It was the best thing I had ever felt! A few minutes go by and I'm in blowjob heaven! Doing everything I can, not to cum!
Bruce then stood up and we returned to kissing. I could taste my cock on his lips. He pulled the curtain aside and put one foot out of the shower. When he came back in he had a condom. I thought I was just going to get my dick sucked, but this party just got better!
– You ever done this before? – Bruce asked.
– Of course. I thought you invited me in here because you knew I was bi – I responded.
– No. I didn't know! I was only kidding around when I asked… well kind of – he said with a giggle and then kissed me again and handed me the condom.
I started to open the condom and I saw him grab tube of lube and squirt some on his hand. He smeared the glob on his asshole and turned around and put his hands on the shower wall. I grabbed his hips and pulled him close to me. I pressed my cock against his hole and pushed. I couldn't believe it! It slide in with almost no resistance. He was used to getting his ass pounded and it showed.
I started thrusting slowly. He had his cheek pressed against the shower wall and his hand with the excess lube stroking his cock.
– Oh shit, your cock feels so good! I'm gonna cum! – He moaned.
He grabbed my hand and pulled it around his waist and on to his cock. I was stroking his cock and fucking his ass at the same time. I reached my other hand up to his throat and gave it a bit of a squeeze. He moaned out in joy and I felt his warm spunk squirt the wall and trickle on my fingers. Then he pulled my hand up to his mouth and put my cum covered fingers in his mouth and licked them clean.
I couldn't take anymore, I had to cum and I had to cum now!
I pulled my fingers from his mouth, pushed his fave against the wall again, pulled his hips toward me and started fucking him hard and fast. Less than a minute later I was there!
– Fuck! I'm gonna cum so hard!!! – I grunted.
– Do it! Cum in my bitch ass! – He grunted back.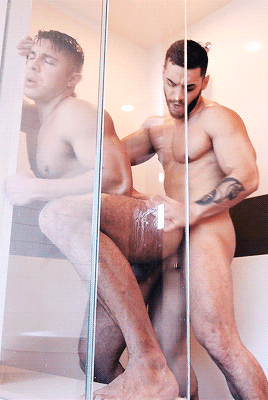 I gave one final hard thrust and shot two weeks worth of cum in that condom. I couldn't believe how great it felt to finally get that out of my balls! It just kept coming! I pulled out of his ass and took the condom off. There was still small spurts of cum trickling out. Bruce turned around and saw the amount of cum in the condom and laughed.
– Wow, you needed that – he said with a laugh. – I needed that too – he added.
He grabbed my shaft and squeezed the last few spurts of cum out and licked them off his hand. Then he grabbed the body wash and a washcloth and washed my entire body. It felt great to be so well taken care of so unexpectedly. Bruce and I never had any kind of sex again but that was one of the best I've ever had, just because of how great it felt to cum after two weeks without.
You'll also like these stories: