[en] [swingers] [orgy] Rigged Sex Game at a House Party
My wife and I were at a house party one time with several couples. After a lot of booze and joints the party had gotten really loose. The host introduced a sex game called "dancing in the dark". The way it worked was, all the men went to one wall and the women on the other. The idea was to find your partner after he turned off the lights and dance with her. The catch was, you had to dance with whomever you touched.
Every time the song changed you were supposed to try again to locate your partner, if you had not already done so. I found someone with the next tune and she promptly began to massage my cock through my pants. That's when I realized then what the real goal was to this game. I thought what the hell and put my hand down on her pussy to massage her back.
Surprise! She had lifted her dress and was not wearing panties! That got me going. I furiously rubbed her pussy because I knew when the music changed she would be gone. I sure wanted to know who she was!
The music did change and she (whoever she was) pulled me aside so no one could find me. When the next song started, she took my cock out again and knelt down and put in her mouth. I thought – wow! This girl is really brazen!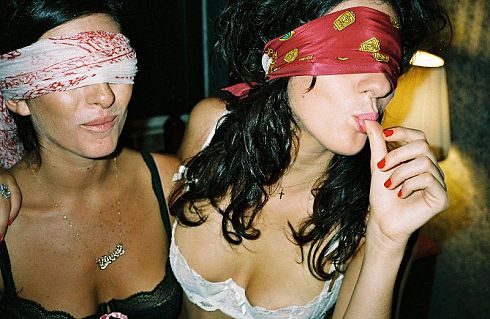 I started to think that this is my favorite game ever!
She captured me again when the music changed and she immediately pulled me to the corner of the room and bent over, placing my hands on her bare ass, moaning that she wanted to be fucked. I moved up behind her doggy style and sank my cock into her slippery pussy.
We did a slow grind to the music and I could feel her pussy clench time and again, massaging my cock with her cunt muscles! I hadn't cum yet by the time the music stopped again. This time she slipped me out of her cunt and disappeared, to my great disappointment and frustration. I never did know who she was.
On the way home my wife told me what had happened to her. It seems the host found her early on and promptly had his hands inside her panties! He wouldn't leave her when the music changed. Finally, he pulled her panties aside and push here up against the wall and shoved his cock into her pussy. He pumped her hard and dropped his load in less than a minute.
Then, when the music changed, he disappeared. Then she heard him announce that the next song would end the sex game. When it was all over, and the lights came back on I had looked around to see if I could determine which women had fucked me.
The hostess had a grin on her face and looked right at me with knowing eyes. Both my wife and I suspected the sex game was rigged for the host and his wife to fuck us both! Hey! All they really had to do was ask! Anyway, it was a great party!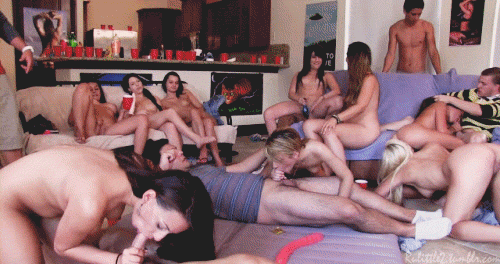 You'll also like these stories: