[en] [lesbian-scissoring] A Lesbian Sleepover
Casey had fancied her friend for ages, but never had the courage to do anything about it. She was 18 while her friend, Debbie was 19. They'd had sleepovers at Debbie's house, though nothing had happened. Then totally out of the blue, Casey couldn't resist her lesbian urge no longer, she so wanted to find out what Debbie's pussy tasted like. She'd already smelt the musky sweet aroma of Debbie's pussy when she'd slept over.
She hoped it would happen soon as she'd come across some lesbian porn on the internet and it had aroused her. So Casey set about seducing Debbie. It wouldn't be easy as Debbie had shown no interest in girls, but Casey felt so horny every time she caught a glimpse of Debbie in her tight shorts.
Today was Sunday and she usually went over to Debbie's to watch DVD's and eat way too much chocolate. Her house had a hot tub, which they'd used though Debbie had insisted they wear swimming costumes.
Casey already felt horny as she awoke that morning and had a shower. She couldn't resist letting her hands disappear between her legs. Casey moaned as she slipped two fingers into her pussy, as the hot water from the shower. She imagined her fingers to be Debbie's. Soon with her fingers rubbing her clit, Casey shuddered as she orgasmed, the sweet pussy juices poured down her legs. Soon, Casey hoped, those juices would be flowing down Debbie's throat.
Casey felt so horny as she got out of the shower and dried herself off. She opened the wardrobe and took out a low cut white blouse and a mini skirt. Then opening one of the drawers selected the sexiest white sheer panties and bra that she owned. She was quite ample in the breast department and had, which she was proud of, big juicy nipples. Debbie's going to love these – Casey said to herself as she got dressed. Feeling sexy as hell as she looked at herself in the mirror, her breasts peeking out of her blouse and the mini skirt barely covering her long legs. Feeling her nipples harden nicely under the bra and her pussy starting to moisten with excitement, Casey set off for Debbie's house.
Debbie didn't live too far, just a few blocks away from her. Manchester was hardly a hive of activity at the best of time, so staying in and watching a DVD while consuming chocolate was an event. As she finally reached Debbie's house, the chill in the morning air had successfully hardened her nipples. She glanced down and saw her dark buds pressing against her bra and blouse. Soon, she hoped, they'd be in Debbie's mouth being sucked and nibbled.
Casey pressed the bell and the door opened quite quickly. Debbie appeared, looking slightly shaken, her blonde hair cascading down her beautiful shoulders.
– What's wrong – asked Casey as Debbie let her inside. Casey followed her to the lounge as Debbie explained she'd had a row with her now ex-boyfriend. Casey hugged her and said: – Forget about him, it's his loss.
– Thanks – Debbie replied – hey it must be cold outside this morning, your nipples are hard. – Casey smiled as Debbie laughed and said:
– Sorry, hope I didn't embarrass you, but I could feel them through your blouse. – Casey smiled again and said:
– I hope the sensation cheered you up?
– It's got me wet, which is more than he ever did. Casey, can I ask you something really personal. Stop me if you feel uncomfortable? – admitted Debbie as she sat on the sofa and patted the seat next to her, signaling Casey to sit down.
– Go ahead, we've been friends for ages – agreed Casey, sitting opposite Debbie, who was clearly shaking.
– Casey, what would you say if I admitted that every time I slept with boys, I've always wondered what it would be like to sleep with girls. Sex has been good over the years, but I want to try something different, but with someone I can trust, like you? – Said Debbie as she placed her hand on Casey's knee. Casey's body shook as she replied:
– You really want to try lesbian love with me?
– No one else I'd rather be with and we know each other. Look if you are scared and want to back out, that's OK. But at the moment all I want is you, naked! – Begged Debbie.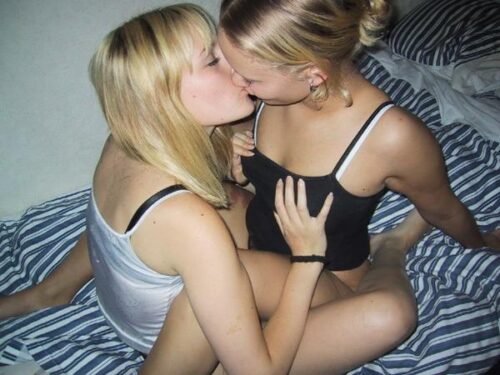 Casey's heart pounded, as Debbie leaned forward and kissed her on the lips. Debbie's tongue skillfully parted Casey's lips and devoured her mouth, as Debbie slipped her hand up Casey's skirt and her fingers landed on her crotch. Debbie could feel how moist it was and pushed her hand firmly onto her hot pussy. Debbie unlocked her lips from Casey's and said:
– I want you now! – And with that, Debbie kept her hand up Casey's skirt as she led her to the bedroom. Debbie sat Casey on the edge of the bed, as she said: – Let me undress you.
Casey said nothing as she was still overcome from the sensation of Debbie's hand on her hot pussy. Debbie pulled off Casey's shoes and kissed her feet then unbuttoned her blouse, to reveal Casey's ample breasts straining against the bra.
Her first lesbian sex is about to start…
– I can't wait to suck those nipples – said Debbie as after she unhooked the bra, Casey's impressive large nipples were on display. Debbie took a break from undressing her and took one of Casey's nipples in her mouth.
– Please don't stop – cried Casey. Debbie opened her mouth wider to reply:
– This is just the beginning – as she then suckled at the bright pink nipple, while her hand disappeared up Casey's skirt once more and felt her wetness. Casey moaned as Debbie's hand rubbed her pussy through the fabric of her knickers. – These definitely need to come off – said Debbie, tugging at Casey's knickers. Casey replied:
– I'll strip if you do?
Debbie didn't need telling twice and she was so eager that the buttons popped as she pulled off her blouse. Debbie licked her lips as Casey took off her mini skirt and panties, revealing her hot body. Now Debbie was naked too, she asked Casey:
– What do you think of my body? – Casey smiled and replied:
– I've always wondered if you shaved or stayed natural like me, nice to see you have a bush. Now come here and make me cum.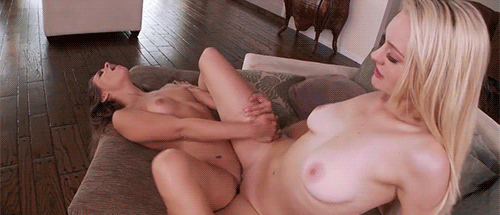 Debbie jumped on the bed and landed on top of Casey's hot sweat covered body. As they kissed, Debbie began to grind her hot pussy against Casey's. Casey could feel her pussy juices mix with Debbie's. As they bucked their hips, both began to moaned. Sweat poured from their bodies as they suddenly orgasmed. Debbie kissed Casey on the lips, before moving down her body to lick her pussy juices.
– Mmmmm, you taste so good, I want more in the future!
– Don't worry, you'll get more but only if you straddled my face? – demanded Casey.
Debbie moved up the bed and positioned herself over Casey's hot mouth. The sweat was still pouring off Debbie's body onto Casey's face. Casey lapped her tongue against Debbie's thighs before saying:
– I need my tongue on your clit – as Casey's surprisingly strong hands pulled Debbie's body onto her face. Debbie moaned as Casey's tongue poked at her clit.
– Lick me till I cum – cried Debbie as Casey's tongue sent her into a state of ecstasy. Debbie grinded her pussy into Casey's face as tongue gained momentum. Suddenly Debbie could hold back no more and orgasmed, filling Casey's throat with hot juices. Casey lapped at Debbie's clit as she could feel the hot pussy juice cleanse her mouth.
Gasping for air, Casey unlocked her mouth from around Debbie's pussy and laid back on the bed, catching her breath. As Debbie moved down the bed and took her in her arms and embraced her, Debbie said:
– I love you Casey. – Casey smiled and replied:
– Me too, can we do this again? – Startled, Debbie said:
– But I thought you liked boys?
– Not any more – Casey admitted – no man has ever made me orgasm like you have and I want your body for as long as possible. After we've got our breaths back, can we have a 69 as I've never tried one of those? – Debbie just smiled and replied:
– You can have more than a 69 in the future, ever tried using fresh cream in the bedroom as I've always got some in the fridge?
– Why wait? – replied Casey with a grin on her lips and a dirty look in her eye – the cream may cool down my hot nipples and burning pussy!
The End… for now!
You'll also like these stories: