[en] [cuckold] "Fantasy Breeding" in a Resort at the Caribbean, pt. II
Previous: "Fantasy Breeding" in a Resort at the Carribean, pt. I
Zooey was extremely nervous. Her whole body was trembling as she sat on the edge of the bed inside the luxury suite with her black breeder. She was able to speak to Mathew early that morning. He wished her luck.
The handsome man from Toronto had just poured a glass of wine for Zooey and sat on the edge of the bed next to the nervous little woman. His name was Victor. She found out he had bred one of the other women on the resort last year and came back for another child.
The papers were already signed and sealed. Zooey would give up all rights to the baby or babies once she delivered them. There would be a four-week period where she would breast feed before they were taken to their new home. Victor had a long conversation with Zooey most of the day having lunch and dinner together at the resort dinner club.
Zooey still felt he was a charming man but the fact she was going to soon be having sex with this stranger for the purpose of breeding made her stomach churn from the nervousness. Victor tried his best to comfort her. After the wine, Zooey stood up excusing herself to go into the bathroom where she planned to change out of her skimpy little dress.
She checked her makeup in the mirror once she took her dress off and took the transparent negligee off the hook slipping it over her head. She was still wearing her spike heels which were making loud sounds on the ceramic floor when she moved around. Zooey glanced into the mirror one more time seeing her hard nipples poking out of the thin material.
She walked out into the room where she found that Victor had already taken his pants and shirt off. He was standing near the window wearing a red pair of jockey shots. She smiled at him when she strutted out of the bathroom. He kept starring at her than held his arms out as she walked directly into his embrace. He leaned down giving her a passionate open mouth kiss. It was the most sensual kiss Zooey ever had. Not that Mathew wasn't a good lover it's just that this one felt much different.
Zooey's hand brushed accidentally across the bulge in his shorts feeling the huge erect cock underneath that was ready to go into action once it was unleashed from those shorts. It didn't take but a few seconds before Victor already pulled down the negligee from her shoulders kissing his way down to her milky white breasts.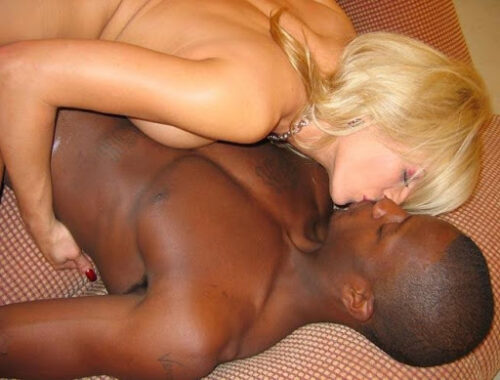 She closed her eyes as she felt his tongue and lips on each of her erect nipples. She was too nervous to move as he picked her up carrying her over to the bed and gently laid her across the bed. He pulled his shorts down as she looked his way.
She finally got a look at the massive cock that was about to bred her…
Victor was every bit of 10″ long plus the thickness must have been as wide as a typical door knob. Victor laid down beside Zooey planting his lips onto hers. His hands were everywhere touching her tits and belly and moving down to cup her pussy mound which was shaved bare. He rubbed his fingers gently across her pussy mound and finally parted her pussy lips with one of his fat fingers.
She spread her legs for Victor kissing him back as he positioned himself between her legs. He licked her pussy for almost twenty minutes getting her worked up and wet. She almost came twice but he stopped licked and kept teasing her until she was right on the edge each time. He wanted her hot and ready for his thick black cock.
After more lengthy foreplay, he was guiding his cock between her pink pussy lips making her body tighten up once the huge head pushed thru the opening. He slowly worked himself inside her pussy an inch at a time until he was fully impaled inside the little white woman.
After fucking Zooey for some ten minutes he switched positions with her having her ride his cock. She was able to control the movements this time which he gave her plenty of time to adjust to his massive size. He reached up playing with her tits as she rode his cock. She sank her little body down until he was into the balls. She slowly pulled herself up each time until just the head remained inside.
Switching positions again as they fucked doggy style. Zooey came three times in between switching positions. It was time. Victory was ready to shoot the first load of seed inside her belly. He flipped her over onto her back and rammed that huge cock home knocking the air out of her lungs. Her legs flew into the air as Victor fucked that pussy. He grunted sending his huge hot load of cum deep inside her womb. He kept pushing his cock inside her pussy until it began to shrink. He slowly pulled out holding her legs back against her tits.
Her pussy was gaped open and Victor could see his cum inside the opening. Victor fucked Zooey all night long taking breaks in between. By morning they were both asleep with lots of cum leaking out of her well used pussy. If all went well, Zooey was already knocked up with his baby. He had three more days to get the job down before a pregnancy test would be performed at the end of the following week. The resort would call him and let him know the fantasy breeding was successful. If for any reason it wasn't Zooey would be offered to the next highest bidder from the auction and so on.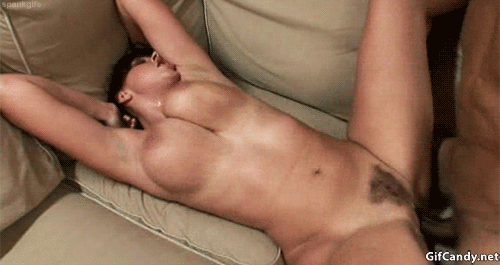 Two weeks later Zooey found out she was pregnant with Victor's black baby. She was soon reunited with Mathew where they would stay in their own little apartment together until she delivered the baby. As each week passed Zooey's belly grew with the baby. She soon found out she was going to have twins.
Victor was notified and was thrilled. He had planned to come back the following year to breed another woman but now he had his three children. Zooey's belly grew huge and one night Mathew had to call the resort office and tell them Zooey was going into labor. She had twin boys the following morning. Victor was called and after the breast feeding period he picked up his baby boys thanking Zooey for delivering his babies. This time he brought his new wife with him on the trip. She was black. Zooey earned that she couldn't have children of her own.
Zooey would have a three-month period to recover before she would be able to breed again for another black man. Mathew was kept in a cock cage during that time so her pussy would be off limits. Victor and his wife promised to keep in touch with Zooey and continue to keep her posted on the boy's development.
You'll also like these stories: