[en] [gangbang] [cuckold] He Invited Some Friends To Fuck My Ass and My Pussy
I only had one long term ex in high school before I married my husband. I had one-night-stands and hookups but never anything serious besides those two. My ex had a kink of me being free use. Basically, he wanted me to be used by him and whoever he wanted. I really didn't pick up on that for the first 6 months. He was older than me and I was in love. I knew he loved using multiple holes at once. I am very submissive and love anal, so I really liked it too. He got me so many toys over those few months. When he came, you could probably bet on a toy or fingers in my mouth, ass or pussy.
He would talk about me fucking other dicks during sex but I thought it was him being kinky. He got more descriptive as time went on. It turned me on the way he talked about it. It's been a bunch of times but before we had the talk about it, he was fucking my ass and I had the suction dildo I was sucking. He brought up his friend Kyle. Told me he's seen his dick in the locker room and it was too big for me to handle. Asked me if I wanted to blow him like that dildo. Asked me if I'd let Kyle fuck my ass. Asked if I wanted to get gangbanged. I said yes to everything because it turned both of us on. He said he was going to set something up and went on and on about his friends using me. When we were finished he usually stops talking about it but this time he didn't. We had a serious talk about it and I said as long as he was there, I'd do anything he wanted.
My ex didn't tell his friends he told me that he wanted to see the reaction. Kyle was there with 2 other guys my ex was friends with. I had a crop top and skirt on, no bra. My nipples are really high and pointy, even more so back then. Definitely got checked out a bunch. My ex made out with me and got me hot.
– Hey Kyle. Remember the other day how you wanted to motorboat my girlfriends tits? Here. – He pulled my top down and freed my tits in front of everyone. I was nervous but it was a rush for me. Kyle walked over and asked if it was cool before he grabbed them. He played with them and rubbed his face on them and sucked my nipples which I love. He stood up in front of me. – Hey babe. Remember the other night how you said you wanted to suck Kyle's dick? Maybe if you ask nicely he would let you. – I could see the bulge in my face and I was definitely curious. I asked him politely to suck his dick. He undid his pants and pulled out a fat dick. I kissed my ex and then wrapped my lips around Kyle.
The other guys were Chad and Shane. Shane was a shy guy. When my ex offered to grab my tits or get their dick sucked, Chad had his dick out ready to go and Shane only played with my tits and sat back down. Kyle sat on the couch and I took turns on him and Chad. My ex pulled my skirt up and kissed my ass and thighs and rubbed my pussy.
Shane was getting one hell of a show since he was next to my ex. He asked me if I wanted to show Shane my pussy. I pulled my panties to the side so he could see. My ex spread my holes and rubbed pussy juice all over me. Kyle put his hand under me and rubbed my clit. I was getting noisy moaning on those dicks.
Chad put a finger in my pussy. I loved hearing them talk about my giving good head or having a nice pussy. My ex wet two fingers and put them in my ass. It was such a huge turn on and my ex knew I was about to cum. He told his friends and they were going harder and Chad had me by my hair fucking his dick with my mouth. I went from moaning to screaming when I had that orgasm.
I got tuned around by my ex to suck his dick…
His friends were behind me getting their first look and touching my ass and pussy. It's like they we're waiting for the next move so my ex asked if I wanted dick, all I had to do was ask. I very politely asked for someone to fuck me please. Chad went first and made my pussy feel really good.
Kyle's long fingers were in and out of my ass. They switched and the difference was intense. I could feel my pussy grip his dick. He almost made me cum before I got turned again on my ex's lap. He sat my prepped asshole on his dick and spread my legs for them. He kissed my ear and pointed at their dicks. He said I should ask for one. Chad jumped right in. I was in heaven but something about Kyles dick in my throat made my mouth water. Chad said he wasn't going to last and pulled out. He waged a second before having me suck it.
Kyle took his time getting between my legs. He grabbed my tits and pushed his whole dick in me. Chad came in my mouth and on some of my face. My ex flipped me to take my pussy. He asked how bad I wanted cum in me. I wanted it bad. He pulled my hair back and told me to ask Kyle. I asked him politely to please cum in my ass. My ass is pretty well trained but he took a minute to fit. My ex didn't move his dick, he sucked on my tits while Kyle fucked my ass like he was trying to hit my stomach. I almost came again when my ex asked Chad to get something out of the room. He came back with my favorite dildo.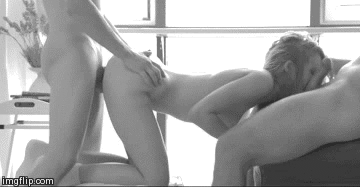 My ex fucked my mouth with it and came in me. He didn't pull out, not until Kyle was done. A few minutes of hard fucking later and he came in my ass.
I was on a high and took a nice shower. I was getting dressed when Shane knocked on the door. He said he didn't want to do it in front of anyone because he had a small dick and was kind of shy about it. He was wondering if he could have a turn. He was so cute and shy about it I was happy to say yes to him. I opened my towel and got on my knees for him. He wasn't small at all. Pretty average size. I sucked him so slow and played with his balls. I asked if he liked his ass licked but he never tried it. I stuffed my tongue in his ass and jerked him off. He liked it more than I thought. I put a finger in barely and he told me to stop or he would cum. I got on the bed pleased with my efforts and said he could fuck me if he wanted but no cum in my pussy. It was like he made love to me. It was really hot and sensual.
I felt he needed a slutty moment so I got on top with his dick in my ass…
He didn't last long in there. I told him to cum but he wanted more pussy. He did a great job fucking me. I rubbed my clit and was like – oh shit, he's going to make me cum. I told him not to stop. He went harder and then slowed down. I told him to go harder but he was going to cum. I felt my orgasm would feel much better watching him get to creampie me.
I rubbed my clit faster and put my arm around him and got a finger in his butt. He had his mouth wide open and I knew he was about to blow his wad. I came right before he did. Biggest load of the night by far.
It became so routine to fuck his friends. Any time they were over I'd politely ask if anyone wanted me. The most I took in one day was 8. I felt like a disgusting whore but I fucking loved it. We had a party at his place and once we all were tipsy, he brought me into the room. My hands were tied, I had a blindfold, gag, spreader bar on my ankles and toys next to me. It felt like I was there a long time before the door opened. I didn't know who they were. My pussy was touched and I was groped by two sets of hands. A toy got put in my pussy and then my ass.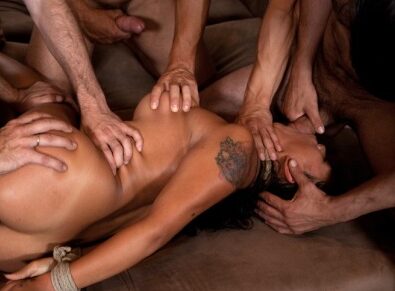 My gagger got removed and I was face fucked. I took every dick that was put in me that night. I was covered in cum. My holes were beaten and sore. I soaked in a nice bath while the party died down.
My boyfriend fucked me that night and I couldn't get off because I was so sensitive. Now that I'm a one man kind of woman, I'm very loyal. I do still stuff myself with toys and think back to being used quite a bit.
You'll also like these stories: