[en] [mother-son] I Fucked My Aunt and My Mom Together
A few days ago, I remembered that my mom's sister, Aisha, my aunt and I have been flirting a lot more together. Don't get me wrong, it's all very innocent aunt–nephew relationship; a longer-than-normal touch as we pass something across the table, a slight foot brush underneath said table.
I like to give my aunty a hard time. When I was a kid I always messed with her and even now that we're both older, she likes to pretend that she disapproves of me. In reality, I am better than her abusive and cheating husband Devas in every way imaginable. While I get the feeling that she would let the flirting progress, I would never actually have sex with my own aunt. My mom would definitely kill me.
One day, my aunt Aisha came to our house in tears. My mom comforted her, hugging her and letting her sister let all the emotions out. My aunt mentioned to us that she had seen her husband Devas naked in front of his laptop jerking off to another woman during a livestream. Aisha thought she was ugly, her husband refused to have sex with her and never appreciated her for anything. My mom and I reassured my aunt Aisha that she was beautiful, a hard worker, a great woman and we appreciate her for everything she has done for my mom and our family growing up. My mom and I told her sister to sleep in our home for the night. Aunt Aisha agreed.
My mom and I were supposed to have the night for ourselves, as my siblings were both at their friends for a sleepover. My mom and I were planning on having wild sex, but unfortunately it seemed to be ruined. Oh well.
My mom and aunt were in the living room talking, laughing and watching TV. I laid down on my Mom's big bed where we always had sex. I had a hard-on and was horny. I had not masturbated or had sex with my mom in a few days, hoping today was the big day we would get it on and I could release all the energy.
I closed my eyes and tried to drift to sleep, when I felt someone pulling at my arm. When I woke up enough to realize what was going on, I realized someone was pulling off my shirt, and then my shorts. At first I thought it was a dream, but it felt so real and so I figured it was my horny mother, finally coming around and wanting to get frisky while her sister slept in the living room couch.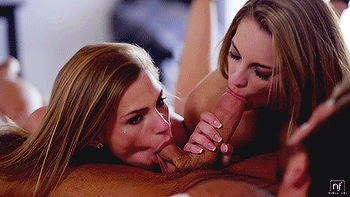 Suddenly, I was wide awake as I realized that my shirt and shorts were being removed at the same time. I opened my eyes and realized the room wasn't dark anymore! In the dim light, I looked straight towards my mom Nimra, then standing beside her, my aunt Aisha, then back at my mother.
Both ladies were completely naked, looking heavenly in the light streaming in from the street…
My mom just nodded, placing her finger to her lips in a "shh"-ing gesture. Then my mom came over to me and pressed her lips to mine, locking our lips and we began to french-kiss one another. Mom and son making out after days!
As I was kissing Mom, I felt an amazing sensation that I had never felt before. Lips on my mouth, and lips on my cock, at the same time! I almost came right there, but was able to hold off. The lips on my hardened cock was deep-throating me all the way.
Before I knew it, my mom pushed me onto my back on her bed, climbed over me, and sat on my face! Her pussy smelt amazing, clean shaven and ready to be sucked and eaten. I closed my eyes and started eating her pussy for all my mother of a MILF was worth, both her pussy and ass. My Mom moaned really loudly as I flicked my tongue towards both her lady holes.
Suddenly I felt my hard dick sliding into the tightest warmest pussy I had ever felt. I couldn't believe it, My dick was inside a cunt, my aunt Aisha's! I was fucking my aunt Aisha, my mom's sister, my second mother! She was riding me, cowgirl style, facing her sister. Both sisters. They were playing with each other's tits, making out, while both were riding me at the same time.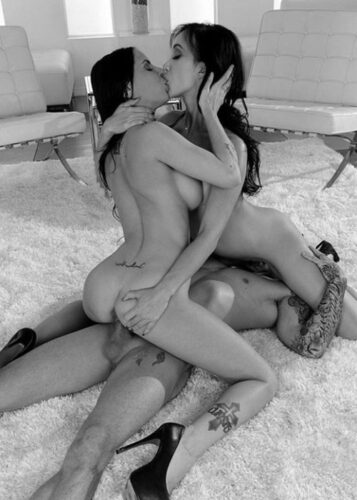 The immense pleasure of the MFF threesome was beginning to make me get close to cum. I didn't last very long, and before I knew it, I was ready to come. My mom knew it as well, and got down off my face, whispering in my ear to fill her sister full of my cum, then kissing me hard, tasting her own juices on my tongue and mouth. I opened my eyes and looked at my aunt Aisha as she rode my hard on like no tomorrow. I did as Mommy instructed, and came into her sisters unprotected wet pussy hard. And right as I did, her sister went completely onto my cock and she came too, spasming hard on my cock, and we collapsed into a heap.
– Thank you, you made me feel so good – aunt Aisha slowly moaned to us.
I started feeling bad for my mom, who didn't get an orgasm. I got up and I laid her flat on her back and started eating my mother out again, but this time I was really going to town! As I was enjoying the taste of her, I started to get hard again, and felt something on my balls. Looking down between my legs, I saw aunty Aisha's head come up between my legs and engulf my now hard again penis in her mouth once again. I started to slowly move my hips up and down and allowed my aunt to deep throat me. I was face fucking my aunt and eating my mom out together at the same time!
My aunt then stopped and asked to take my place. I obliged. My aunt was now taking my place on her hands and knees at her sister's cunt. She stuck out her tongue and went straight for her sister's clit. she was eating out my mom better than me, making my mom moan and twitch like never before!
I took up my place behind my aunt and entered her cum filled tight pussy once again, fucking her doggy style this time. The sight of her face down in my beautiful mom's baby maker was the most glorious sight I had ever beheld as I fucked my aunt from behind.
My Mom began to moan loudly as she neared orgasm. My aunt now moved upward, laying face to face with her sister and they made out together. I had two beautiful wet pussies available to fuck. I began to fuck my aunt, then my mom, then my aunt again, and back down to my mother's pussy. I began to pound fuck my mom hard and I felt her orgasm on my dick as I groaned and shoved my dick all the way inside her, planting my seeds back into her. The same hole I had come from.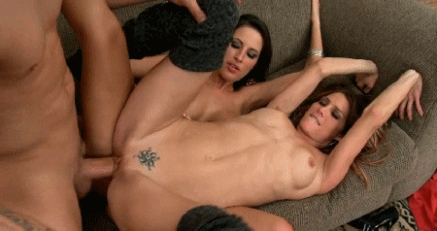 Within seconds, we all came, together, and collapsed into a pile of flesh and cum and sweat on the bed. We were sleeping naked, spoon-style with me in the middle. The three of us spent the rest of the night entangled in each others' arms, and it was amazing.
You'll also like these stories: