[en] [black-cock] [orgy] An Orgy Hosted by Masked Lesbians
Over the course of the next month, Janet and I would have sex with Beatrice at Jim's place, and with Kelly at guest rooms at the Resort. For Beatrice, sometimes Jim would be there, so she got the big black cock she was after when I originally caught her at Jim's orgy. I took Rasaun with us sometimes for Kelly, and she fell in love with his thick 8.25" black cock, having never fucked anything bigger. There was a major change in Kelly. She was cheerful and walked like a hot woman should walk, and not stuffy and boring like she was when we first met.
The bottom line is that we had sex with Kelly and Beatrice to the place that they became comfortable, and both enjoyed lesbian sex now. This was part of our scheme to try and get them to have sex with each other. We knew we could not just bring them together and accomplish this. Then Janet came up with the idea of a masquerade orgy. We used Janet's basement, and her huge orgy bed that is made by attaching the leather couches and chairs together in the media area. There would be other guests to camouflage our subterfuge too. We would then try and maneuver people around during the orgy until Kelly and Beatrice locked up and fucked each other.
Janet ordered some silk masks of various colors for the orgy. Since it was a masquerade, there would be no need to introduce people, thus we avoided them knowing names before we could manipulate a sex act with Kelly and Beatrice together. I had to hand it to Janet, it was a pretty devious plan. We had a hard time deciding on a guest list because we knew some people had to be invited, and some people could not be invited. For instance, Paige and Lisa could not come for two reasons; their age, and we did not want them encountering a schoolteacher (Mrs. Miller). So, we did not invite Sophia and Tiffany (and I wanted Tiffany to be there), but Paige and Lisa spent the night at Sophia's instead, and I am sure they had some fun with Tiffany.
Of course, Max, Ken, and Greg had to be there, and James and Anthony. I also invited Ethan, Michael, Jim, and Rasaun because the bisexual trio of Ken, Greg, and Max, liked fucking Ethan and Michael. Janet wanted to keep Anthony and James's cocks feed too, which is why I invited Jim and Rasaun. This was our guy list, and they were under orders to fuck with condoms unless it was a closeout. Closeout is my term for a final fuck, so that when you are done, you can shower, clean up, and probably go to sleep. I also invited Marcus and Bada, and the condom rule did not apply to Bada. All Marcus did was watch until Bada was humiliated enough and full of cum, then they went to one of the guest rooms and had a private fuck.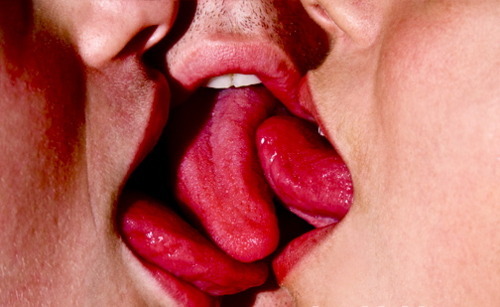 Janet and I argued over the girl list, mainly because Janet insisted Carla (aka Less Than Beautiful) be invited, and Janet won. I knew I would have to fuck Carla, and it is not appealing, but afterwards it is very satisfying. You can read Amy Tale/s – She-Man, for a typical fuck session between Carla and myself. The female attendees were Me, Janet, Clair, Kelly, Beatrice, Courtney, Aliya, Sherry, Alyson, Carla, Heather, Sarah, Bada, and Terry (transsexual girl). I really liked having Terry there because I love sucking her flaccid uncircumcised penis and playing with the foreskin with my tongue and teeth. I restrain myself, but I want to bite it. Ken and Greg like her too because it is a challenge to get her off, and they like sucking and finger jacking her little soft penis into a mild erection until she orgasms. Terry likes group sex because the more the merrier help stimulate her into an orgasm.
When the guests arrived James and Anthony met them upstairs and they were naked and wearing a silk mask with their big black cocks swinging. The guests had to disrobe, mask up, and enter the basement naked. There was a lot of pussy eating, dick sucking, pussy and assholes getting fucked with cocks, and even Carla got dicked by Jim while she ate Kelly's pussy. Having Carla eat your pussy is an experience that every girl there got to enjoy. Me and Janet managed to get Kelly and Beatrice hooked up, and it is this affair that I want to focus on. By the time we got them together, the masks were gone, and most people lost their masks from the frolicking.
Everybody was hungry for an orgy with black cocks
Janet was kissing Kelly, and on her breasts, when I guided Beatrice between Kelly's thighs. Beatrice kissed Kelly's thighs, and then she started eating Kelly's pussy. Kelly has a pretty pussy with her bushy landing strip trim and pink pussy lips and great definition, and Kelly was wet. We spun them into a 69 and even though Beatrice has big breasts, they manage to eat each other's pussy. I help Beatrice and we got Kelly off. We rolled them over in a 69 with Kelly on top, and Janet helped her get Beatrice off. We turned them to each other, and they started French kissing. I said:
– You too look hot together. Did you like that? – Kelly was rubbing Beatrice's red hair and said:
– You are a pretty young thing, how old are you? – Beatrice said:
– 27. – Kelly kissed her again and rolled Beatrice and rubbed and kissed on her lovely large 30G's and said:
– You have beautiful breasts. – Beatrice pulled Kelly up and kissed her and said:
– You are hot too – and I noticed we have the same pussy haircut. They laughed and Kelly said:
– Yes, but mine is not red. – Janet said:
– I think you two make a nice match, what do you think? – Kelly said:
– I am too old for this girl, but I did like having sex with her. – Beatrice said:
– Do you mind telling me how old you are? – Kelly said:
– 45 sweety. – Beatrice said:
– I am into older people, my husband is your age. – Kelly asked:
– What is your name? – She said:
– Beatrice. – Kelly said:
– Well Beatrice, I am Kelly, would you like to fuck some more? – Beatrice said:
– Yes.
They locked up on their sides and me and Janet watched and fingered each other as they eventually got each other off again. Beatrice was laying on top of Kelly and she said:
– Kelly – with a puzzled look on her face – would you mind telling me your last name? – Kelly said:
– Miller. – Beatrice said:
– Kelly Miller? – Kelly said:
– Yes. – Beatrice got out of the bed, and was standing looking at me and Janet and said:
– What the fuck were you thinking? – Beatrice says to Kelly:
– You are Wendell's ex-wife? – Kelly says:
– Yes? – Janet and I are on our knees holding each other and revealing in this revelation as it unfolds in our sex soap opera. We are rubbing each other's pussies in excitement. Kelly says: – Wait a minute, how do you know Wendell? – Beatrice says:
– Because I am married to him. – Kelly jumps up and she is pissed, and Janet has an orgasm as I finger her with her holding my hand and helping herself. Janet is convulsing madly, and Kelly is cussing her. (Janet told me later that her orgasm was like a wet fucking dream she can't get out of her mind now, what happened and how excited it made her became fantasy fuel for fingering).
Beatrice is pacing back and forth, and her big tits are shaking, and her plump thighs are taut. Kelly is only 3" taller than Beatrice, and with Kelly's enhanced 32DD tits, and I think Kelly realizes that Wendell had replaced her with Beatrice.
Kelly and Beatrice go upstairs and start dressing and we follow and stop them before they leave. Beatrice is terrified that Kelly is going to tell Wendell what she has seen and what Beatrice did, because both had some big black cock tonight as well. We calm them down and get them talking. Kelly is in a similar predicament, because she has her legal career to consider, and her boyfriend she lives with. They both agreed on one thing, they hate us. Janet says, well, before you two knew who the other was, you almost fell completely in love. They both yell at Janet again saying:
– How could you do that to us? Manipulate us like that for your amusement? – They boiled over and left.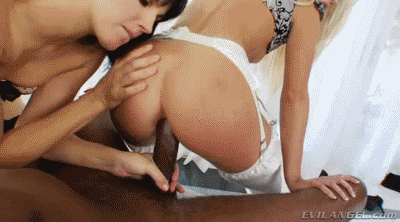 About a month later one Sunday evening Jim called me. Beatrice had got the big black cock itch again, and she came to see him that morning. Jim saw Kelly at the orgy, but did not know her, but said there was another older woman with Beatrice, and he said it was the same girl from the orgy. Jim said they ate each other's pussy, then took turns fucking him, and doing each other in between. I said:
– You are a poon hound baby, you waited until you got the pussy before calling me. Next time they call for the date, you call me with the details before they arrive, and I will feed your cock all the varieties of pussy it can handle. If not, I will see to that you don't even have that little red head to fuck anymore.
I left work early one day and went by the school just when it let out and talked to Beatrice. She knew Jim would tell me, but she wanted the cock, and she did not care if I knew. I said:
– What about Kelly? – Beatrice said that a couple of weeks after the orgy she called Kelly and they met to talk in person. At first, it was just to reassure each other that no one was going to find out about what happened. Then they got to apologizing, and the more they talked, the friendlier they became. They had a lot in common when it came to trashing Wendell's boring sex appeal. When they realized how much fun they had together before they knew who the other was, they were renting a motel room to fuck each other again.
They started seeing each other in secret, and Beatrice and Kelly got the black cock itch, and Beatrice already knew Jim was a poon hound with a big black cock. They did not trust us anymore (for now), so we will have to see what happens; but it will not be a free pass on my dark lover's man meat…for either of them…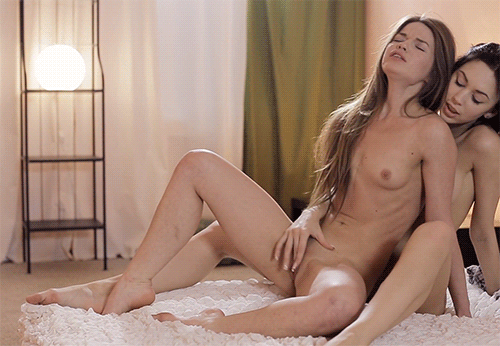 You'll also like these stories: