[en] [black-cock] Caught by My Husband While Enjoying a Big Black Cock
Trey had a big black cock, 10" at least, and I sucked it. I would hold his cock up and jack it and lick his smooth balls…
My husband tells me Kyle (my husband's black hunk friend) has invited us to his house for a New Year's Eve party. I say, yes, without hesitation. I want to see Sabrina again (Kyle's hot white girlfriend), and maybe sneak off to her room for some intimate moments together. My husband says Kyle has also invited us to spend the night since we would be drinking, and I am more thrilled. Perhaps I can use her shower (with her of course).
The day arrives and I am dressed, and my husband asks me to remove my panties and bra. I give him a hard time but really, I don't mind. I would bend over in front of my husband and let someone else fuck me if they desired too (possibly). I don't want my husband to think I am unfaithful, or he may prevent me from experiencing new encounters like with Sabrina.
We arrive, and I rub my breasts up against Kyle's arm. I grab his bicep, and I say, hi Kyle! I look at my husband and he notices. That should give my husband a thrill. Sabrina leads me to the couch, and we start talking.
About 30 minutes pass, and two more black guys show up, and one is Kyle's brother Darius, and his friend Trey, and including Kyle, they are all good looking, tall, and fit. I am in a skirt and feeling a little creamy with excitement, and I begin to wonder if my thighs are going to get wet without panties on. While the guys talk, Sabrina grabs my hand, and we rush upstairs to her room. Sabrina pushes me against the wall and kisses me. Sabrina's fingers my hairy pussy, and she says:
– No panties again, you really want some attention, don't you? – I kiss Sabrina and say:
– Yes – and kiss her again and say: – Yes; I want you to touch me – and I kiss her hard and passionately as she fingers my wet pussy. My pussy is so wet that it is running down my thighs, and I ask Sabrina: – Do you have a towel or some wet wipes?
Sabrina is a 5' 8" hot 24-year-old brunette (with long hair), and her measurements are 36DD-24-36, and she has a hairy pussy that is shaved below. Sabrina says:
– I am like you, Kyle does not know about my sexual activities apart from him.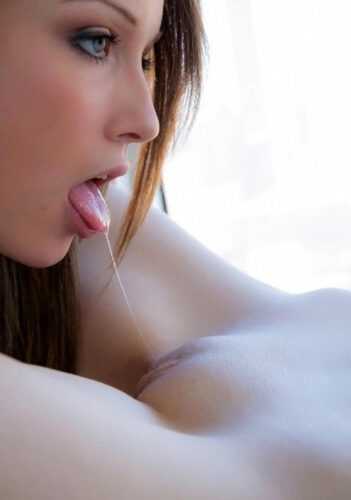 The ball dropped, and Sabrina kissed me (just a peck) on the lips and said:
– Happy New Year! – Everyone saw it, and my husband said, what was up with that? I said:
– Oh she is playing around, besides, you are supposed to kiss someone right away. – I kissed my husband, and I said: – Happy New Year. There honey, see, it's a tradition. – We drank for another hour and Darius and Trey went upstairs; apparently, they were staying the night too. Sabrina said:
– I guess they are going to get their freak on. – I asked and she told me that Kyle knows his brother is gay.
The rest of us decided to turn in too, and Sabrina showed me and my husband to a guest room. I put on a t-shirt I like to sleep in when I changed. The shirt is thread bare from how many times it has been washed, and you can practically see my tits through it. I said:
– Shit, I need to pee. – I reached for some shorts, and my husband said:
– Go with just the shirt on. – I said:
– You can see my tits and I don't have any panties on! – My husband said:
– Do it, it's hot, you know how I like to be teased.
I walked into the hall and no one was there, and I reached the bathroom door and I opened it. Darius was on his knees sucking Trey's cock, and they both were naked like they just got out of the shower. I said:
– Sorry – and I shut the door, and I went back to our bedroom. My husband said:
– That was quick. – I said:
– Someone was in there. Trey's cock was big, like 10" big, because I looked at it good when Darius stopped to see who opened the door. It was a shame he was gay.
But, I was ready to taste that big black cock…
I waited then went to the bathroom again. The door to the room Darius and Trey were in was open, and no one was in there. The bathroom door was open, and I peed. I was wondering where they went, and were they upset that I walked in on them? I decided to go downstairs and pretend I wanted some water. Darius and Trey were in shorts and standing in the kitchen. I said:
– I am sorry I opened the door, I should have knocked. – I was so concerned about upsetting them that I forgot about what I was wearing, or not wearing.
My nipples were hard, and Trey was looking at them. I thought to myself, uh, he is not gay enough to avoid looking at my tits. You could not see my pussy for the shirt length, but most of my sexy thighs and the rest of my hot legs were showing. I was wearing flip flops, but my toenails were painted red and they looked good.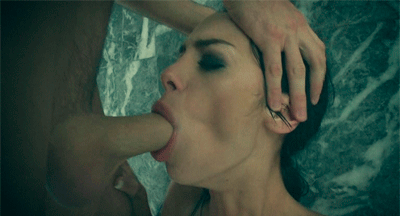 Darius said:
– We should have locked the door, but we are not mad if that is what you are concerned about. – I said:
– OK – and I dropped the cap to the water bottle, and I bent over, and Trey looked at my bare ass and my pussy lips. Darius saw him, and he pulled Trey's head over and kissed him. Oh my – I thought – Trey might be bi. I said: – Well, I guess I will go back upstairs, my husband is still awake. – Trey smiled at me (and I hope he read between the lines, of my pussy lips), because I had a feeling I was going to have to pee again later…
My husband drank a lot, and when I returned to the room he said:
– What took you so long? – I said:
– Well, I went for some water and Sabrina was in the kitchen, and we were talking.
I laid down and my husband started rubbing my pussy and getting frisky. I said:
– I don't want anything, but I will lick your balls and you can jackoff. – After he got off, he passed out (he always passes out after getting off).
I went back into the hallway and Darius and Trey's door was closed but not latched, and I pushed it and looked in, and they were asleep; or I thought, and Trey lifted his head and looked at me. I watched to see what he was going to do, and he got up and followed me to the bathroom.
We shut the door, and I removed my shirt and kissed Trey, and he rubbed my body and my bouncy double D's. I knelt and pulled his shorts off. Trey had a big black cock, 10" at least, and I sucked it. I would hold his big black cock up and jack it and lick his smooth balls. He had no pubic hair, and I cannot even remember giving my husband a blowjob lately; but I sucked Trey's cock good.
I was so wet, and Trey bent me over the counter, and his cock penetrated my pussy from behind and I moaned. Trey had the biggest cock I had ever fucked, and he stretched my pussy and made be squeal.
Trey fucked my pussy until his cum filled my cunt, and he pushed me against the counter driving his cock deep, and he shook in excitement. I was grunting and moaning, but it felt amazing.
Someone knocked on the door and said:
– Amy, you alright? – Damn, it was my husband. I said:
– Yes honey, I am using the toilet. – My husband said:
– I heard you making sounds, you OK? – I said:
– Yes, this is kind of private, and I don't want to speak loudly about why I am grunting if you know what I mean?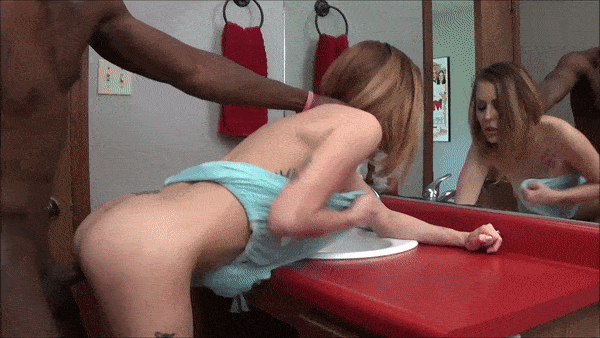 I am wiping cum out of my pussy with a towel, and Trey is putting his shorts back on as quietly as he can. I hear my husband say:
– Oh, hey Darius, Amy is in the bathroom, but she will be done in a bit. – Darius says:
– Well, I am looking for Trey. – My husband says:
– Oh, I have not seen him, maybe he is downstairs. – Shit, shit, I put my shirt on, and listen at the door and it seems like both of them have moved off.
I leave quickly and no one is in the hall and I return to the bedroom and my husband is sitting on the bed. My husband asks if I was alone in the bathroom and I say yes. I pull my husband's shorts off and say, I am so horny now. My husband lays back and I jack his 8" uncircumcised cock until it is hard, and cowgirl down on it.
My husband says:
– Ah, wet and loosie goosy. – I say:
– You want to hear a dirty story? – My husband says:
– Yes. – I say:
– I was just in the bathroom fucking Trey, and he has a 10" big black cock, and I sucked his cock, and he fucked my hairy wet pussy. – My husband says:
– For real? – I kiss him and say:
– No honey, it's a dirty story – and he gets off in my pussy already full of Trey's cum.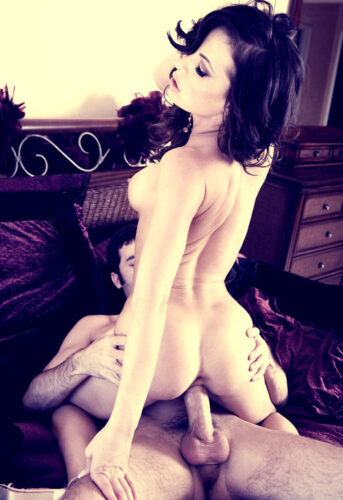 You'll also like these stories: