[en] [slave-male] [scat] His Asshole Was Better Than a Cunt
I woke up Sunday morning with a hand full of hard wet cock. It was frustrating because it was only my cock. I was tired of the women who thought their shit didn't stink. I had been out the night before with my construction worker friends pissing and moaning about needing more excitement at our drinking parties. On of the guys said he was horny enough to fuck a boy. That sounded exciting to our horny drunken minds.
A date was set for the next get together. I didn't bother to dress as I staggered out to the living room to read the paper. Shit, the boy idea made my cock hard as I opened the paper to the section concerning men meeting me. And, there it was. Some faggot wrote in asking for a real man to give him training in discipline. Said he was a college boy and could move in for his training.
I called the phone number in the add and a date was set at a local bar for a meeting. I got there a little early and got a booth in a dark corner and waited. I hoped the perverted little cock sucker was demented enough to satisfy my cravings. No fucking cunt could.
Right on time a young man entered and stood there letting his eyes adjust to the darkness. Oh yeah, fucker was dressed in shorts and his legs were beautiful, better than the cunts I'd fucked. He was slightly built and seemed nervous. I waved and his eyes got big when I stood up and he could see a real man. I had on a muscle shirt and short cut offs. I had a deep tan and a muscular body from my construction work. I also let him see my big cock bulge.
He sat opposite me and was very shy. I could tell he had been drinking. He started to whine about needing a real man to help him. I wasn't going to put up with his bull shit and commanded him to go to the restroom and take off his underwear and then buy us some fucking booze. He said OK and I grabbed his slender arm and pulled him close and told him my fucking name was SIR! He came back with our drinks and I noticed his swollen cock swinging in his wet shorts as he sat next to me. I had him drink both our drinks and told the little fucker that, if I trained him we would have fucking rules.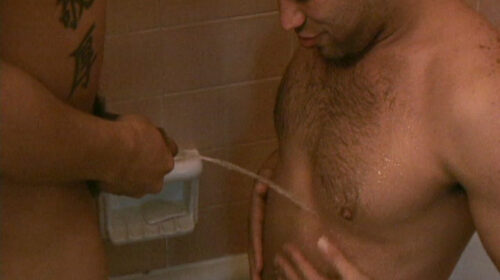 By now he was a little drunk and didn't flinch when I rubbed up his bare leg and felt his cock under his wet shorts. He said he had pissed himself, SIR. I grabbed him and drug him out through the side door and threw him in my truck. I slapped him and told him to fucking shut up until I told him to speak.
I took him into my apartment and I had him undress in front of me as I sat down and rubbed my cock bulge. I told him that he was a piece of shit and I was his fucking master and spelled out a few rules. I could tell he was scared but that didn't keep his smallish cock from being hard as a rock. I told him he could never touch me unless I commanded him to. Also that he was not to touch his cock or there would be punishment. I also told him that I was going to shave his body since he was so fucking pathetic.
I couldn't wait to try his little asshole…
I had him suck his pissed shorts as I lead him to the plastic covered bed. As he lay there, afraid to touch his throbbing cock, I undressed and let him see a real man, hairy, muscular with a pulsating 8″ cum filled cock. I got a pan of warm water, soap and a razor and began shaving his arm pits. His eyes were glued to my throbbing cock as I shaved down to his pubic hair. As I was shaving his balls he said:
– Master – but I told him to fucking shut up. As I pulled his cock skin up a stream of hot piss arched into the air and all over his belly, chest and face. I said:
– Drink piss, cock sucker – and he opened his mouth and drank his yellow piss. This fucking turned me on so much that, after I shaved his slender legs my cock was wild with lust. I told him that his punishment for pissing himself was to get his slut asshole fucked. I had him get on his hands and knees for his punishment fuck. Man, his asshole was so moist that I just had to lick his little brown shit hole. As I licked I could see streams of pre cum run out of his hard cock.
My fucker was so hard as I rubbed the big head around his ass cunt. As my big cock slipped into his asshole I could feel the tightness, better than a cunt.
Faster and faster I fucked my horny cock in and out of his asshole. He gasped and his cock shot cum onto the bed. With that I emptied my full cock load deep in his ass. I pulled out, rolled him onto his back, and told him he fucking came and now his master couldn't drink his cum. With that I had him suck my spent cock, still dripping cum and coated with spots of shit. I called my buddies at the bar and told them to cum over and fuck my new toy. When they came in the door I was standing naked, cock hard again, with my boy slut at heel, a leather collar around his neck, like a dog. In no time they were naked, hairy cocks needing relief. One of the guys was sitting down, legs spread, cock leaking pre cum. I lead my slut to him and told him to suck cock. My fucking slut moaned as he sucked frantically on the huge cock. I told my buddies to try his hot asshole and pretty soon he was sucking cock and getting ass fucked. In no time cum was leaking out of his well fucked asshole and down his chest.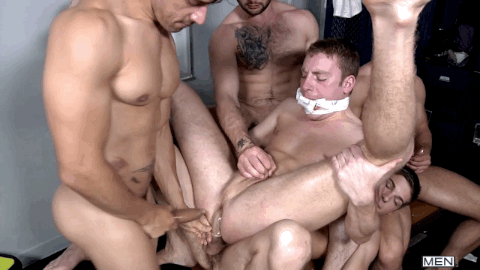 We put the little cock sucker in the bath tub and relieved ourselves on him, shooting hot piss all over him and into his mouth. He gulped all the piss he could and then had to clean our cocks. He sucked them all clean of piss, cum and some brown ass shit. After everyone left I took him to bed, held him close, cocks together and kissed the cum and piss from his obedient mouth. As a reward I kissed and licked down the piss and cum on his chest to his humping cock. I told him to fuck my mouth and he put his hands behind my head and fucked streams of cum down my throat. We all agreed that we would have our drinking parties at my place here after.
You'll also like these stories: