[en] [brother-in-law] I Fucked My Husband's Brother
My husband can get really kinky with the fantasy stories he wants me to tell him. Sometimes, he will give me the premise, and I will make up the story. He gave me a premise one time where he wanted me to tell him a story about me having sex with his brother. I protested, saying that was gross, but what my husband did not know was that I had actually fucked my husband's brother several times. As I stated in my earlier stories, my husband likes to hear dirty stories while he jacks off, and I rub his balls. This fetish did not start until after we had been married for about 8 years.
When we first got married, we rented a house out in the country and my husband had to drive about 30 miles to work. His brother was living with us, and he worked nearby as a truck driver, sometimes driving at night, so he would be home during the day sleeping on some occasions. Before I tell you of my first time fucking my husband's brother, I want to tell you about an episode that I think gave my husband the idea for a sexual fantasy about me fucking his brother.
We eventually bought a house close to my husband's work. When we first moved into the new house, there was a couple living next door that were a little older than us, but after about four years, they moved. There is a story behind their move also, which involved me; however, the next couple that moved in was the neighbor I was teasing with the open windows and taking out the trash in just a t-shirt, with whom I had a steady affair for about two years.
Anyway, one night my husband's brother needed to spend the night when we were in our new house. I had already fucked his brother many times when we lived in the country, but it had been about 2 years since we moved, and his brother was married now. Me and my husband went upstairs to bed, and his brother slept downstairs on the couch. When I was sure my husband was sound asleep, I snuck back downstairs, and me and his brother started fucking on the couch.
I heard my husband get up and start walking toward the stairs and I jumped up and went to the bathroom. He came downstairs looking for me, and his brother was faking like he was asleep. My husband found me in the bathroom, and I told him we were out of toilet paper upstairs (I had brought it down in case I needed the excuse). My husband was very suspicious after that. Many times, he was suspicious of my affairs, but I always convinced him that I would never do such a thing. I think my husband got the idea for his dirty story from that encounter.
So, the very first time I fucked my husband's brother was when we were living out in the country about a year after I got married, and my husband's brother was living with us. His brother had worked late one night, and he was asleep in his room. I had to walk past his room going down the hall to get to mine, and he had left his door open. He was laying in the bed, on his back; and my husband's brother was butt ass naked, with a hard on, and his dick was sticking straight up in the air. I swear, his dick looked 2 inches longer than my husbands at the time.
My husband's brother fucked me the better than him
I looked the first time, then made excuses to keep walking by to take additional looks. Finally, I went into my room, got undressed, and wrapped a towel around me and walked back past his room on my way to the shower. I usually went to the shower fully dressed, but this time, I only took the towel. I took my shower, and at one point, I was slowly washing my supple bouncy tits and thinking of my husband's brother, and his hard ass cock standing at attention.
I got out, dried off, and left the towel in the bathroom, and walked back to my room totally naked with my tits bouncing and my hairy pussy on display. I was so excited; I was shaking nervously. This time when I walked by his door, he was awake, and he saw me walk by. He said:
– Amy, what time is it? – I was already past his door, but I stopped, and said:
– Let me check. – My husband's brother could not see me now, (and I do not know if he saw me naked when I walked by) and I was anxiously trying to decide what to do.
I got up the courage and just said to myself, screw it, my husband's brother was naked, he can't say anything about me being naked too. I grabbed a hair brush out of my room, and I went back to my husband's brother's room, with my shaved pussy and tits, in the wind. I stepped into his room, brushing my hair, and I said, it is 11:15. He sat up on the edge of his bed, still naked, and still with a boner, and he looked intently at me for about a minute as I brushed my hair and let him look at my body, and my tits swinging, and around my trim hairy pussy and down my sexy legs and feet.
He asked if his brother was at work, and I said, yes. Then he asked:
– Do you want to get in bed with me? – and I said:
– Yes. – As I said before, I do not like to give blowjobs, but for some reason, I really wanted to suck my husband's brother's cock, and I did, really good too. He just laid back down, and I started sucking, and I was right, he was bigger than my husband. I sucked, and licked, then maneuvered myself around, and stuck my soaked pussy in his face, and he started eating. I jacked on his dick and sat straight up, and smothered his face with my pussy. I started rubbing my cunt back and forth on his mouth, and every now and then, I would lean back down and suck his dick.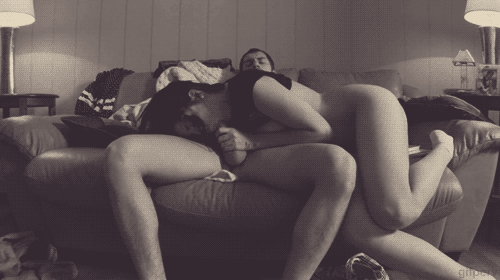 I was so excited, that I just orgasmed on top of his face. I then turned around, grabbed that erect cock, and guided it into my soaking wet pussy, and I pushed back on that rock hard boner. I was on top, and I started grinding. Shit, I was so wet, it was running down his balls. I had pushed back against his dick so hard with my weight, that it felt like a steel rod was rubbing inside my pussy. He did not show any signs of cuming soon either.
I fucked my husband's brother feverishly for about 25 minutes in that position, until I was just too tired to go on, and still, he had not cum, or lost any of his erection. I laid down flat on my stomach, I was panting, trying to get my breath. He got on top of me, slid that long cock between my thighs into my pussy, and then he began to pound. At that time in my life, I had not had a dick go that far into me, and it felt good. He kept that up for about 20 minutes, and then, he shot one hell of a load into my pussy. I just melted, right there in his bed, I could not move, my damn legs were numb.
I had plenty of time, my husband usually did not get home until after 5:30. But, I did not want to move. I laid there with my husband's brother until around 3:30, and he said he had to get ready to go to work. I got up, dripping balls, and went to the bathroom. I peed, but I felt so good, I did not even shower.
My husband's brother left for work around 4, and I was feeling, so satisfied, that I left my pussy smelly, and cum lined. I mean, when I went to the bathroom, I made sure it wasn't dripping with sperm, but I did not make any attempt to wash it. My husband came home, he ate, watched some TV, showered, and around 10, we went to bed. My husband got frisky, and started rubbing my pussy, and I was still tingly from earlier.
He pulled off my panties, and he started fingering me. I looked at him, and I said, eat my pussy. Sure enough, my husband went down, and started licking, and as he usually does, he turned himself, so that his head went down in between my legs. It feels good that way, and my husband is a better pussy eater than any one I know. He asked:
– Did you shower today? – I said:
– This morning, but I did a lot of cleaning today.
What he did not know this night, was that he was doing the cleaning, and he was licking the spunk from one hell of a fuck that his brother laid on me. After that, every time my husband would go to work, I would get undressed and walk around naked. This led to many more fuck encounters with my husband's brother. We only lived there for about a year, but it was a hot fucking year.
When I would tell my husband dirty fantasy stories, such as he would like to hear, I never varied to far from the truth, but he did not know that. When he asked me to tell him a fantasy about me fucking his brother, I already had plenty of stock source material. He was right when he came downstairs the night his brother spent the night with us in our new house. I had been priming my husband's brother all-night by not wearing any panties, and sitting across from him, and flashing him with my sweet hairy pussy. I could not wait for my husband to fall asleep, so I could sneak downstairs and suck and fuck his brother's cock again.
You'll also like these stories: