[en] [he-blackmailed] Double-Fucked on His Desk by Two IT Guys
Being the executive secretary and the public relations officer at my company, the company had lost the internet connection as of a sudden, the employee in charge was following it up, when he faced a closed road, he came to the General manager, my direct boss. I entered my boss's office and approached his desk. He was shouting and very nervous, when he hung up, I asked:
– What is the problem boss? – He said:
– Those telecommunications company are bastards by all means.
– Why? – I asked. He said:
– We truly made a mistake by being late to pay the bill, we didn't mean that, but I told them I am willing to pay it now with any extra fees, but they said we have to live without internet for the next 48 hours for renewing the contract. – I screamed:
– What? Why is that? – He giggled, saying:
– Bureaucracy, I guess, or else they don't know what they are doing, they said it is a technical problem that could not be overcome. – I offered my help saying:
– Would you like me to go to them to solve it sir? – He smiled checking me up and down, right and left, as if checking my body assets, then he said:
– I know your capabilities and abilities to solve any problem Lisa, but I don't think what you have on mind could work babe, it seems to be a technical problem they could not bypass, simply because I offered any money they needed.
I knew exactly what my boss was hinting for when he checked my body out and told me what he just did, but my self-confidence was higher than his expectations. I smiled placing both of my hands over his desk in front of him, leaned down as if wanted to whisper something to him, by then most of upper parts of my tits were exposed, with parts of my nipples as well. He was all eyes on my exposed tits, then he looked me in the eyes, I winked an eye whispering:
– I would like to try, I don't think our company could live for 48 hours without being connected to the outside world, don't you agree? – He said:
– Lisa, it is a competition market out there, but, the problem is, our staff has checked all available suppliers for the service, the minimum we need to get a new service provider and the service itself is 72 hours after signing the contract. – I smiled saying:
– I know that part already, I didn't have on mind getting a new contract with others, but don't you trust my abilities? – by then I allowed my eyes to point at my semi exposed tits and nipples.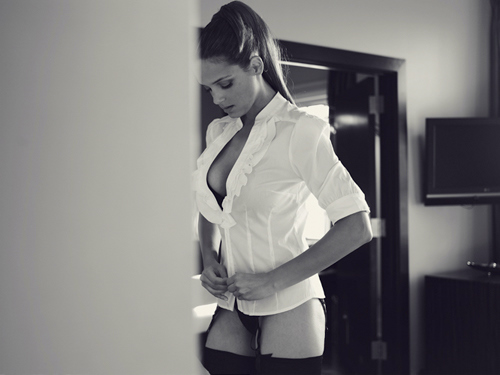 My boss knows my abilities very well, and he knows what type of feminine assets I have, simply because he had been there, between my arms and legs, kissed, licked, and fucked me countless numbers of times, some of them were right there over his own office desk. The boss smiled, placed his hand over my tits, rubbed a little pushing my top down till he revealed my hard nipples saying:
– I have no doubt you could make any man melt in no time babe, if you want to give it a try, I have no objections to it, but we need to buy all the time we could get sweetie.
I placed a hand right over his cock, which felt rock hard by then. I rubbed it a little, saying:
– Boss, can you remember how many times you have seen me naked, or how many times have you fucked me so far?
– What do you mean Lisa?
– I mean, look how hard your cock is just for the short poses I have just made, can you imagine the effect on a strange man who had seen me for the first time making suck poses or a little further?
He pulled my hand and pulled me till I was standing next to his chair behind his desk. He got up, hugged and kissed me on the lips, placing his hand over my ass, gave it a couple of teasing taps before he pushed his hand under my skirt, rubbing my ass a little and saying:
– I can never argue that part, good luck sweetie, use the company car and go.
Back to my office, I made a few phone calls to the company trying to pin point where exactly our connection problem is among their wide spread offices and departments. Finally I was told the name of the engineer in charge who might be able to solve it. I called him, made an appointment to see him right away in his office, started driving towards his office right away, when I got there, he was a skinny tall man of mid-thirties. He welcomed me I was talking to him for a little while about the net service to our office, he knew about it saying:
– Yes ma'm, the main switch board is right here at our technical section, but it can't be done now, I guess our head office have already told you how complicated it is? – I said:
– Sir, nothing is impossible or can't be done, there must be a way to be negotiated. – He was sitting behind a little desk away from his office desk looking at some papers when he said:
– May be, but…
I got up, walked towards him till I was standing in front of him, I lifted my foot placed my heels over his desk making my pussy facing his eyes. I had a short skirt and a pair of transparent G-string panties which had barely covered my pussy, the outer pussy lips were almost showing from the sides.
The man was totally shocked, he dropped what was in his hands, his wide-open eyes were fluctuating the looks between my eyes and my pussy and upper thighs all revealed to his eyesight. He did not seem to know what to say, then he looked me straight in the eyes barely able to say:
– What are you doing ma'm?
– I want to make a deal with you.
– What deal? – I placed my finger under the side of my panties pulling them a side revealing my, waxed, silky soft pussy and saying:
– Do you like what you see sir? – While his eyesight was fixated over my bare pussy now, he swallowed his labia mumbling and saying:
– Like? I would be lying if I said otherwise, I love what I see ma'm. – I said smiling:
– What you see now will be all yours to enjoy anyway you want, right after I get a phone call from my office saying the net service is back, do you think it is possible to do so? That is, if you want to get what you see, of course?
I was fucked on his desk by two young engineers
Without hesitation he said:
– I'd love to get what I see, and nothing is impossible, but there are some complications to that and some risks too. – I let my panties go back to covering my pussy, lowered my leg back to the floor, leaned over the desk revealing most of my upper tits and part of my nipples whispering:
– Then we cancel renewing the contract and I could get the service from any of your company competitors. – He smiled saying:
– But I am sure you already know that any company would need at least 72 hours after signing the contract to provide you with the live service. – I nodded saying:
– Yes, I already know that, but, if I gave the offer, I have just offered you, to any engineer at any other company, would he be able to connect me immediately? – He said:
– Yes, but you know this is a network and I am not alone on this, I have a partner who is in charge with other parts of the net who has to be with me side by side to do it. If we work it together, we could get you back online in less than ten minutes, ma'm. – I said:
– I am not going to go to any other office to offer my body, where is your partner located? – He said:
– No, you won't have to, he is next door, he is the engineer in charge of other parts of the network. – I closed my eyes as if thinking for a second, then looked him I the eye with a smile saying:
– If your partner is willing to share me with you same time, I could go for that, do you think he would be interested? If so, call him in.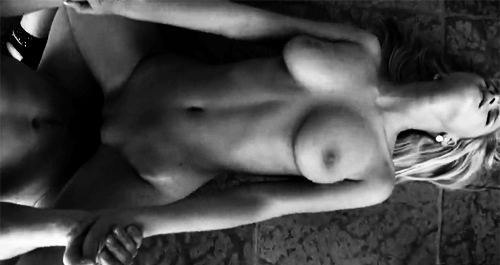 He seemed buzzed and astonished, asking:
– You mean you would fuck us one after the other if we did it? – I said:
– No, both together same time, same place if OK with both of you? – He said:
– It sure is OK with me, I am sure he would not be able to resist your beauty and sexiness, we could do it in his office, bigger and much more space and privacy. – I said:
– Fine, are you going to call him in? – He said:
– Just give me a minute, I will explain to him and get back to you with him.
He left the office for no more than five minutes or so, came back hand in hand with another guy who was a little older, and more formal, he was dressed in a formal suit. Jiff, the first engineer said:
– Madam, this is John, my partner, and John please meet madam Lisa from… company. – A minute of silence before I started saying:
– John, nice meeting you, did Jeff explain the offer I am giving you both to get my company net line back in service immediately? – He seemed embarrassed, saying:
– Kind of. – I said:
– We will not waste time, if you both get to work immediately, as soon as my office calls me saying the net service is back life, you would both get the best blow job you have ever dreamed of and you would enjoy this in any way you both like, together of course.
I lifted my skirt up, lifted my foot over the coffee table, I moved my panties aside and revealed my bare pussy to both of their pussy hungry eyes. Jeff poured me a drink from his little fridge saying:
– Have a seat ma'm, we will be back very soon.
About 10 to 15 minutes later, both guys opened the office door when my phone rang. It was my boss saying:
– Hello Lisa, a million thanks, the net line is back, what did you do to get it back that fast? – I said:
– I am glad it is I will explain details when I get back to the office – and I hung up. Jeff looked at John saying:
– Let's go to your office.
We all walked next door to a huge spacy office with a nice big leather sofa in there. Without wasting anytime, I got on my knees, started rubbing both of their, already hard cocks over their pants. They pulled them out, I held each cock in one hand and started sucking on them on at a time, alternating between both cocks.
They helped me out of my clothes, I started sucking and deep throating one cock while the other man was licking my pussy and rimming my ass hole. They switched positions once in a while, till I was on my knees sucking on one cock wile I started feeling the other guy's cock head invading my pussy, being shoved in me inch after another.
Jeff was a well hung man with a big dick, while John's cock was a little shorter and thinner. They alternated fucking me on his desk, while I suck the other. I had cum twice already by then, they were inventive fucking me in many positions but still one at a time while the other cock was in my hand or mouth.
Finally, I asked Jeff to lay on his back over his desk, and I rode his cock up my pussy and started dancing over it. I leaned forward asking John to fuck me in the ass same time. He did as he was told, and I got double fucked by those pussy hungry engineers till they were ready to shoot their cum. I had already warned them to never cum in any of my holes, they both pulled their cocks out of my fuck holes on time and started shooting their cum loads on my face, tits, and all over my body.
After relaxing for a few minutes to gain power and breath back, I got up, cleaned up and put my clothes back on, I kissed them both goodbye, and thanked them and walked out to the car and back to my office at the company.
You'll also like these stories: