[en] [swingers] Bisex Threesome on a Secluded Beach
I like to walk on a beach especially when it is a secluded beach. I'm up the beach about a mile when I sit down on a comfortable log. I'm sitting about a half hour when I see someone walking the beach from the other direction heading my way. It is a young couple and they look hot, she is in a string bikini and he is in small baggy shorts. They are walking up to where I am sitting and ask if they can rest too. Little did I know that this would turn out to be a bisex threesome.
– Yes have a sit – I offered them a water from the cooler I always take on my walks. She took a drink and then she took off her top and her C size tits pop out, big nipples that are hard, then she pulled out a towel and stripped completely naked as she lays down.
Her pussy is shaven and she has no tan lines. He stood up and drop his shorts no hair either so I thought I am getting naked too. None of us have any hair and there's two hard-ons on this beach. She sat up and said:
– I have not had two dicks before.
Then she started to jack both of us off. His dick is bigger than mine, 6″and 7″ dicks. She is kissing and licking both heads. I asked them how often they shave and she said she has been fucking since she was 17, and she pulled out every hair as it has grown. He said he shaves every day, but like her he has pulled every hair off of his nuts as they grew in. And he was fucking since he was her age, 17. I told them I had given my first blow job when I was 15, and had my first anal when I was 18. I'm now 52.
They said they love having sex but not done any threesomes until today. She is talking and listening with a dick rubbing both sides of her pretty face. I asked if they had done anal. She said "yes" and he said he had lube and he had done a dildo and liked it in his hole.
She pulled out said dildo, it is a 10″ long by 2″ wide. He said she fucked him hard with it a lot. She said she likes it when he came in her asshole and she gets to fuck him so he can feel it in his asshole. She said:
– We are young and we want to see all we can about having sex! – Then she licked my nuts and sucked my dick. He got close to her mouth and was watching my dick. Then she said: – Well, slide it in your mouth, he wouldn't mind.
He licked my head, then nuts, then he slid it in his mouth and began sucking my dick. She is rubbing his asshole with the dildo and she was putting some lube on his hole and he is sucking my dick very good, OK great! She is now pounding his asshole and he is squirting cum on the sand and he is moaning loud.
Then he takes my dick out and tells her to really fuck him as hard as she can. So, she is in a very fast pound it in his hole. He cums again and there's lots of sperm on the beach. He has my dick in the back of his throat. I can feel my cum rising and I am rubbing his head and stroking his hair when I was going to squirt, and I grabbed his head and I thrusted my dick in as far as it would go when I felt it go past head squirt after squirt.
This bisex threesome was a new thing for me, too
He is in swallow mode and she has stopped fucking his asshole and she has spanked him 4-5 times hard. I have now stopped cumming and he is licking my head and says he loves his first mouthfull of sperm. I asked him if he was for real:
– You have never given a blow job?? – He said:
– No, but we watched it on porn all the time. She's now french-kissing him and said:
– Your cum taste great. – Then she stood up and said:
– Eat my pussy – so I am licking her and tongue in and out of her tight pussy. She came after about 10 minutes of my tongue on her and he is watching her and said she came more than when I ate her out.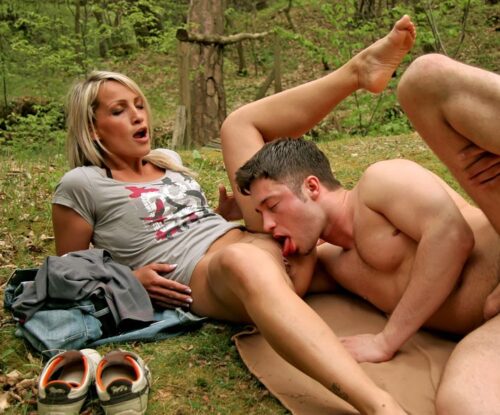 She is holding my head and she's bent backwards as she is cumming a lot of times. His dick is soft as he squirted a lot earlier. She's now cuming hard and loud. The waves are making lots of noise too. I now have a finger in her pussy and my hand is soaked with her cum.
She sat on the log and her legs are spread wide open. I stood up and shoved my dick in her pussy and she is holding me tight. And says:
– Fuck me but cum in my asshole – as I want it there.
So, after 15-20 minutes I pulled out and her butt is covered in her juice. I shoved my hard-on in her asshole. She screams and I am fucking her as fast as I can, when she squirted all over me and she's scratching my ass, and back, telling me to fill her up with cum, so I did.
I grabbed her pussy as I was squirting in her asshole. She's now just limp and I was still pounding her butt and I squirted again. She's now telling me that she has only been asshole fucked once before and he didn't cum in her butt, but he shoots it all over her face. She's now hugging me and she said she wanted to rest. So we rinsed off in the bay and we sat on the log he is limp she's dripping out her asshole and pussy. He is dripping out of his asshole too. And we are relaxing.
I came several times in all 3 of their lower holes and his mouth. Now I need to fill her mouth up. I asked her if she has had a cock cum in her mouth and she said that she had sucked a few times but no cum in her mouth before. My dick is hard and I stood up and I am jacking off in front of her and I said:
– Suck my dick – and she did.
Then I held her head and I came 9-13 squirts. She's swallowing it. When I pulled out of her full mouth she is swallowing all of it. He said that my cum is good tasting. She agrees and we walked back to my truck and talked all the way back.
They just turned 18. And they have been watching porn since they were 15 and they have been sexual with a couple of family members. Uncle's and her dad. When we got to my truck we went back to my place and they spent the week.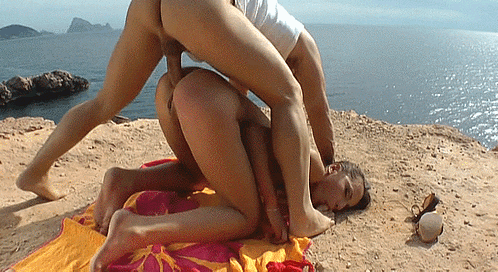 More stories to come about my best week and the bisex threesome. He gets anal from 4 stiff cocks and her and I watch him getting full of cum.
You'll also like these stories: