[en] [sister-in-law] My Sister-In-Law Wanted a Quick Fuck
I volunteered to help my sister-in-law to pick up her kids at some camp an hour away from home. She was not feeling great so I drove.
She is a few years older than me and is sexy. Great younger MILF.
We parked up in a quiet spot to wait. Nobody around. I asked her if I could do something or get her something to help her feel better. She took my hand and put in on her knee. She wasn't trying to be sexy but she opened her legs and asked me if I could play with her pussy. She just needed to feel good. She said "no kissing, just touching".
I had to admit I really wanted to kiss her but fingering her pussy was a close second. So I lifted her long skirt up and reached down. I touched her panties and started to rub her pussy. My sister-in-law sunk into the chair. I pulled her skirt up so I could see where I was at. I took her panties and pulled them off her. And I started to insert one, two, three… three fingers.
She was loving it as I continued to finger bang her. I got a bit courageous and began to kiss her inner thighs which led me my face to be up in her hairy pussy. I tilted her body a bit and then began to kiss and lick her.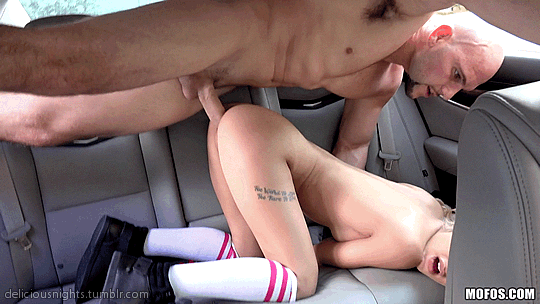 Unknown to me, at that moment but she undid her blouse and started to rub on her tits. She wore no bra, which was a surprise because she had big melons. After a good five minutes my sister-in-law told me to stop. She didn't want to cum yet. I sat up surprised that she had her tits out. She looked at me and smiled. She had never been more sexy.
It was a satisfied grin but it was also begging me for more. I asked her to let me fuck her. Okay. We got in the back seat and she laid on her back. I put one leg up high so I could get my cock in right. I tore at her blouse to expose her tits. She was shocked but liked it.
This woman needs it rough today…
I dipped my dick in and out a few times. She begged for it in her. And then, now having her begging for my cock, I slid it all the way it. My sister-in-law shuddered as I put in deep in her. I started to shove it into her wet pussy slowly speeding up. I enjoyed watching her tits move with each thrust.
I asked her if she wanted me to cum inside her and she said no.
– Shoot it on my chest!
As we continued to fuck her tits were slapping against each other! She had her eyes closed for the most part but every now and then she would look up at me and I already knew she wanted me to fuck her harder.
After 10 minutes I was ready to blow. I told her I was about to shoot a load and she sat up pushed her tits together and let me drop my jizz all over those soft melons. She even got some on her face too. It was an amazing cum.
We got dressed and went to the camp. As we drove home we acted like nothing happened smiling at one another. I hope we fuck again
You'll also like these stories: