[en] I Shared My Cock with Mother and Daughter
I stood at the doorway totally shocked when Judy took the pizza and handed me the note that was in the box. Standing there in front of me was the pharmacist where I bought my condoms, even more weird I had just finished fucking her mother.
Helen said she had two daughters but told me little about them, so here I was standing in front of her oldest. She had a smile and just a robe on knowing what I was here to do for her.
– Thank you for making my momma happy – she said, telling me to sit down and relax. She got me a coke and sat down with me – this has been the happiest I have seen her in years – she said. – You don't have to be nervous – she said – I already know what you are toting – then smiled – that's why I told my momma about you. – She then started talking about her dad and how he slipped over the edge and has a boyfriend. How they stayed married not only for us kids, but they are friends as well.
As Judy was sitting there telling me all about her family's problems and I don't think I heard a word. I was more interested in her beauty, and what might be under that robe of hers. She was a close image of her mother with her sparkling blue eyes and her longer blonde hair. Her breasts that were pushing to get out from underneath that robe were almost as large.  It was only the words "did you bring any condoms" that woke me from the spell her beauty had me in. When she lifted her arms putting her hair behind her I think she purposely let her robe open.
– I never go anywhere without them – I said – but your mom doesn't want me to wear them. – I then just had to ask if she was married or had a boyfriend. Judy leaned closer to me with a smile:
– If I did you would not be here – she said. She then smiled and put her arms on my shoulder and moved even closer. – You're cute – she said – so, are you ready to give me what my momma sent me? – She then gave me a quick kiss: – I have heard a lot about your talents.
– I will do the best job I can, I wouldn't want the boss to fire me – I said, placing my hands on her knees. She leaned into me when I went to kiss her and said she would expect it, then we kissed. I remember David and what he told us so I didn't try to hurry things up. I was enjoying the scent of her perfume and the taste of her lipstick. Judy had her hands still on my shoulders enjoying how conducted myself.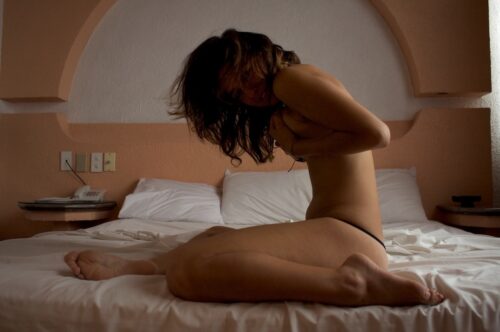 When my kisses began to move to her neck I kissed under her chin when she lifted it up and sighed softly. Her hand moved to the back of my head pushing it slowly down spreading her knees slightly. I moved my hands slowly up the outside of her body and my head into her cleavage not expecting what she did next. She let her robe open completely and moved my head to her breasts, taking deep breaths as I kissed and sucked on her nipples.
I kept my hands moving slowly up her body feeling nothing but soft skin and bones, there was little fat about her. As my hand got to the bottom of her breasts I began kissing up to where we began kissing again. As we sat there kissing things started heating up until she finally took her mouth away to catch a breath.
– Lets go to the bedroom – she said, she ran her hand against my cheek again and smiled and then got up. She then started kissing me again standing tight against me, I still had my hands inside her robe and she had her hands on me. She took a big breath when my hands rubbed her hips then laid her head on my shoulder. – I want you – she said, giving my neck a kiss. – Come on, let's go – she whispered in my ear.
Inside her well finished bedroom she stood staring into my eyes as she let her robe fall to the floor. She didn't have to say anything, just took my hand and sat down on the bed. She reached for my pants looking up at me as she fumbled with the zipper. I then kissed her and we continued to kiss until she had my pants on the floor.  When she lowered her head and began sucking on my cock I had my hands on her shoulders. After she began sucking me deep in her mouth my hands moved to her neck, softly rubbing my thumbs around on her cheeks. When she looked up I would bend down and kiss her, then watch her go back to licking up and down on my cock.
She was licking up one side of it and down the other she even sucked and licked on my balls. Each time she looked up she would smile, this went on until she became tired and grabbed my neck and laid back on her bed. I had taken my shirt off and stepped out of my pants laying flat against her warm body.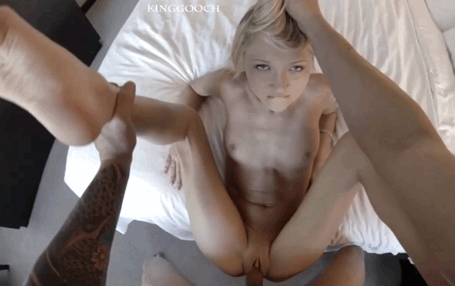 We again kissed passionately until I began kissing lower with her hands following me down. She held me while I kissed her firm breasts several times. They didn't sag at all and her nipples stood up at least a half inch. She held my head as I continued down counting her rib bones with my fingers until I ran them over her hips.
Judy took deep breaths, opening her legs wide to allow my arms to reach under her when I kissed her pussy. She had a well trimmed landing strip leading me down to her tiny lips, unlike her mother, she looked to be tight. The minute I moved to lick the droplets from her I was pushed hard against it with help from her hand.
It seems to me that Judy was not used by many guys because my tongue really had to work to get inside her. It did help by her pushing her hips up and holding my head as I licked to get her open. I thought about sliding my fingers inside her but then what David has told us not to do. I kept my hands above her clit running, my fingers through her pubes.
Whatever I was doing was enough to get her aroused and finally she had enough and wanted me in her.
– Get your condom – she said – I am ready – then said it again taking her hands away to let me get up. I was ready as well and seeing her spread like that waiting for me made me quickly grab my condom.
She was fingering herself watching me attempt to put the condom on but since I struggled with it she took it over. She sat up and grabbed my cock with one hand, slipping it over the head with the other one. With her mouth she pushed it down and began playing with my balls to keep me hard. She looked up at me when it was fully on then laid back on the bed with a smile:
– Go slow – she said – I have not had one in a while. I figured she hasn't, on count it was pretty tight just getting the head of my cock past the entrance. It also appeared that she hasn't had many men by the way she laid there in a missionary position.
I was sure fucking her in any position would have made her happy but I wanted to make it a new experience for her. As my cock began to work its way inside her I lifted both of her legs up against my chest. A smile came to her face when she felt me sliding farther inside her until I hit bottom then her smile changed.
She bit her lower lip, holding her breath as I began moving in and out of her tight pussy at a slow pace. She also had her hands on her thighs stopping me from moving her legs even closer to her chest. I could feel her getting wetter the more we fucked and soon her smile returned.
– Oh god that feels good – she finally said and huffed as she began to feel an orgasm coming on. – Oh my god, don't stop – she blurted out – I am cumming. So, I spread her legs from my chest to see her pussy beginning to emit her cum. I hate condoms I was thinking, sure they make it easier to slid in and out of her tight cunt, but I couldn't feel her cum on my cock.
She was satisfied with my cock, nevertheless…
I was surprised when I let go of her legs that she held them in the air for a while longer. It gave me the ability to caress her firm breasts and tweak her nipples. This caused Judy to really get turned on and she let go of her legs and grabbed my head. She drew me down and began kissing me passionately while her hips slammed against my cock.
– Don't stop – she was saying between kisses and deep breaths. – Harder – she continued to say. She was pretty much fucking me using her legs to push up against my cock. It was one hard jab at my cock that I felt the condom break, but she was kissing me and I couldn't tell her. I was feeling her warm juices coating my cock but she was still fucking me hard unaware of what just happened. Finally between one of her kisses I was able to say:
– The condom broke – and she let me pull away.
– You didn't cum, did you? – she asked with a concerned voice and a scared look on her face. She sat up and pulled what once was a condom off. – Damn – she said then tossed the used condom to the floor. She put her arms around my neck and whispered: – That was the best I have ever had – in my ear. She then laid back drawing me down beside her putting her hand on my cock. – If you have another one we can continue until you get off – she said – or I can jerk you off if you want.
– Have you enjoyed yourself enough? – I said. – I want you to have, if so then a hand job would be good.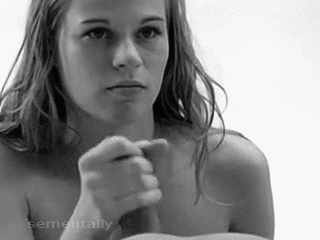 Judy laid down beside me with her hand giving my cock a squeeze then began stroking it. We kissed for quite a while as she stroked me at a steady pace trying to get me to cum but when she laid her head on my belly it happened. I felt her blowing on it then lick my cock a few times before I said:
– I am going to cum. – She moved back just before the first shot would have hit her face. She sat up stroking it and looking at me with a smile then back to the cum that was shooting out.  When she watched the last of my cum spew out she laid back down beside me.
– I had fun – she said – I have wanted you since the first time I measured that thing. I didn't believe you when you told me the condoms were too small. I also couldn't believe you would show me this when I asked – she said – but I am glad you did. Even then I thought how lucky your girlfriend was, but I never thought I would have it inside me.
Judy then snuggled against me with her hand still on my cock. She was moving it around in my cum when she said:
– Can I have it again? – She laughed and said: – No? – when I told her to give me 20 minutes.
I did give it to her again but that was a few weeks later.
You'll also like these stories: