[en] [cuckold] My Sexy Wife Fucking Her Black Boss
With our extravagant lifestyle we soon went through the financial endowment. I lost my job as I was drinking too much. Our marriage was in a desperate situation both at the bank and in bed. An Aunt of mine passed away in Alabama and me being her only next of kin I was left a small farm in her estate. It was a chance of a new start. We moved to the small remote farming town isolated in the bowels of Alabama. I managed to get a low paying job in sales which meant being on the road a lot, hotel nights away, achieving budgets and reaching targets. My sexy wife, Debbie, got a job as a bookkeeper at the local grain merchant. It was the biggest business in town. I normally got home late and tired to satisfy her bedroom demands or was away on business hotel nights. As summer approached she stopped wearing a bra and started wearing very see through blouses that showed off her gorgeous 38C sized firm tits. I noticed but never commented. Perhaps she was looking for attention from her husband?
The outfits became more daring with short skirts and cut off denim hot pants. My sexy wife was purposefully revealing more and more of her female assets. It was financial year end and she told me that she had put together a team of local high school kids to assist with the tedious stock take in the grain warehouse.
The grain warehouse owned and managed by Ryan Peters contained bags of hog feed, chicken corn, alfalfa pellets, cattle feed all stacked and stored in gigantic orderly peaks in the vast multi storie warehouse. My sexy wife Debbie was to oversee the annual stock counting with Ryan on Saturday and she said it would probably run into late Saturday night. Saturday morning she wore a sheer halter neck top tying at midriff that left a lot of tit on show and very little of her breasts to imagination, a cheeky pair of denim hot pants and long dangly earrings. She looked very hot. Too hot to be taking stock take in a grain store – I thought. But whoa, she was my sexy wife and her sexy dressing turned me on. Maybe I would get a chance to wank my little cock in the fields today – I thought.
She returned home about 8:30 that evening looking very dishevelled, with her top all done up wrong her tits blatantly hanging out, nipples swollen and showing and a broad satisfied grin on her face. I could tell she had been drinking wine as she smelt of wine.
– How was your day? – I asked – You look as if you have been working hard.
– I have been working hard but most enjoyable especially this evening – she said. – Do you want to hear all about it? – She was standing legs apart and looking very randy as she asked.
– Please tell me all – She stood in the center of the living room, her long legs slightly ajar facing me. As she began telling me her day's events she undid her see through halter top and gave her large tits a good shake.
– Well the stock take went faster than we thought and those high school kids were a great help. We checked and double checked and everything was accounted for. It was about 5:30 when Ryan said he would go and pay the high school kids and let them out. I was to wait for him in the basement warehouse where I was cross checking and consolidating stock take sheets. I heard him locking up and the bright overhead lights were switched off leaving only the low lighting.
At this point still standing topless, she pushed both her hands down into her very mini denim hot pants and as I watched wiggled her long fingers. The hot pants slowly and seductively slid down over her hips. My sexy wife was giving her husband a private striptease and my little cock was responding accordingly. In its four inch erect state it felt cramped and trapped in its confined place and urgently need liberating and attention. But despite my desires and lust I was not going to interrupt my sexy wife's tale.
The hot pants fell to the floor…
My sexy wife had no panties on and stood tall and totally naked in all her seductive glory. Continuing she said:
– With the lights dimmed, this created quite a romantic setting with the stacked grain bags looking like Disney castles. Ryan returned with a bottle of chilled white wine and two wine glasses. I was hot and thirsty when he poured me my first glass of wine. "Here's to a successful stock take and all your hard work", he said. We drunk a toast and he poured me my second glass. I was already feeling horny being locked in the warehouse with low lighting with my good looking boss who was younger than me. He then lent over to give me a big thank you kiss. As his lips touched mine we just melted into each other's arms and the deep throating kiss seemed to last forever. I have never been kissed like that ever before. "Your breasts look amazing through that translucent material. I'm sure a lot of those black Alabama high school stock take boys will be wanking themselves tonight remembering the sight of your amazing white tits. You have been tantalizing me for weeks with your no-bra see through blouses. I've been getting a hard on every time I walk past your desk. Could I see them?", he asked. I was now fully turned on and without hesitation I undid the knot to my see-through halter top to let loose my nipple hard tits.
– You showed him your tits? – I asked.
– Yes, how can you refuse a request from your boss? And that's not all – Debbie went on like a runaway train as her fingers dipped between her legs. – He cupped my creamy white tits with his large black hands and the feel and the color contrast between our skins was a huge turn on. His hands were bigger than yours and he was rougher, manlier in the way he played with my tits. "I've seen them, and felt them but wonder what they taste like?", he asked. With that I lay back on a low stack of grain bags, he poured chilled white wine on my left nipple letting it run over my ample breast then proceeded to lick the wine off having a good gnaw at my engorged nipple. He repeated this on my right nipple. By now I was ready and randy to fuck the whole high school stock take team cum boy or girl! He had removed his shirt to expose his muscled black chest. I ran my wine wet tits over his black skin creating a polished black sheen. He dug his thumbs into my denim hot pants and in one sweep he had removed both my hot pants and my thong exposing my very moist, dripping-with-lust white cunt. I fought at his belt buckle, undid his zip. My adrenalin was pumping to see what he had in stall for me. I dragged out his black cock. It was still half flaccid, thick as a car's radiator hose and very enticing.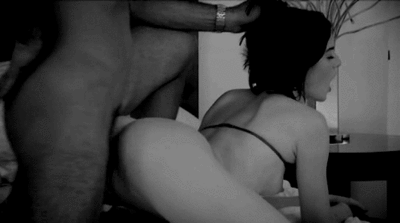 By now standing naked in front of her husband and confessing her adulterous behavior had not only aroused me but my sexy wife was getting very re-aroused by the retelling. Her fully exposed cunt was flared open, labia swollen and was oozing cunt fluid down both her inner thighs.
– You played with his cock? – I asked in mock horror.
– Yes there was at least something to play with and even half soft his ebony cock was twice as long and at least three times as thick as your pathetic white 4 inch erect weeny! My intention was just to see what it would be like to suck such a massive black cock. To experience the thrill and girl power to bring it to full erection. To be able to wrap both my hands around a cock shaft. To devour and wank and watch creamy cum squirt from such a monster black penis. My lust and wanton sex starved cunt got the better of me and in no time he was pushing that thick black, long cock into me. It was huge compared to your thin short white cock. It went deeper where no cock had ever been in my cunt. It stretched all sides of my love hole in that I wanted to orgasm with every stroke of his massive black manhood hammering away inside my white cunt. And boy did he have staying power. He just went on and on fucking me on those sacks, occasionally giving us each a sip of wine from the bottle then pouring some over our connected genitals.
– So you let him fuck you? – I was really cross now and Debbie realized she had overstepped the mark. Pouting she justified as only she could.
– He is everything that you are not: He is black and beautiful, you are white…; He is tall dark and handsome, you are… He has a six pack and you have a beer paunch; He is captain of the golf team; A successful business man; Serves as chairman on a charity; He has a 9 inch thick cock that can get erect; You have a measly 4 inch thumb-thick cock that gets erect occasionally. Shall I go on? – she asked. She thought I would get cross, throw her out or divorce her for what she had just done and told me. To my surprise I was not angry or jealous but realized that this is what Debbie wanted. She enjoyed it and if anything I was highly turned on seeing my sexy wife recently ravaged and satisfied by a well endowed and handsome black man, standing in front of me.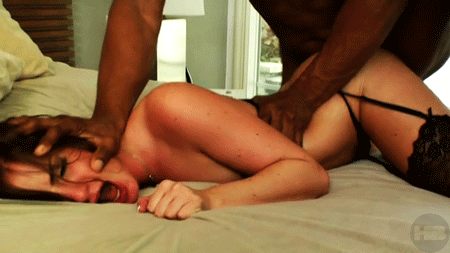 To Debbie's surprise I pulled her naked waist towards me. Her white thighs were still crusted with his cum. She dipped her finger into her cum soaked cunt and presented it to my lips as a sort of peace offering. I licked it clean and then fucked her cum soaked hole with my miniature white cock.
– Can you taste Ryan's cum? – She asked. – There should be plenty of it and it's still very fresh.
It was then that we had a relationship understanding in place. I, her husband, with my small inadequate 4 inch white cock had become a cuckold for my beautiful young white wife to be fucked at will by her macho black boss with his super sized cock to satisfy her.
You'll also like these stories: