[en] [cuckold] My Wife Fucked at the Club
Julie wanted to liven up the weekend and suggested I dream up something exciting to do. I mentioned sex as part of the fun so thought a real dark restaurant would set the mood. I made reservations at a favorite place I've been to but not her. Real dark, out of town where we wouldn't know anyone. But, she really wanted to be fucked…
Before leaving I said I had one request… she must wear the most provocative clothing she would dare go out in public. Well… a long dress with a slit up the back and on top a silk scarf wrapped strategically around her breasts; 8-inch high heels and nothing else.
We got there around 8:30 PM and sat at a table near the bar, but in an even darker corner. After two bottles of red wine we both felt tipsy enough to start fooling around. We were sitting adjacent to each other so I started rubbing her tits through the scarf, which quickly got looser. One breast was perfectly visible but she didn't seem to notice.. Everyone else did.
Then the jazz band started up… real romantic slow music. Off we went to the small dance floor, breasts jiggling away. I put both arms around her butt and began to open the back of her dress… enough so the guys at the bar could see her ass. A few twirls and I am sure they could practically see her asshole.
I few more twists and both breasts were naked. The band stopped and we went back to our table. Didn't notice before, but there were two guys sitting next to us and the table seemed to be nearly touching ours. Hmmm, maybe they moved it closer.
I leaned over and told Julie how much I wanted to fuck her right there. She was usually uncomfortable hearing that in public, this time she seemed to enjoy it, even knowing that the guys next to us probably heard me.
So we began to get hotter. She wanted to be fucked really bad. I had one side of her skirt pulled over one leg so I could find her hot hole. It was sopping wet and ready for action. After I had gotten three fingers inside, I plied my thumb gently on her clit until she began to shudder. I asked her if she was ready.
– Yes!
– Are you ready for anyone to fuck you?
– Yes! – And we both knew that I said it loud enough for the guys to hear.
She was fucked not only by me…
So, I pulled her closer to me to the point that her naked ass was fully exposed to the neighboring table. I then reached around, lifted her bare leg enough that I could finger her from behind.
Because it was dark enough, she got up on her knees, pulled open my pants and began to lick my cock. Meanwhile, I am still fingering her clit, then moving her juices over her asshole. Then I stop momentarily. But Julie looks up and says:
– Don't stop… I want to be fucked right now. – Before I could figure out how to do that, she says…: – Oh, this is going to be lovely…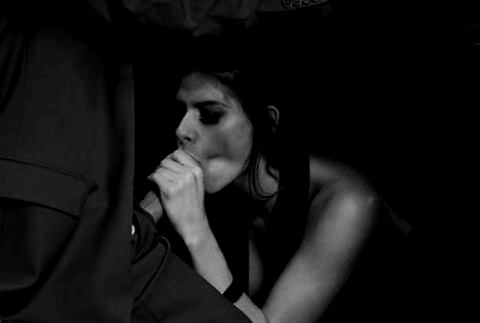 I had no idea what she meant until I moved my hand between her legs again and felt something hard and wet. It was one of the guys pushing his cock inside of her.
Our neighbor must have had a gigantic cock as Julie began moving her ass around to make his entry more gentle. I was so turned on that I put my hand around this monster and helped ease it in. Suddenly she screamed with pleasure as the head of his cock finally opened her cunt wide enough. She was properly fucked..
In the meantime, she had stopped sucking me, but at the same time she screamed for pleasure. I came in buckets that hit splashed over her face.
When she finally quieted down I said:
– How do you like being fucked by a perfect stranger right out in public? – Her reply:
– I am ready for the next one!
You'll also like these stories: