[en] [male-slave] I am a Hopeless Submissive Slave
Agreeing to be a woman's slave and being forced to service her, her girlfriends and then her husband and his two buddies was an incredibly hot experience for me. The experience changed my outlook on sex forever. I cannot longer even get excited about straight sex, my dick won't even get stiff for it… but… just include some bondage, forced sexual servitude and I am as hard as a rock. I think that the most intense feeling was being restrained and blindfolded and then sucked off. One of the husband's buddies took advantage of the situation to mouth my hard dick and it was fabulous. I was hooked.
I started going to an XXX rated video and adult store shop when I was in town on business. They have booths to watch the videos there and I noticed that some of them had holes between the walls. Armed with a pocket full of dollar bills I decided to check it out.
I was watching a video about a guy being stopped by two policemen. I knew where this was going and I took out my handkerchief and spread it on the stool and took off my clothes and hung them on the coat rack. I was naked except for my socks and shoes watching the video and stroking a semi hard dick. The video was getting hot. The cops had ordered this guy out of the car and were frisking him when they discovered that he had a hardon. I was getting very hot watching them handle him through his pants when somehow the door, which I had locked, opened and the security guard stepped inside!
He took one look at me perched naked on the stool and laughed.
– I see you like cops boy! – he said. I mumbled something and tried to reach for my clothes and he ordered me to turn around and place my hands behind my back. I was really scared. He handcuffed me and gave me a slap on the butt. – Nice ass – he said. – Well boy, you have two choices, you are guilty of indecent exposure and I could call for a cruiser to pick you up and take you downtown for booking. Of course that will go hard on you. The other choice is that you can agree to be my suck slave for tonight! The choice is totally up to you. Decide now!
I begged him, for the suck slave option which made him laugh an evil laugh…
– OK boy – he said as he grabbed my pants and helped me step into them. He didn't button them however and I had to hold them with my handcuffed hand in the back to prevent them from falling off. He left my shirt in the booth and then with his hand on my loose belt, dragged me through the video theater to the loading dock. The guys we passed on the way were laughing and grabbing at me. Apparently, this had been done before.
I was led to an old van and pushed inside roughly. He then put duct tape on my mouth and told me to be still. In a few minutes we stopped and he opened the cargo door and led me out. Once inside he pulled my pants off, took his uniform off and dragged me to the shower. He was a big man with a very large dick. He roughly washed me and then himself before drying himself off and pulling me, wet and cold, to the living room.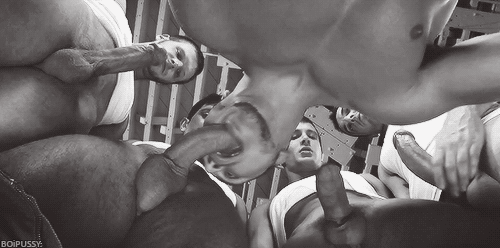 I was still handcuffed as he pushed me to my knees and, leaning back in an easy chair, ordered me to lick and suck his huge dick. It seemed to take him forever to cum but when he did it ran out of my mouth and on my chin. This seemed to amuse him too and he wiped his cum from my chin and put it back into my mouth.
He then ordered me to lick and suck his balls and just as I got into that, the doorbell rang. I was in a panic. He got up, put on a robe and opened the door. It was two of his buddies. Apparently one of them had been in the video store and saw him lead me out by the belt.
I was ordered to lick and suck all three of them, one at a time until they shot off. The black guy really liked the idea of me, a white middle-aged male, being handcuffed naked and forced to orally satisfy him. I a few minutes they had all been serviced once cumming in my mouth and on my face.
The black guy had his dick back in my mouth again pumping back and forth gagging me on the size of it. I was on my knees, my wrists handcuffed behind me, and my head in his lap. I felt something cold on my anus. The two hands grabbing my small butt and intense pain as the man behind me attempted to shove his large dick into my virgin hole. I tried to protest by my mouth was full of a very large black dick. He was determined and after several tries he managed to sink his huge member into my small hole. It caused the oddest feelings… at first pain… then fullness as though I had to go to the toilet. Then an amazing thing happened. I got rock hard and came! This occurred without anyone touching my dick at all.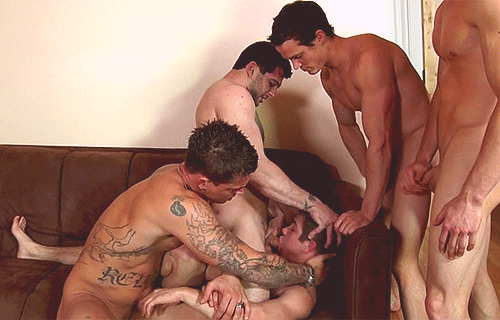 I was their slave. They each took a turn and by the time the third one entered me, I was fucking back! The buddies left about midnight and the guard had me suck him one more time before allowing me to clean up and go to bed. During the night he woke me up three times for lips and again before breakfast.
Now I know what he must have known when he saw me watching that malerape video. I am a hopeless submissive slave who loves to be dominated.
You'll also like these stories: