[en] I Hate Camping, but Mike's Cock Changed my Mind
I hate camping. The griminess, the persistent skeeters, and the huge amount of physical labor required… ugh and that terrible. "I just slept in a sleeping bag in the cold and now must wake up to boiled coffee in a paper cup" feeling – yuk! And after a long boring drive to the campsite, what do campers do once they pitch their tents? Well, since they've wasted their entire day pitching and preparing and marinating and unrolling sleeping bags… there's nothing to do but roast meat on a stick and drink beer till sleepy. What's the point?
So I thought I'd try camping with Mike. We loaded up his truck and headed up the local mountains for a romantic interlude amongst the pines and chipmunks. The steady thrum of the V12 engine vibrated under my thighs and my panty-covered peach fish quivered in response. As the Dodge Ram lumbered up the twisty mountain trails, I sneaked a glance at Mike's profile. We were both silently listening to the radio as he drove, his dark brown eyes focused on the road.
Looking down at his jean-clad thigh resting by the stick shift, I leaned over and idly played my fingers up and down his leg. Mike looked at me, grinned, and slid his thigh closer to me. His "stick shift" was rapidly growing as my naughty hand slid up and down his zippered crotch, lightly scratching at his stiff hot dick through the heavy denim.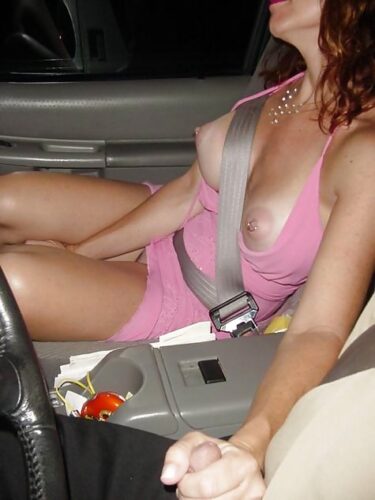 Mike seemed to be having trouble watching the road and breathing at the same time. Being the helpful person that I am, I loudly unzipped his jeans and reached inside for his boner. Mike was making strange gaspy noises but I bravely ignored his lustful moans and leaned closer to his crotch for a better angle. Of course that meant my soft tits would constantly be in Mike's way, cuz he needed to keep a hand on the stick (shift, silly, his stick shift. I'm the one busy with the other stick) but he didn't seem to mind.
His muscled forearm kept scraping against my stiff nipples every time he downshifted, though. My panties were sticking to the moisture from my cunt lips and I couldn't help but squirm, which of course sent my round tits to swaying gently over Mike's arm. His thick erection came uncovered and bumped my cheek as the truck continued to climb the mountain. I
ran my tongue around my lips and then around the tip of his throbbing hard-on. He was oozing pre-cum and I greedily lapped it up, wiggling my tongue in his dripping cock slit before I wrapped my lips around his pud and attempted to deep throat him.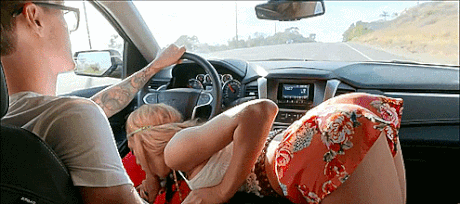 – Unnnnnnnnhhh! – Mike groaned intelligently, and I giggled around my mouthful of steaming dick. I lifted my head, pressed my pink lips to his slick knob and proceeded to slurp noisily at his pillar of moist velvet. Mike made a few more caveman noises and the truck swayed dangerously. I bravely marched my plush pink tongue downward and my slender fingers cradled his warm balls.
I bathed that precious cock in my mouth
I worshipped his precious cock with my fingers. Wallowed in it bur rubbing the hot knob and sticky spunk all over my lips and face.
Mike looked down at my silky head of hair in his lap and his eyes nearly crossed at the sight and sensation. Wanting to get him off before we crashed into a pine tree, I bore down and sucked more hotly, wetly, and with more suction. His hips stirred helplessly and with a grunt, Mike let fly. His cock jerked in my mouth and he spasmed, sending long sticky streams of white hot sperm shooting down my throat. And then another load. And another. Sperm oozed from the corners of my lips as I helplessly tried to swallow the cum as fast as it filled my waiting mouth. Thick and creamy fluid coated my pout as I slurped down the last of the jism.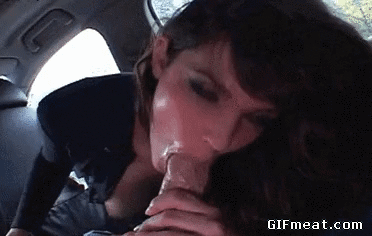 I slowly sat up and licked my lips and fingers clean. I looked at Mike. He was still staring at the road but now with a huge shit-eating grin on his face. I smirked. Mike's plump and tired member lay in his lap, sticky and warm from some oral lovin'. Now the shit-eating grin was on my face, too…
You'll also like these stories: