[slave-girl] My Sexual Awakening
I am twenty-five years old and have been told by everyone that I am quite attractive. I have been living with a man for four years and it has been an unusual relationship. I had my first sex when I was fifteen and was considered quite good-looking even at that age. I am 5ft. 6in. tall and a natural 38D-20-36, and don't work at all to stay that way. During my early sex years, I really didn't understand what sex and enjoyment from sex were all about. I had never let a man put his penis in my mouth or anus. I thought that the only way for sex was in the vagina and, I didn't know it at the time, but I had never had an orgasm. When I was having sex, I would start to feel good and I thought that was as far as it went. So, this is how I had mu first real sexual awakening…
When I was twenty-one, I met Don. I was in a bar waiting for my date and he sat down at my table and started talking to me. He was thirty-seven at that time and running his own business very successfully. He was good looking, but I thought he was too old for me. I told him I was expecting some one any minute and he was wasting his time, but he did not get up and leave. After a few minutes, something came over me and I became completely mesmerized by this man. I have thought of our meeting many times since then and I have never figured out what happened. When he told me, after about twenty minutes, to leave with him and when he got up and walked out of the bar, I got up and followed him. I have been following him ever since that night.
We went to his beautiful home, and he told me to take off my clothes, which shocked me and at the same time tremendously aroused me. I stripped naked and he sat in a soft chair and inspected me. I was so hot that my vaginal juices were running down the inside of my thighs. He lay me down on his soft rug, spread my legs and inspected my crotch for about twenty minutes while lightly rubbing my clitoris and occasionally licking me. This was all a first for me and I came about ten times, finally realizing what the other women were telling me about sex being so good. Also, he put his finger in my anus which drove me to a wonderful orgasm, then he told me to take his clothes off. After I got him naked, he pushed my head onto his erection and for the first time I was sucking on a man's penis. As he started to have his orgasm, which I had never seen up close, I pulled my head back as he squirted a large string of come across my face and then spurted a large amount on my hair. After that, I was amazed at his reaction. I thought he would be happy, but he quickly but quietly got up, threw me a small towel, dried himself off and told me to get dressed because he was going to drive me home.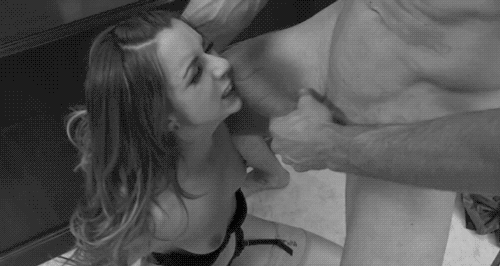 He was very quiet in the car and when I asked him what was wrong he spoke slowly and almost with a clenched jaw. He said he wanted nothing to do with a woman who didn't take his come into her mouth and swallow it. I couldn't believe that this was as serious as he made it to be and I told him that I would never do that. He dropped me at my door and drove away.
I didn't hear from him for a week but was fantasizing about our night together and wanting to see him again. I went to the bar where we met, and I asked if the bartender remembered us and he said that Don was a regular but that he had not seen him for a few days. After a few more days, I couldn't stand it anymore and I called his house. He answered right away but when he heard my voice, he got very cold and told me he meant what he said the last evening we had and he did not want to see me. I was amazed to be treated that way. No man had ever been that cold to me, and I had never acted so boldly to anyone else. A few more days passed and I missed him so much that I called and when we talked I told him that I would do anything he wanted but asked that he be patient with me and teach me how to please him. He said that he would try one more time but that if I disappointed him that would be the last time we saw one another. I now knew how a prostitute felt toward her pimp when he could do anything he wanted. I would do anything to get back with Don. We then made arrangements for me to meet him at his house the next evening.
When I arrived, he kissed me gently and fondled my breasts and told me to take off my clothes. When I was naked, he brought me into his lovely den and there was another man sitting who obviously was expecting me to come in with no clothes on. I almost bolted from the room, but I remembered what he had said about doing what he said so I stood there and let the two men look at me. Both stood next to me and started to fondle me like I was a piece of meat and talk about me as if I wasn't there.
As they started to run their hands over me, I got intensely excited, as Don told me I would. Soon I wanted to do anything they desired and then I was doing it. Don had me kneel, next he stood in front of me and pulled my head onto his penis. While he was thrusting in and out of my mouth, Carlos, his Spanish visitor, started to get in me from behind. I was nervous but very excited at how I would react when Don started coming in my mouth.
When he came, I was surprised at the salty but not unpleasant taste of his come. I was relieved that I actually enjoyed sucking him. After he came, he told Carlos to change places and come in my mouth, which Carlos did. If someone had told me a week earlier that I would be pleasing two men at once and taking their come in my mouth, I would have bet any amount that it would not happen.
They then laid me on his soft rug and each proceeded to kiss my pussy and ass while the other kissed my lips and nipples, the combination was so exciting that I came even more than the first night with Don.
I ended up staying with Don from that day on. He asked me to move in with him and quit work and be his pet, as he called it. Carlos stayed for three more days which meant they were constant pleasures for me. The next night, when they returned from work, we went into the Spa that Don has in his bathroom and when we were good and worked up, I was bent over the edge of the Spa. Don inserted an enema up my ass. They both kissed and fondled me until I couldn't hold back anymore, then I had my bowel movement on the toilet while they both watched. I can't believe to this day that I could do that in front of anyone, but I did. What they were after was my initiation into anal sex and they didn't want me to be uptight about being "messy". They were right, it made it easier to be fingered and then slowly fucked in the ass by both men. For our finale before dinner, Don sat and had me back into him and sit so that his penis was in my asshole. He spread my legs wide and Carlos entered my pussy. Another unbelievable experience and I came and came with pleasure.
Don said that my bush was too hairy got his hair trimmer and cut my pubic hair until it was evenly short all over my triangle. I didn't realize it but they both said that I had very large vaginal lips and when I was aroused they were both about three inches long and hung out because my clitoris was also large and pushed them forward. They both thought that this sight was incredibly sexy. Now, when I was naked, you could clearly see my lips even when I wasn't aroused. Then they both sucked my clit to several orgasms and we finally went out to dinner.
On the way to dinner, we passed by a Victoria's Secret and went in because Don wanted to buy something for me. He bought a very sheer short slip with a lace top. The lace was fairly open and the slip was very attractive. The store had matching stockings and garter belts to the color. He purchased the four colors they had, peach, lilac, pink and light tan. He went into the changing room with me and told me to put on the garter belt, stockings, and slip with nothing else on. When I had the slip on, my breasts were clearly visible and, in fact, my nipples stood like erasers through the lace. The slip was so thin that you could see my ass from the back and my dark hair patch in the front and my lips were also visible. The slip was so short that when I raised my arms at all, you could see my ass cheeks from the back and my pussy lips from the front. He then told me to continue on to the restaurant with him and Carlos… with my new outfit on. He asked me to wear high heels when we left home and now I knew why. The high heels made me jiggle when I walked. My breasts bounced around and my nipples worked against the lace, making them stick out, the whole effect aroused me more than I would ever have thought possible a few weeks before.
My sexual awakening was almost complete…
There was quite a stir when I came out into the store. Everyone was staring at me and when we went outside, several people followed us, and my two men had me repeatedly raise my arm to give everyone a good look at my body. I don't particularly remember the rest of the night except that they both worked me over almost the entire night and I had so many orgasms that I slept like a baby most of the next day until they woke me and started on me again.
When I look back on what is happening to me since I've met Don, I am dumbfounded at the things I have done with and for him. It is so out of character for me to walk around naked, or take on two men at once, or come twenty or thirty times a night, that I am afraid of what's happening and excitedly looking forward to whatever may happen, at the same time. He has shown me pleasure that I never dreamed of before we met, and he has made me his slave which scares and excites me. I'm in this game of my sexual awakening until the end, I hope everything works out well for me.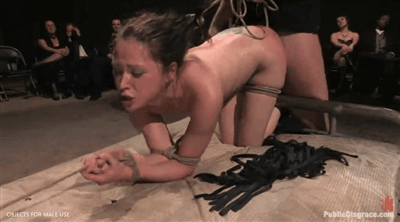 Don told me that he has friends he has met from his business all over the world and with a few of them he wants to set up relationships like he has with Carlos. We will travel around on his business and be with these interesting people and screw our brains out. Don tells me that Carlos has a very beautiful, tall, dark Spanish beauty that he not only wants to do what Carlos and he did to me, but also watch the two of us enjoy one another. I have never been with another woman and so I'm looking forward to it. I don't know what my reaction will be to watching Don fuck this beauty, but I think it will be OK. He wants a network of people like Carlos and Rita so that we can enjoy interesting sex without worrying about getting any diseases.
Just before we were to go to Spain, we had Jim's Japanese friend with his beautiful companion visit us and I was very impressed at how sensual the Orientals are. For the first time I learned how to suck a man's scrotum and testicles for maximum pleasure while masturbating his tool. When his balls start to grow, he is about to come, and you must take his tool in your mouth fast to catch all his come. Also, small ice cubes in your mouth while you suck your lover give him a very pleasurable orgasm. And ice cubes in the vagina and across the clit give a woman a new and wonderful feeling.
While our men were working, Mioshu and I would play with each other and go so gently and slowly with our mutual seduction that it took us two hours to come but when we did, it was sensational. She stuck her tongue up my ass while she had a vibrator on my clit and I had as strong an orgasm as I have ever had, and that's saying something for me as of late.
I can't imagine not being with Jim and if I lost him, I would go crazy. I'm going to do everything in my power to do exactly what he wants. So far it has led to incredible pleasure and my real sexual awakening.
You'll also like these stories: