[en] [hitchhiking] The Whore who Loved my Spunk
A few months ago I went out for a drink with a friend I hadn't seen in a long time. We were in his part of the city which I wasn't familiar with. After a few drinks and a long chat we decided to call it a night. He got a taxi and I waited for mine to arrive. A while later it still hadn't arrived so I decided to head for the closest taxi rank after asking a passer-by for directions. I was a bit tipsy after drinking, so didn't mind the walk which seemed to take some time. Then I met the whore I want to tell you about.
I was walking along a dark industrial road when I saw a woman standing leaning against a wall. As I passed her, she stood up and asked me where I was going. I stopped and told her. This was when I noticed her fully. She was much older than me (I'm 22) at around her late thirties. She had shoulder length blonde hair and a very sexy face. She had full thick lips with red lipstick on and dark make up round her eyes making her look very slutty. She was wearing a tight little white top showing her ample cleavage. She had large tits, probably dd cups. She also wore a short tight black skirt and white stockings with the top of them just visible due to her short shirt. She also had on black high heel shoes and a long black leather jacket which was undone.
She then started telling me I was a sexy young lad and asked why I was going home so early. This was when I asked her why she wanted to know. At this she opened her jacket fully and said:
– 'Coz I need a good fucking. – I couldn't believe it. She asked if I had money and I asked her how much she charged. She said £50 for a full fuck. I then told her that I only had £50 but wanted her to suck my cock too. She agreed saying that coz I was sexy she would do both for me. I took out my wallet and handed her £50 which she put into her jacket pocket. She told me to come with her.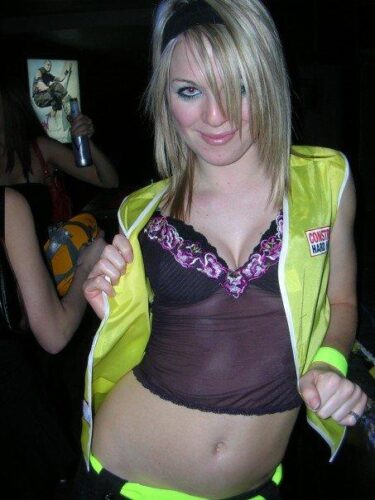 As we were on an industrial road there were a lot of dark factory car parks. She guided me to the rear of one of the factories where there was a small enclosed area which was very dimly lit. She pushed me against the wall and said:
– You're gonna get the dirtiest fuck of your life. It's well worth the money, trust me – I was a little shy as this was new to me. However, when I get turned on, I like to be dominant and fuck hard and fast.
The whore began rubbing my cock which started to get hard while I squeezed her big tits.
– You like my big tits? – she asked.
– I love them – I told her and I pulled her top down. She wasn't wearing a bra so I pulled them out and her tight top stopped underneath them pushing them up. I squeezed and sucked them and she let out a groan as she continued stroking my cock. After a few minutes I slid my hands down and pulled up her skirt around her hips. The whore was wearing a small black laced thong. I roughly turned her round and put her against the wall. She put her hands on the wall and I stood behind her feeling her ass. She had a nice big tight ass, and I spanked her a couple of times which she enjoyed.
I then started rubbing her pussy over her underwear. I could feel it was warm and a little wet. She began to groan and said it felt good. I told her to play with my cock, so she moved one hand from the wall and reached round stroking my cock which was now rock hard. This whore was pleased to find I was hard and let out a little giggle. I was getting really turned on and started talking smut telling her she was a little slut and I was going to give her a good hard fuck. The whore liked this and responded with her own dirty talk telling me how much she wanted my young cock.
She undid my fly and slipped her hand in pulling my cock out and wanking it hard and slow.
– That cock feels fucking big baby – she said. I do have to say pretty much every girl who's seen my cock always comments on it being big. Not so much the length of 8 inches but because it's very fat too.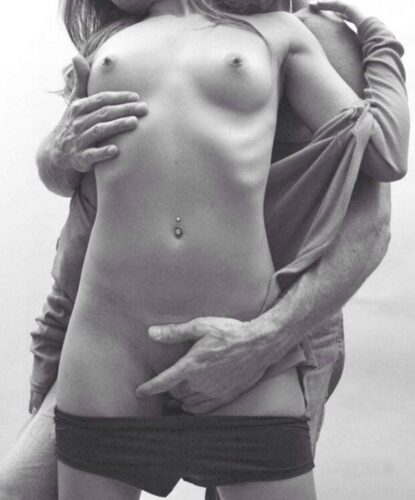 She said she loves big cocks and wanted it in her pussy. I pulled her panties to one side and slipped a finger in her wet pussy. She groaned and gripped my cock harder. I started fucking her with my finger and told her to stick her ass out, which she did. The whore also started wanking my cock harder and faster. A Short time later I had three fingers in her pussy fucking her with them. She let go of my cock and spat over her hand a couple of times and started wanking me off again with her wet hand. I told her:
– Now I want you to suck my cock, you dirty whore! – She quickly turned round and took a condom out of her jacket pocket and then put her jacket at my feet and knelt on it. She took hold of my cock and looked at it:
– That's fuckin huge baby. I'm gonna enjoy this – she said looking up at me. I undid my jeans and pulled them down round my ankles. She unrolled the condom onto my cock and started licking my balls. She sucked each ball hard and I grabbed her by the hair, took hold of my cock and told her to open her mouth. The whore opened it wide with her tongue out slightly and I slapped my cock hard on her tongue over and over before pushing it into her mouth. She closed her mouth around it and let out a groan as she slid her mouth up and down my length.
I held the back of her head and pulled her deeper onto it making her gag. Each time she gagged she had to pull my cock out of her mouth for a breath of air.
– You're a dirty fucker aren't you? – she said.
– That's right bitch – I told her. Because of her gagging she had loads of spit in her mouth which was spilling out down her chin and onto her tits. I fucked her mouth for some time before pulling her up to her feet.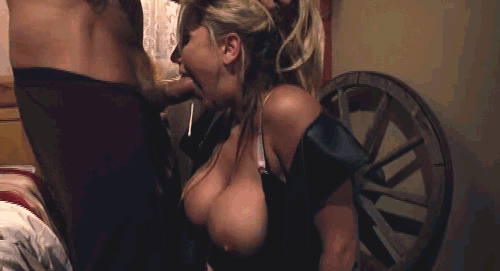 I was so turned on seeing her spit all around her mouth and tits, and all over my cock and balls.
– You wanna get fucked? – I asked. She pulled a mean face and said:
– Yeah come on, fuck me baby.
I pushed her back against the wall and lifted her legs around my waist. I guided my cock into her hot wet pussy and it slid all the way in up to my balls with relative ease because of all the saliva. I started hard and slow and the whore was groaning trying to keep as quiet as she could. I built up speed and before long was ramming into her hard and fast. She was sliding up and down against the wall and her tits were bouncing wildly.
The whore was making my every wish come true
I fucked her like this for about 10 minutes, then pulled out and turned her round facing the wall and bent her over. I then started fucking her from behind as hard and fast as I could. The whore was screaming quietly and speaking filth telling me how much she loved my big young cock.
After some time of this I could feel that I was fairly close to coming so I pulled out and told her I wanted to cum over her face. She told me I could only do that for an extra £10. I frantically searched my pockets and found just over £7 pounds in change. I asked if this was enough and she said that she wanted my cum anyway so accepted the money and placed it in her coat pocket with the rest.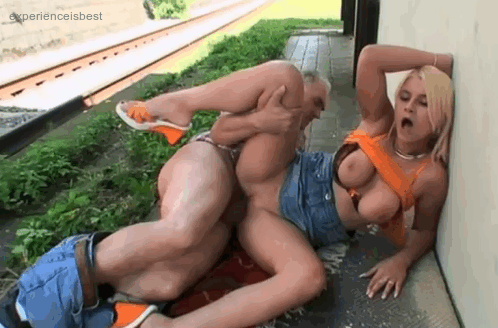 She knelt on the coat again and I pulled off the condom. I told her to wank my cock and make me cum. She took my cock and placed it between her tits which were still wet with her spit. She started wanking my cock with her tits looking up at me. After a few minutes of this she spat all over both hands and took my cock in one and rubbed my balls with the other.
She wanked my cock as hard and fast as she could rubbing and squeezing my balls with the other. The whore then wet a finger and started probing my ass hole before pushing it half way inside. It felt great as she wanked my cock hard too. All the time she was looking up at me talking dirty telling me she wanted my cum:
– Cum all over my face baby, I want your hot spunk. Give it to me, please, please… Spunk all over my face – She was saying this over and over and wanking my cock in her face spitting on it every time it dried up.
A few minutes later I took my cock in my hand and started wanking it myself. I pushed her head into my balls and she started sucking and licking them still fingering my ass. I could feel that I was about to cum:
– Here it comes baby – I said.
– Yeah shoot it over my face. – I held her hair and wanked in her face while she kept looking up at me. I felt my balls tighten in her hand and shot a big thick wad in her face, she was a little shocked and she closed her eyes and opened her mouth. Several thick wads shot onto her face and a couple in her mouth. Once I stopped shooting, the whore took my cock in her mouth and sucked every last drop out of it. She then let my spunk dribble out of her mouth and down her chin dribbling onto her tits.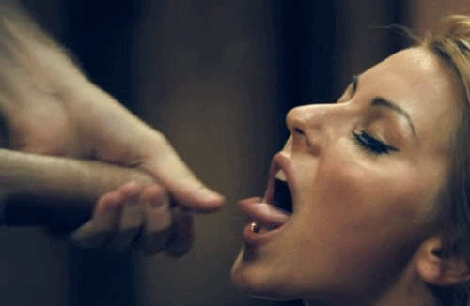 – MMMMMMMMMMmmm, your cum tastes good baby – she said looking up at me smiling. There wasn't much of her face that didn't have my spunk on it. Thick clumps were sliding down her cheek and she started rubbing it into her face. The whore had a couple of spurts in her hair which she just left and said it would dry. She tidied herself up as best she could and we headed back to the road. She pointed me in the direction of the taxi rank and gave me a peck on the lips. – If you wanna meet again I'm here most weekends, we can keep it the same price too. –  I told her she'd be seeing my again and after another glance at the clumps of my thick white spunk still drying into her hair I set off again.
You'll also like these stories: