[en] [slave-male] [slave-girl] I Was a "Cord" in a Foursome
I'm 28 years old and pretty open about sex and relationships. I believe a man should worship his lady in every way. Can't say that I had ever literally worshiped a woman physically until I met Ms. Chloe. I still am not sure what attracted me to her but it was strong. She has complete control over me and I'm her slave completely. I would do anything Ms. Chloe asked of me.
Ms. Chloe introduced me to a friend of hers, Mr. Sean. He has a girl slave named Precious. Precious is a beautiful shy little girl and Mr. Sean is a large handsome man. I've come to care for both of them a great deal. Mr. Sean has taught me that pleasure comes in many forms. Male, female, big and small.
Ms. Chloe has already introduced me to anal play and I enjoy it, but had never really thought about being intimate with another man. She also knows how open I am to trying something new and would do anything she asked.
Shortly after I met Mr. Sean and Precious, we went to their house for a visit. When not in public Ms. Chloe and Mr. Sean require both Precious and I to wear nothing save our collars and adornments so we might be accessible at a whim. After our greetings I undress and my clothes are put in a closet. We all headed to the sitting room and precious and I fixed drinks for the four of us, we were rewarded with praise and kisses. Then precious and I took our place at our respective owner's feet.
– Well Ms. Chloe and I have decided it's time for our beautiful slaves to branch out and try something new. – Ms. Chloe was smiling down at me and stroking my hair.
– Yes Sir. – We both chimed in at the same time. By now Ms. Chloe was rubbing my growing erection with her foot and Mr. Sean's hand had wandered to Precious's breast. Of course, it excited me to see Mr. Sean playing with her breast.
– We both agreed that we wanted our slaves to experience as many experiences as possible at least once. Of course, if you enjoy it, we'll be glad to repeat the experience.
– My darling cord you know I love and adore you. I would never ask anything of you I didn't think you could handle or would not enjoy.
– Yes Ma'am I do and I love you also.
– Tonight your experiences will be with Mr. Sean.
– Yes Ma'am. – I said.
– My beautiful Precious, I will expect you to please Ms. Chloe tonight.
– Yes Sir – she whispered. Mr. Sean then gave her nipple a pinch causing her to gasp then swatted her ass and said: – Now scoot on over to Ms. Chloe and make me proud my slave.
– Yes sir – she said and crawled over to us. I kissed My Mistress's feet then crawled over and kissed Mr. Sean's feet and whispered:
– I am here for your pleasure Mr. Sean.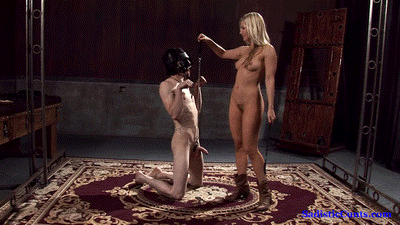 He smiled and stroked my hair and said:
– I think you're going to enjoy your experience tonight cord.
– Yes Sir. – I said nervously. – I know Ms. Chloe is enjoying Precious and watching so I want to do my very best to please Mr. Sean and make her proud of me.
– Give me your hand please cord. – Obediently I raised my hand to Mr. Sean. He placed it on the enormous bulge in His pants. – Can you feel how much I am looking forward to this cord?
– Yes Sir, it feels like you're quite anxious. – I started rubbing the bulge feeling it twitch, knowing very soon I would be seeing my first male cock up close and personal. I hear him moan softly.
– Unzip my pants, please cord. – I reached up and unzip his pants releasing the monster cock inside. My eyes widen when his cock springs free of his pants. It was at least 9 inches long and a good 6 inches around. He took hold of his hard cock and started rubbing it on my face. I've never felt anything quite like that before. My own cock was hardening at the thought of me pleasing Mr. Sean and ultimately Ms. Chloe.
Mr. Sean was rubbing the head of his cock on my lips, I could taste the salty sweetness of his pre-cum. I started lapping at the head of his cock catching the pre-cum with my tongue.
– Mmmmm, good boy cord. Use your mouth on me as you think would please yourself. – I had to have more; slowly I closed my lips around his cock and slid it into my mouth. It tasted incredible; I never dreamt I would be sucking cock. He put his hand on the back of my head and thrust his cock into my mouth making me gag. I started breathing through my nose so I wouldn't gag and could enjoy his cock.
– Is he a good little cock sucker, my Love? – Ms. Chloe asked. Breathing heavy Mr. Sean managed to say:
– Oh Yes Darling, I believe he will come along quite well.
His cock was big and hard and filled my mouth. I was hoping soon his cock would be filling my ass. He was grunting loudly and thrusting his cock hard in and out of my mouth. I reached up and started massaging his full balls, he moaned loudly and said:
– I'm about to fill your mouth with my seed cord, can you take it without wasting a drop? – I nodded and sucked harder still playing with his balls. He grunted and shoved his cock as far down my throat as it would go. I felt his hot seed spilling down my throat and swallowed fast.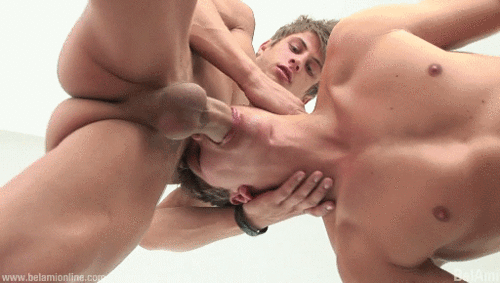 I could hear Ms. Chloe having another orgasm, it was obvious she was enjoying Precious.
– Well, I'm guessing you enjoyed that cord, you did well. – He was by now using his toes to stroke my aching cock, his own cock was still quite hard.
– Try his beautiful ass out my love. – Ms. Chloe said.
– I think I will do just that Darling. – He said. – How is my beautiful Precious doing over there, love?
– She has become quite proficient at pleasing my hungry cunt, darling. I'd say she's about due for a little reward. Would you mind if cord administered her reward while you have your way with his ass?
– Oh that's a good idea. Would you like that, my beautiful slave? – Precious nodded and said:
– Yes Sir, if that would please you.
– It would now be a good little girl and offer your dripping little cunny to cord. You've earned a treat.
Precious laid on the floor in front of me and opened her legs wide. I could see her juices dribbling from her bare little pussy down onto her tiny pink puckered asshole. I got on my knees between her legs with my ass in the air and began lapping at her juices. She was so wet and tasted so good. I lapped from her tight little cunt to her asshole poking my tongue into her ass gently. I heard her gasp as I did. Mr. Sean reached under me and stroked my aching hard cock for a minute making his hand nice and wet with my pre-cum. He then wiped it on my ass and started fingering my asshole. I moaned into precious's cunt as he did. I had the best of both worlds at the moment, a tight little wet cunt at my mouth and a swollen cock poking its head into my waiting asshole.
Without a warning Mr. Sean shoved his entire cock into my ass with one swift thrust.
– Oh gawd, he's so tight. – He moaned. He started slapping my ass and ramming it hard pushing me foreword deeper into precious's cunt. Precious was moaning and wreathing at my mouth, waiting for permission to cum. – Are you enjoying this, my slave? – He asked.
– Oh yes Sir, I am. May I please have permission for release? – knowing she was close to cumming I started flicking my tongue over her hard pulsing clit. I slid two fingers into her sopping wet cunt and started finger fucking her.
– I think you've earned your release this evening my beautiful slave, you may feed cord your cum when you're ready.
She lifted her hips high and squealed, as she did this Mr. Sean thrust his cock as deep into my ass as he could get it. I could feel him shooting his seed deep into my bowels. Both my ass and my asshole were on fire. Mr. Sean left his cock in my ass until it became flaccid and slipped out. I lapped Precious through the ending of her orgasm.
– Come to me, my beautiful slave. – Mr. Sean requested.
– Yes Sir – Precious said and crawled to him. As they cuddled in the chair, Ms. Chloe turned me over and mounted my aching hard cock. Her cunt was sopping wet from watching the scene before her. It felt so good wrapped around my cock; I knew I wouldn't last long. Like a woman possessed she was riding my cock like there was no tomorrow. She reached down and squeezed my full balls hard and demanded me to cum now. Like a good little boy I did, shooting my load deep into her cunt. Her pussy was convulsing around my cock milking it of all my cum. I laid under her trying to catch my breath and looking forward to the rest of the visit.
You'll also like these stories: