[en] [swingers] Foursome with Another Bisexual Couple
I am extremely lucky. My wife Jenny has known about and approved my bisexual fantasies ever since we started dating. It was easy to tell her about them, because she too was bisexual and very open about the swinging lifestyle. We had a great sex life (and still do) but at that point in our life, we both knew that having a little fun with someone of the same sex was something we just had to try.
We put our ads out on the Internet and waited. Feeling we were a little different from the rest of the swinging community, we felt it would be best to let people come to us. It's very rare to find a swinging couple where both are bisexual, usually just the female is. Fortunately, we got lucky on the first response we got. Billy and Amanda were everything we were looking for. Young, bisexual, and looking to have their first bisexual experiment with another couple. We decided to meet them for dinner and drinks at bar in downtown Pittsburgh. Not a very noteworthy place, but it had a great outdoor section with a wonderful view of the city.
Let me tell you, meeting someone like that was very hard on the nerves. You have a lot of worries built up in your head. What if they are obnoxious? What if they don't shower? What if she is wonderful, but he is an asshole? Well, with this couple, everything was wonderful. Billy was a wonderful 5'10″, with short curly hair and thin but well developed muscles. Amanda was 5'8″, with long curly brown hair, a wonderful smile, great legs, and tits and an ass that most men wish they could just touch. I could tell with just a glance that Jenny approved of Amanda as much as I approved of Billy.
We talked for several hours about what we were hoping to find, what we found sexually exciting, and we also spoke a lot about just the normal things like local bands, and the weather. The weather, by the way, had become stormy and we were forced to snuggle together under an awning to hide from the rain. When we said goodbye, we all knew that our next meeting would be, well, filled with even more lightning.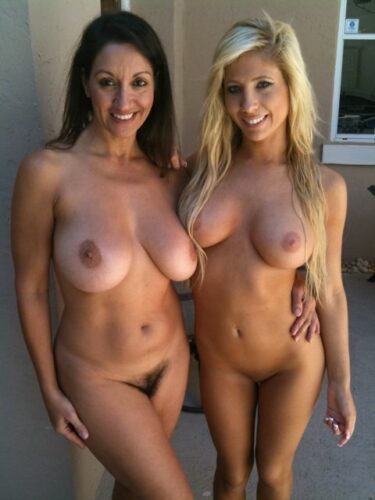 Billy and Amanda were excited too. We got a call the next day inviting us over for some drinks, and some fun. Not much was said about anything, but we knew that they were just as excited as we were. Over the next few days, Jenny and I would tell each other our fantasies while in bed together. All of the sudden it seemed more real, we could put names on the people we were sharing our bed with. Billy became my fantasy, and Jenny had Amanda.
The day finally arrived for our visit, and we were as excited as school children on the first day of summer break. The hard part, of any swinging relationship, is breaking the ice that very first time. Everyone knew what was going to happen. Everyone approved. But getting things started was something else entirely. Beers were served, and we began to play a nice relaxing game of pool. Soon Billy and I had a bet going, the losers would sexually service the winners. Jenny is a wonderful pool player but somehow missed every opportunity to make a ball. I've accused her of throwing the game, but it could just have been nerves. Needless to say, we lost.
Billy invited us upstairs, and we slowly began to undress each other. Jenny and Amanda were going slower then Billy and I, but watching Amanda pull out my wife's 34D breasts and cup them, had both of us guys amazed. The two of them looked beautiful. Holding each other, and genuinely enjoying the experience of holding the naked body of someone of your own sex. That's when I pulled down Billy's underwear and got my first glimpse of the first cock I was going to suck.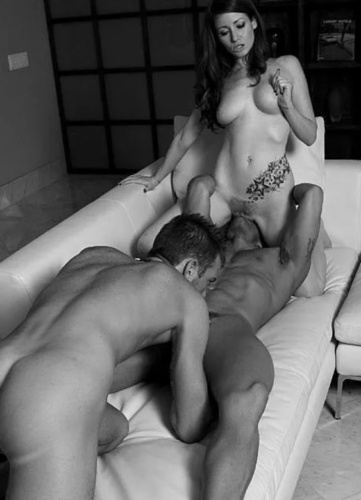 We didn't plan it, but Amanda and Billy were both now naked sitting on the floor, and Jenny and I were both on our knees in front of them, getting ready to do something we have wanted so badly, in full site of each other. We didn't need to cheat on each other to get our thrills. We loved each other enough to be open, and honest with our fantasies. Because of that, we could do this sort of thing, and jealously wouldn't be an issue.
I could smell Billy's scent. Much like my own, it filled my nose with a scent so manly I just knew what I wanted to do next. I looked over at Jenny and we both smiled at each other as, for the first time, we became officially bisexual. I put the head of Billy's cock in my mouth and slowly sucked the entire 6 inch length down my throat. I have no idea how I learned to deep-throat like that, but I suspect it's because of how badly I wanted to have him in me.
Finally, the bisexual couple we we're hoping for!
Cupping his balls with my right hand, and pinching his nipple with my left I did everything for him that I like having done to me. My wife had Amanda's legs over her shoulders has she was licking and sucking on her first pussy. By the looks of it, Amanda had no complaints about the licking that she was receiving. Billy now had his hand on the back of my head, gently fucking my face. The taste of his cock was wonderful, the precum was a wonderful tease of the mouthful I wanted.
Before he came, Billy stopped me, and said that it was now his turn. He had me sit on the floor while he went down on me. I never thought about it before, but guys have really powerful mouths, and Billy was proving it. He was sucking me hard, and it felt damn good. When he started playing with my balls, he could have made me cum right there, but I wanted this to last. I held back. I almost lost it again when he pulled my legs around him, and continued to suck me while press his cock against my ass. Having anal sex with a man wasn't my biggest fantasy, but the way he was sucking me, he could have done whatever he wanted, and I would have allowed him. Besides, I was supposed to sexually serve him anyway.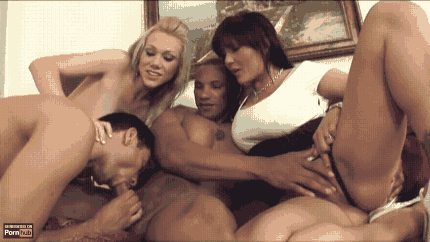 He told me he would need to go get a condom, but before he could get up, we heard his wife, Amanda having an orgasm with my wife. I've known Jenny for a long time, and I just knew she was proud to know that she was good enough at licking pussy to give someone else an orgasm. Amanda's orgasm was a long one too, but when she was done, she wanted no time and going down on Jenny. I think one of the most exciting things I witnessed that night was the look on Jenny's face as Amanda started to kiss the inside of her thighs. She knew she was in for the ride of her life. I reached over and give her nipple a little pinch, as a sort of wink.
I now wanted to make Billy cum. The biggest aspect of any of my bisexual experiences has been experiencing what it was like to have a man ejaculate in my mouth. I wanted to taste it, to know that I was good at cocksucking. I sat up and told Billy it was his turn to cum, and that I wanted every drop of it.
As I began to suck on his cock, he leaned back on his own legs, spreading them and giving me access to his balls and asshole. I didn't pass up the opportunity either. I began to massage his balls, and every now and then I'd slip a finger back to his asshole and probe it. He began to breath had and was now telling me that he was about to cum. Perhaps he meant it as a warning, but I took it as a cue to suck harder and get ready to be the cocksucker I had always fantasized about. He raised his hips up into my face, and pushed down on my head and let loose what must have been a quart of cum. I didn't miss a drop. I even milked it for more.
Jenny was about to cum as well. I know her well, and the look on her face told me that Amanda was licking her better then I could. Jenny's hands were stoking the back of Amanda's head, being very gentle but urgent. Jenny's nipples were rock hard and ass was hovering off the floor, trying to give Amanda every little bit of her luscious pink pussy.

Billy had recovered from his orgasm, and was now ready to return the favor. I was ready to accept it as well. He started licking and biting my nipples, and rubbing my cock in his muscular hand. I grabbed his well defined arms, and just enjoyed knowing that a man was about to make me cum. His beard scruff hit my belly, and his lip surrounded my cock. Jenny was now groaning and her orgasm was only seconds away. Amanda had her finger in my wife, pushing her over the edge. Billy had both of his hands on my chest, pinching my nipples….
Jenny came, loudly, and pushed me over the edge. I tried to warn Billy that I was close to orgasm, but it came with such fury, and force I didn't have a chance. I grabbed his head and tried to both force it down, as well as make him stop sucking me. My concentration zeroed in on his mouth and tongue, and I'm pretty sure I forgot how to speak English for a few moments. Billy swallowed me and continued to tease the head of my cock with his tongue. The man was amazing.
We all leaned back on the couch and talked about how wonderful it was having the lifestyle, and open bisexual relationship that we do. We finished out the night by having sex without own mates in a sort of mini-orgy, but, that first time… it's what dreams are made of.
We still swing with Billy and Amanda. We have even become comfortable enough with them that we soft-swap. I don't know if we will ever have a full swap, but if we did, I'm sure it will be just as wonderful. Billy and Amanda have become very close friends of ours since this encounter.