[en] [gangbang] [slave-girl] They All Took Turns Fucking My Holes
Hi, my name is Alyssa and this is the time I got fucked by my boyfriend, his friends, who were all at me and my boyfriends house. They were watching the game as I was getting them something to eat and drink. Then, on the break of the game, they stepped outside to shotgun some beer but when they came in, little did I know that had a surprise waiting for me…
In one of the boys' cars he had everything they needed to tie me up. I see that bag when they walk in. I'm curious and confused… My husband calls me into the living room from the kitchen so I go in there to see what he needs. He orders me to lay down in the table face down ass up, so I do, but my short skirt is now showing my bare ass. I didn't have any panties on, I was exposed.
He then handcuffed my hands to the table. Our house is all rigged for BDSM play (we live it), so he steps beside me in the table and ties the rope from the thing on the ceiling and puts in around my waist so they can move. My ass up and down. They handcuff my ankles to a pole that forces my legs open. My husband took my skirt off but cut my top off. Then they all begin to get closer, all 7 of them.
The closer they got the more clothes went off…
Now they were all there – dicks out and hard, huge might I add. They ask me if I'm ready to be a true slut tonight. I need my boyfriend. Then he puts a collar and a leash around my neck.
– Bark! – he says, so I bark.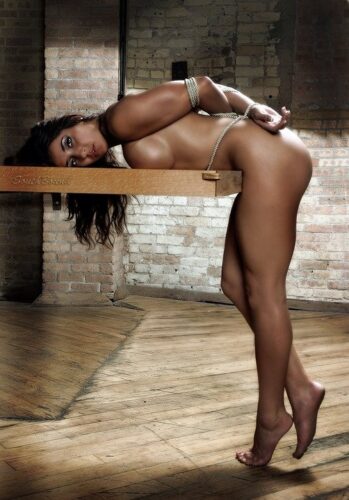 The boys enjoy that I listen. They get all riled up for this. Before they start, my boyfriend goes and grabs tripod and camera and said:
– This is something we'll never forget – then he gave them the cue to use me.
One came to my mouth, I had two in my hand, one showed his in my ass and it hurt so bad. I was yelling but muffled out by getting face fucked and another one just jammed in my pussy. I was completely being filled up.
After a few minutes the one in my ass came in so that the next one could step up and enter, while the rest were fondling with my body. I orgasmed everywhere. They all took turns fucking my holes and stretching me out. They had all come I had came more than enough times but they still weren't done with me. They really wanted me to feel like a dirty slut so one of the boys called his wife and asked her to have his son come down. She agreed, hung up and told his son when they all heard that they all dine it, including my boyfriend, he got his son and his sons friends to come.
There were at least 15 of them more there now, the dads ordered the boys to ruin me and they did exactly that, while my boyfriend and his friends watched the game the boys got to do what they wanted to me. They smacked me around, fucked me sooo many times; each young boy came in me more than twice and my boyfriend's son was the dirtiest of them all, he told me this was just the beginning from him. That now he's seen me like this he will get more of this.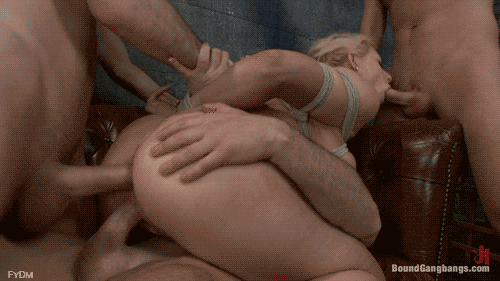 Five hours go by and the boys are exhausted. I'm tired, the men never came back up, so I assume they are asleep. And I'm stuck, tied up, because the boys will only do it again if I wake them up, so I went to sleep how I was. My boyfriend came back a few hours later and untied me quietly looking at all my now ruined holes and cum, and just smiled. He took me in the bathroom, gave me a bath and got me dressed and into bed. He kisses all my holes and said:
– It was definitely worth it.
You'll also like these stories: