[en] [nudists] Tracy Wanted to Have My Baby
This is a true story that happened to me over 25 years ago. Tracy was crazy about water skiing. She was in the Air Force and worked for me and was married to another Airman. He always worked rotating shifts in the military police, while Tracy and I worked five days a week during the day. I had a ski boat and I knew from previous experience that Tracy loved to go boating and water skiing.
One day when things were slow, Tracy and I were sitting around talking about the nice day and how it was a shame to have to work. My wife was off shopping at the state capital, some 60 miles away. I casually mentioned that since there was nothing to do, that perhaps we needed to go get the boat and go boating.
Tracy's husband was due to work that afternoon and was home. She liked the idea and told me to go and get my boat. So I did, stopping on the way back to get a case of cold beer, before meeting her once more about half an hour later, and we took off together with the boat in tow. We got to the lake and launched the boat. She climbed into the boat and waited, while I parked the car and boat trailer at the landing. Joining her, I started the boat. She noticed the water skis that I normally kept in the boat, and asked if she could ski.
In what? – I asked, adding that we still had our Air Force uniforms on.
– Oh – she said – I know what to do. Let's go out to the middle of the lake. – So, we were soon planning out across the water. She had crawled back behind me to sit on the bench seat. I glanced back and she began undressing. In no time at all it seemed that she was stripped down to her bare skin.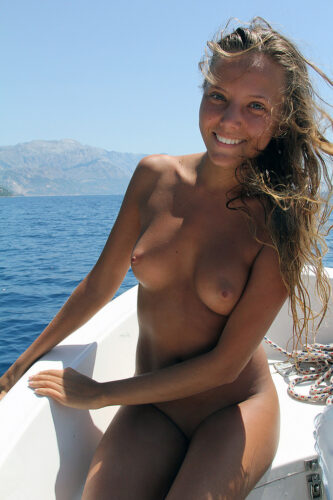 I slowed the boat down to a crawl, idling along, and she was all over me in undoing my uniform shirt buttons, my military belt buckle and pants catch and zipper, as I gazed at her white alabaster skin, my cock growing hard. Soon I, too, was naked. I quickly reached over and turned off the motor.
I turned back and we came together in a fusion of kissing, our tongues probing hotly. I reached down and her pussy was soaked with excitement as I felt her hand on my now hard cock, milking it, squeezing it. I had always envisioned having Tracy in a moment of lust like this, now it was coming true. She loved her husband, but he was infertile she said, and she was always afraid that she was going to live all her life without having a baby. I had never told her that I was infertile, too, and the more we discussed our married lives with our spouses, the more it became very apparent that she was very interested in getting my seed, by the hints she often gave when we were alone together.
Now she was pulling, milking my hard cock. She climbed onto my naked lap, rubbing her hot pussy lips across my dick. She reached down and guided me into her soft wetness and I nearly came, feeling her hot sheath envelope me. Then I felt my cockhead poking at her uterus, and she began cumming in spurts, her fingernails clawing at my naked back in pure lust, and our tongues sucking spittle. Her hot coned firm naked tits were poking heated blotches into my chest. Her innermost hot sweet oily wetness drove me wild burning the end of my circumcised dick head, causing me to suck hickeys onto the nape of her neck.
We raised up and she wrapped her naked inner thighs around my waist, locking me in her, as I carried her still joined to me in lovingly oneness to the rear of the boat and we gently laid down, her on her back with me still above her, pumping in and out. She cried out in heat:
– Fuck me, fuck me, fuck me, Don, Honey! Cum in me, give me your baby! Oh, I want all your babies. Cum. Cum. Cum – she cried.
Then I felt it begin its journey from deep in my balls. Up, up, up and into the base of my hardness in my groin, and then it was spurting. It felt like gallons of this white hot oily sterile liquid was drowning Tracy's eggs.
We lay back, kissing, hugging in total exhaustion, before drifting off to sleep, doze wound up in each other's nakedness's. The gentle rocking of the boat woke us up about an hour later. We were thirsty, and we each had a couple of beers and soon we were trying to make her pregnant again. This time she sucked my cock to hardness before going down on all fours and taking me doggie style into her heated depths where I once more showered her baby sack with hot cum.
After resting she decided she still wanted to water ski. So Tracy grabbed a couple of skis, tossed them overboard and dove into the water as I strung out the ski rope and waited for her to fit herself to the skis. Then I started the engine, and soon I was pulling her out of the water, naked for all the world to see!
I happened to catch a glimpse of a couple of fishing boats stuck away in a cove on the opposite side of the lake. I motioned to Tracy that I might go by them? She waved back:
– Sure, let's do it.
I hate to think to this day the "fishing stories" that those guys must have gone home with that night as Tracy skied bare-assed naked no more than 50 feet from their fishing poles as they sat in their aluminum fishing boats. Their wives probably never believed another story those guys ever told again! We skied off an on all afternoon that day. We would ski for awhile, then stop and rest, have a beer or two. Then she would drive the boat for awhile, while I skied naked. We quit when we got to the point in inebriation that we could no longer balance ourselves on the water skis and our bladders were so full of beer that we nearly peed all over ourselves.
We found a sand bar that was isolated, and Tracy proceeded to drain my balls dry before we ended up getting dressed once more, loading the boat onto the trailer and going to find something to eat that was nourishing.
Afterwards I took her home. Her husband was working, so I left her, tucked into bed, my last load of hot oily cum for the day leaking once more from her hot twat.
This was the beginning of a hot well-fucked affair for the two of us that lasted about two months, before we were split up by military reassignments to different places overseas… I never did tell Tracy that I was sterile, but I have kept track of where she was at, and it would be another 4 years before she would ever get pregnant. The other day I received a long-distance phone call. It seems that a certain couple of young girls, one who is now 18, and her sister who is 20, have been told by their mother that there is this guy that she used to fuck trying to get pregnant, apparently is not so sterile after all. These girls called, wanted to know if I am infertile, because they want to find someone to have sex with that has a boat. Unlike their mother, they are not looking to get pregnant…
You'll also like these stories: