[en] [hook-up] The Doctor Gave Me a bit More than Exam
I recently moved to a large rural community to get away from the hectic lifestyle of the big city. Living in the big city brought lots of rewards, an excellent job, good pay, and a great lifestyle. Unfortunately, the job was demanding and stressful and it gave me high blood pressure and a wrecked marriage. I decided to give it all up and take an easy laid-back job in a rural community; life is too short. After settling into my new digs, I had to arrange for a new doctor. I was referred to a local Dr. and had my first appointment. I was surprised on my visit that the Doctor was a lady, she and very good looking, mid-thirties and by the ring on her finger, very married. She was about 5'7" tall, short black hair and well proportioned, with firm breasts and a nice tight ass.
I went into the room and sat down with the doctor. She asked me various things about my history and stuff. When we got to medication, she asked me what I was using. I told her I was on two high-blood pressure pills, one of each in the morning and another one at night. The doctor checked my pressure and said it was under control. She asked if I was under any other medication. Well, the time was up, I said I use injection therapy for an erection. The doctor looked up and I could see she was wondering why a young guy like me, mid-thirties, and not bad looking would have to resort to injection therapy. She asked me why my previous doctor did this, I said as my high blood pressure developed, I started to have problems with erections. I said my previous doctor was not very knowledgeable in this area, but she said it was due to having uncontrolled high blood pressure and it causing damage, the medication that I am taking to control it and the size of my penis.
The doctor immediately looked up at me and asked what I meant, I told her my doctor said my penis was about four inches longer than the average penis at 5 inches and a lot thicker. She then queried as to how my old doctor would know. I said in order to find out what dosage I needed, she had to do test trials on me to find what I was best suited for. The doctor said she would like me to come back for another visit since she had taken some course on impotence and would see if she could help.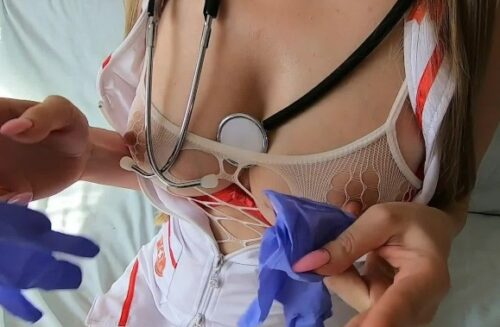 I booked my next appointment and scheduled to see the doctor next week. I found out from neighbors that my new doctor was married to an older man around 60 who had recently suffered a heart attack and was quite confined for some time. They said she was a bit of a sleaze in high school even though she was good looking.
I went in for my next appointment and the nurse had me strip and put a gown on. The doctor came in and told me to lie on my back and that she was going to examine me thoroughly. She had her rubber gloves on and started to examine my penis, looking at it quite closely. She looked up and down the shaft, examined all areas of my scrotum and all around my genitals. She used her stethoscope to listen for blood flow etc. All this time my dick was swelling to about 7 inches, but still not erect. The doctor then reexamined my dick up and down with her face a few inches from me. She seemed a bit flustered and said that there seemed to be some blood flow problems and said that my penis seemed to partially get erect but not enough for intercourse. This, of course, she was still holding it in her hand. She asked if I would come back next week, and she would examine me again after I had injected myself. She said she would get the medicine and then she got the dosage amount from me.
I booked my next appointment and returned the following week. She said she wanted to observe how it was done so she could then instruct others how to use it. I stripped down with nothing on then applied alcohol to my penis and the top of the vial. I inserted the needle and mixed the solution then withdrew it back into the syringe. I then found a spot on my penis to insert it and injected myself. The doctor asked a few questions as whether it hurt or not and I said it does but just briefly and make sure you don't hit a blood vessel. I was standing up and the doctor was talking some more. She looked down and gasped a bit, my cock had grown to its full nine inches and very thick.
She was surprised that it reacted so fast…
I laid on the bed and she examined me again, but I noticed without gloves, I then knew it was just a bit more than an exam. She held my penis around so she could examine everything again. Her hands barely reached around my cock, and she kept it really close to her face most of the time. She asked if I would come back one more time so she could inject me as practice for herself. I said OK but I asked that I needed to tape my dick to my body since I would get arrested now. The doctor looked down and touched my penis and said:
– Yes someone would surely be afraid of that monster.
I called again and the doctor had rebooked me for a five pm visit, this was when the clinic closed so I knew we would be the only ones there.
I arrived at 5:00 at the clinic and the nurse put me in the exam room and asked me to strip down and put the gown on. The doctor came in and left the syringe and medicine and said she would be back. I could hear her telling the nurse that it was ok to leave and to lock the door. A few minutes later the doctor came back in with her lab coat on, but I noticed that she didn't seem to have anything on underneath.
I laid down on the table and the doctor put the medicine together. She cleaned my penis off and gently grabbed my cock. She inserted the needle carefully and pushed on the syringe. It went quite well and there were no major problems. We talked for a bit, and she seemed to be anxious. As my cock swelled up to its full nine inches, her eyes lit up. She asked me to lay on my back and she examined me again. She accidentally let my cock rub against her chin, but she didn't say a thing. She asked me how long I would be erect, and I said 1 ½ hours.
Surprised, the doctor said even after I ejaculated, I said – yes. She was surprised, then paused and asked if she could see what happened after I ejaculated. I knew we were beyond the normal doctor-patient bounds now and I said I don't really masturbate but if she wanted me to cum she would have to do it. She waited, then said yes. I knew now she wanted it all.
The doctor started to stroke my shaft up and down slowly and felling my balls with her other hand. I said that I find I cum faster with oral sex and she lend over and took my cock in her mouth without saying a word. She put as much in her mouth as she could then took it out and licked my entire cock. She then licks all around my balls and seemed to be entrenched with the whole thing. I was getting closer to coming and she moved faster and faster. I reached under her lab coat and started to feel her naked ass and pussy. She was moaning more and more and suddenly I exploded. Streams of cum flew from my cock into her mouth. She was an expert because she lapped it all up, I inserted a finger in her snatch and she too had an orgasm.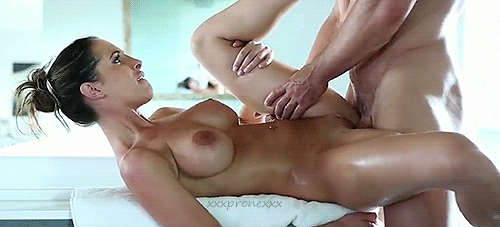 After I was done, I stood up to help the blood flow. She looked at my now half hard cock and said:
– There, its shrinking. – I gave it another minute and it was back to full size again.
The doctor looked down and grinned and climbed up on the table. She laid back and put her legs in the stirrups. I undid the lab coat, and I had full view of her pussy hair and pink lips. I slowly entered her, and I could tell that she hadn't been fucked in a long time, she was tight. Slowly, I put two then four inches in her. Soon I had my entire nine inches in her, but I didn't move, I just looked in her wide-open eyes.
Slowly, I started to ease out and then back into her. I knew that I was going to last a long time before my next orgasm, so I started to fuck her slowly. After 30 minutes, she was having another of many orgasms and sweating a lot, I then blew my load again and pulled out. She was all out of breath and sat up and said that was the best fuck she ever had. She went to the sink and wiped herself off and thanked me. I turned around to her again and said we aren't done yet; my cock was back hard again. She was surprised and then I lifted her back up into the table, but I moved her ass closer to me and with her legs back up in the stirrups, had had full access to her ass.
I reached behind me and grabbed the lubricant used for exams and smeared it on my cock. I placed my cock against her asshole, and she looked in surprised and said she hadn't had it in the ass since high school. Slowly I stuffed my cock in her ass. She moaned and started to finger herself. I fucked her this way for 20 minutes then pulled out. I went to the sink and cleaned my cock off, and the Dr wiped herself too.
She started to do up her lab coat when I asked her to blow me off again. She looked me straight in the eye then reached down with her hand and grabbed my hard cock. She just shook her head and said this is the best thing in medicine today and she wished her husband would have done this too. The doctor knelt down and started to suck me off. I knew I wasn't going to cum a lot, but her excellent blow job had me cumming again. Just As I started to cum, I pulled out and let it go all over her face. She licked what she could then stood up.
I asked if I should book another appointment, the doctor said she would take care of it. I asked if she was going to inject her husband too, but she said:
– Why settle for five inches when I have nine here. – I told her that's what my old doctor used to say too.
You'll also like these stories: