[en] [mother-daughter] Butt Fucks for the Mother and the Daughter
It had been a stressful day, so I returned to my small, but very nice, motel room in Vicksburg. The long shower had felt so good, I just stayed naked when I walked back into the bedroom, drying myself with a large, fluffy towel. My last client had been a long-legged brunette, and I started thinking about her as I dried my balls and cock.
I picked up the remote and started flipping thru the channels. Bingo! There was Stacey Donavan, one of my favorite porn stars, with her "Uncle John" fucking her, doggy style. Forget the towel, I gripped my dick and began the old familiar massage. I had been too tired to jack-off the night before, so ol' Fat Boy was engorged to his fullest. After about five minutes of slow, easy, stroking, I felt another familiar feeling, in my nuts. My load was on its' way. As Uncle John spun Stacey around, poking his dick toward her open mouth, I pulled the edge of the towel over, and caught the seven or eight gushes in it.
Pretty big batch – I mumbled to myself, between looking at Stacey and Linda Stark, (my brunette customer) I had a big supply built up. Hell, it was more than Uncle John shot onto her face. I still haven't figured out why most of these porn bastards dump their cum outside these women's pussies. I'd rather see it leaking out, after it's pumped inside a hot cunt.
I watched another fuck movie, then fell asleep during the third one. When I was awakened by a loud noise, I still had my dick, which was hard again, in the clutches of my right hand. What the Hell – I thought, sounds like something slammed into the wall. Then, as I became fully awake, I realized somebody was bumping my door. Through the peek hole, I saw Linda Stark. She was holding another female up, and must have been tapping my door with the toe of her shoe. I wrapped the towel around me, tucked it in, and opened up.
– Hi, Don – she grunted as she began helping the girl into my room, I'm sorry to bother you like this, but my friend is drunk as hell. I couldn't take her home with me, because my husband thinks she's a bad influence on me. He'd be pissed off if he knew we were drinking together tonight. – I picked the girl up, laid her on the bed, and listened to Linda continue. – Her boyfriend got mad at her today, that's why she got so drunk. He kicked her out of their apartment, so she came to me. Like I said, my husband doesn't like her, so we went to a bar, to try to figure things out. I went to the ladies' room, and when I got back, two guys were at our table. Betty was telling them to leave her alone, but they wouldn't. I caught the bouncer's attention and he made them move on. I think they must have drugged her drink, because she passed out so quick.
The more Linda talked, the more I wanted to fuck her. I took note of her lips, her tongue, her teeth… everything about her mouth was calling for my hard dick. Everything she had told me made sense, except one thing… why did she bring the girl here? So I asked her…
– Look, Don, I remembered you saying you had a room here, and I didn't know where else to go with her.
Linda kept stealing a glance at the tent my cock was making with the towel. I still questioned – why me. Linda had lived in Vicksburg for years. She had to know lots of people, or places, she could have taken the young woman. Then I looked at the girl's face. It was Linda's face, on a younger body.
– Is she your daughter?
– Yes she is. She's nineteen, and been in "serious" relationships with about fifteen men, some were much older than you. Her step-dad has forbidden her to come home, but I see her as often as I can. Her biggest problem, she inherited from me… she just loves to fuck. – Linda's hand reached out, pulled the towel from around me, and grasped ol' Fat Boy.
– Now, how about helping me with my problem… you see, I inherited it from my mother, too. Of my four step-dads, three of them fucked me. The first one was before I turned nine. The second one got me pregnant when I was thirteen. And the last one had his dick in me at their wedding reception, in the bathroom. I was working on the other one when he died with a heart attack. Now, let's slide Betty over to one side. We'll undress her first, because she'll probably want some sex, too, when she wakes up.
I glanced back at the television, slapped my own face, and convinced myself that this wasn't a dream. Not only was Linda was still there, she was undressing Betty. Evidently it was a familiar task, because she was having no problem. As soon as Betty's panties sailed across the room, Linda started on her own clothes.
My dick was engorged and pulsing as I watched, my eyes darting back and forth from the gorgeous woman, and the naked replica. Linda knew how to tease a man. She turned her back to me, as she got to her underwear. First, as she slipped out of her bra, she turned slightly, exposing the side view of one 'c-cup' tit, then the other. Her wink, and licking her lips, made Fat Boy ache for release. Her thumbs hooked into the top edge of the blue bikini panties, then slid them halfway down those fantastic ass cheeks. At that point, she hesitated, glanced over her shoulder and asked:
– I'm sorry, Don. I didn't think to ask if you were married, or if you'd even like to have hot, passionate, steamy, wild, no strings attached, fucking? But – she said as she bent to slide her panties down to her ankles – It looks like Mr. Cock might be interested.
When I saw the clam-shaped cunt staring at me, with the little brown pucker just above it, I started toward her.
– You just need to grab that nightstand, woman – I told her. She did.
I had no problem hitting her wet pussy, and sinking in, to my balls. From the way she had talked, I knew Linda could accept any size dick, but her gasp, and sigh of pleasure, convinced me that I was just what she needed, right then. I rubbed her back, shoulders, and sides as I stroked in and out. I wasn't really going at it slowly, but my steady pace was doing its' job.
Linda pushed back with each of my forward thrusts, expressing her satisfaction with moans and whimpers
Her first orgasm came within a minute, followed a half minute later with one of her hands grabbing back at my waist. Her fingernails dug into my flesh, as she gasped:
– Ahhhh… ahhhh… ahhhh. Ohhh Godddd! Uhhh… oooo… ahhh… yes… yes… YESSSSSSSS!
I reached under her rib cage and latched onto her tits. Her nipples were hard and big. I pinched them, and kneeded the bulk of them. As my nuts contracted, she came a third time, mixing all her juices with my surge, after surge of cum…
– This afternoon – she said as she picked up my towel, I knew I'd enjoy fucking you. That's why I asked where you were staying. My husband is a wonderful fuck, but he's only good for one, nowadays, then he wants to sleep. – She finished wiping the mess on her cunt, then dropped to her knees. – I'll just clean this up for you, okay?
What? Did she think I was an idiot or something? Of fucking course, it was okay! I always enjoy a good cocksucker as much as a good fuck hole. While her mouth was full, I began to wonder about that brown pucker hole I'd seen earlier. It had been a couple of years since I ass-fucked a woman, so I asked her about it. She broke suction, just long enough to say:
– Sure, but Betty's next.
Her ministrations eventually brought me to full hard, again. When she pulled her talented mouth off, she looked toward the bed:
– You ready, honey? – she asked. I was surprised to see Betty, watching every move we made, while fingering her own pussy.
– Hell, yes – she answer her mother – Don asked about an ass-fuck, well here's a tight one for you big boy. – With that said, she rolled over, stuck her ass in the air, laid her head on the pillow, and continued masturbating.
– Pound me as hard as you want, I'm needing it just as bad as mom.
Between Linda's saliva and a little more I added, entering Betty's ass was easily accomplished. Butt fucks are almost always tight, and this was no exception. It took four or five pushes to get all seven and one-half inches of Fat Boy all the way in. I loved the velvety feel of Betty's bowels, as my shaft plowed in and out.
– Mmmmm – she gave out with a light moan – that feels so good. Mom said she was pretty sure you could handle both of us, tonight. Mmmmm, ohhh, you feel goooood.
Her sphincter was grabbing my rod each time I pulled back, and loosened as I went forward. The youngster was good alright, very good.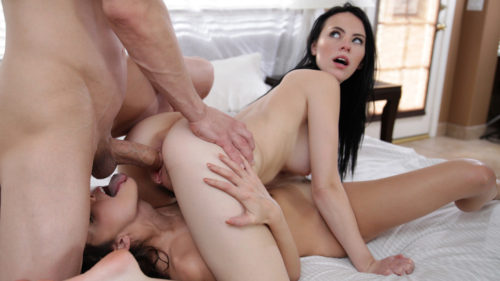 She would get better and better, but Linda's experienced vaginal muscles were incomparable. The 33-year-old mother was the best fuck I'd ever experienced, barring nobody.
I was fucking a 19-year-old's asshole, looking at her 33 year-old mother, masturbating herself with a battery powered dildo. The sounds of pleasure had to be arousing suspicion in the adjoining rooms.
I finally dumped my third load of the night into the slick, and now sloppy, bowels. Betty had already cum three or four times, and I had watched Linda get herself off that many times, or more.
– We use this same ruse all the time – Betty told me, as she washed her ass – sometimes I act like I'm wiped out, but most of our men are into younger girls, so Mom puts on the act until we're in the room and undressed. When boys see her body, they want her as much as me. Linda chimed in:
– Lots of sisters are fourteen years apart, or so. Most of the guys don't have a clue we're mother and daughter. Betty's tried to fuck my husband, several times, but he just won't give in. That's why he doesn't want me being around her. He's afraid I might get wild ideas. – She pushed me back, onto the bed, and continued – I also like for my clit to be worked over with a man's tongue, while my dildo is buried inside me. That's not a wild idea, is it?
She sat on my face, dildo imbedded completely, and I started sucking her clitoris, which was slightly larger than a M&M peanut candy. I felt Betty's mouth on my cock, but wasn't expecting it to rise to the occasion, again…
Wrong!
Three hours after being awakened by the bumping on the door, the ladies made their exit.
Linda picked up the towel I had been wearing, when they arrived, the same one I had jacked off into:
– See you tomorrow night, and don't waste a load before I get here. Betty has a date, so it'll just be you & me…
Vicksburg is my favorite stop on my route, now. I guess that's why I get there twice as much as I used to.