[en] [cuckold] [gangbang] The Hospitable Wife
She was doing her usual chores around the house when she received a text message from her husband, telling her to prepare some snacks and beverages for him and some guests coming over to watch the big game tonight, then he also added in a separate message "Wear something sexy". She knew what this meant.
She prepared everything as instructed. She made several appetisers and smaller meals in case the need arises, she wanted everyone to be satisfied – she also wanted to please her husband badly.
A knock was heard and she opened the door dressed in a super short stretchy dress with holes you could peek through, revealing her nipples. It was a downright a cheap looking slutty dress. Two men entered the apartment, followed by her husband who gave her a big kiss upon entering.
– Offer some refreshments to our guests! – he said it in an official tone.
– Oh sorry! Yes, we have beer, sparkling water, there's also coffee if the gentleman fancy so… What would you like? – she said, a bit shy and awkward, unfortunately having to be almost naked in front of strangers in frond of her husband.
– We'll have the beers! – one of them said.
– Well babe, what are you waiting? Give them what they asked for – the husband said with authority in his tone.
She served the beers, noticing how they would follow her every move with their eyes, they looked at her naked legs, her nipples peeking through and her nervous body language, she could also feel her husband's hawk-like gaze, following everything what's going on.
– We also have some food, I could serve if you'd like – she said with insecurity in her voice.
– Of course our guests would like food, serve them babe – the husband replied as if annoyed by this unnecessary question. The hospitable wife brought a big tray of food which she tried to put down to the coffee table in front of the couch where one of them was sitting, but in order to put down the tray – she needed to bend over quite low, revealing to the other guy her bare ass and pussy. He grunted, as if bothered by the sudden erection he got from having her pussy in such close range in front of his face. She had to put the second tray to him, so the other guy got the same view. The husband smiled, pleased by their reaction.
They drank and ate, she sat on the side of the armchair her husband was sitting on. He caressed her back as he was talking to them, as if in approval of her efforts. She felt accepted and happy to serve them. Suddenly one of them spoke.
– You're a good host, your food is wonderful, your house is beautiful and your wife… – he said, scanning her up and down. – She's very hospitable wife, I must say. You served us with everything, we are thankful to you. – The husband was pleased:
– Oh yes? Well I didn't serve you with everything yet. You didn't try my hospitable wife and felt how hospitable she can be towards our guests. Honey, would you please get down on your knees and please the gentleman – he said putting his hand on her head and pushing her down to get on all fours.
His hospitable wife started sucking their cocks
She crawled down to the nearest guy, unzipped his pants and began to suck his cock. The guy moaned, the husband squirmed with arousal in his armchair, the other guy watched it all. The guy she was sucking started to fuck her throat and she gagged.
– Your wife, she's a good little sucker isn't she? – they laughed and commented on her looks and her sucking, they other one grabbed and spanked her ass, then he put two fingers in her ass hole. She moaned with pleasure and pain. The husband started to masturbate.
– Don't forget our other guest, babe – the husband said.
– Okay – panting, she said, trying to get some breath between blowing them. The one she just blew put his cock directly in her ass only lubricating it with spit.
– Your hospitable wife is a big slut, you know what? – one of them said. That made her so horny, so her ass opened up so easily and his cock slided in her ass.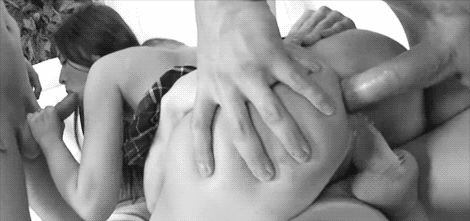 She moaned loudly but was quickly shut up by the other one who rammed his cock in her throat. They were merciless. They fucked her as if they didn't care if it hurts her or if she can breathe. Only gagging and thrusting was heard. The husband's cock was hard as a rock.
– Babe look at me – he said gently. She looked at him with a mouth full of cock and spit and tears on her face, smudging her make up. The husband stood up and said: – Open your mouth – the other guy moved his cock for the husband to put his.
The husband rammed his cock her in her throat, filling it with cum, then moves quickly to the side so the other guy could do the same. She almost threw up from all the sperm.
– Swallow it! – the husband said clenching her jaw with his hand.
– There's another one – said the guy that was fucking her ass. He pulled out, masturbating his cock to her mouth, the husband put his fingers in her mouth, opening them for the other guy to cum on her tongue.
– Yes! Fill her! – the other guy said. – Good whore – he said as he dripped the last drop on her face.
The husband leaned in for a cum filled kiss with his used wife. She felt so amazing as the husband caressed her body, calming it, from all the hard fucking she received.
They all got dressed again and the husband hugged her as they escorted the guests out of the apartment. Then the husband sat his hospitable wife on the couch, turned her ass to his face and proceeded to thrust his tongue into it, as if to slurp all the flavor from their guest's dick.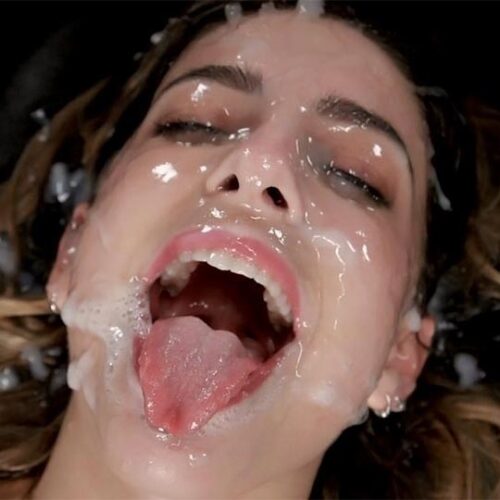 That night he washed her and licked her pussy until she came. They cuddled on the couch as they read messages from their guests in the group chat, commenting on her ass, throat, fucking and hospitality…
You'll also like these stories: