[en] [strap-on] One more Girl for Strap-on Party
We had played the scene out many times. It was an intricate part of our lives. Nikki, Joanne, and I had been friends for years but the closeness and sexuality between us never grew old. I watched and thought as very well endowed Nikki screwed Joanne with the strap-on from behind that it couldn't get any better. I was constantly enthralled. We always switched around amongst ourselves. Joanne screwed me or I screwed Nikki. It was as if in a way we played our private game over and over. I sat on the chair and watched as big tittied Nikki mounted Joanne from behind. My pussy was always wet as I watched. After the foreplay between the two, the sucking of the plastic but life-like cock, the licking and worshipping of Nikki's tits, I could not help myself every time I saw it I wanted to join in. I would always in some way feel left out. But as I said we all took turns doing it to each other.
I would toy with my clit as they kissed, and sucked each other's tongue. That alone was enough to look above and know that beauty was a godly thing. Nikki's breasts were huge and every time I looked at them I would just drool.
Nikki was a very controlling girl and it may have been because of her size. She was tall with enormous breasts and that alone was almost enough to make me take a bow. Even at work it was the same way. She had a way about her that made people stop and dream. I knew how they felt. It happened to me constantly. I always thought to myself why she wanted to keep me as a friend.
I was blonde, petite, with smaller than average tits. I think it might have been because I was an excellent listener. When she came home with a problem, or worry at work, she would get undressed and I would instantly go to her. She was gorgeous! I would kiss and lick her sweet pussy while I listened to her talk about her day. I had done it so much that it became habit. Her and Joanne were the same. We would spend forever eating her and as we did she began to relax. As our tongues darted and flicked around her clit she would slowly become more passionate. Her way of doing things was different than ours. She had a certain mystique about her. She was moody yet controllable. It was if our mouths had a soothing influence on her.as I would be eating her pussy, and listening to her speak of her day, I would watch her eyes, the more I sucked, the more I ate, I could literally see the stress flowing away from her. This is how she would relax. It was as if my tongue in her pussy was a direct stress reliever.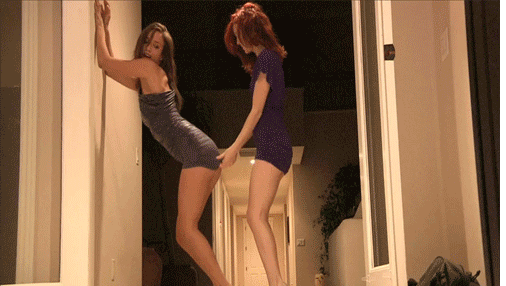 As I fingered myself I watched as Joanne knelt and took the strap-on into her mouth. Nikki would always grab the back of her head and hair and face fuck her. That was a given. We loved to be controlled that way and she loved to oblige us, even though she was meeting her own need of aggression. As she lied Joanne down and sat on Joanne's chest she fucked her sweet, loving mouth, I wondered what it would be like to do something a little different. My mind was always flowing with ideas. Thoughts that to others, I'm sure, would seem sinful. But I always wanted to be daring and try new exciting things. I wanted more than a threesome, I wanted us to introduce someone else into our circle. Someone who Nikki would approve of.
Some nights we would go hang out at the local club, it was great, they played music we could all enjoy and get into it. We always drew a crowd. The more we danced the more we were watched. We would go home and let Nikki have her way. She would make both Joann and I get down on all fours with our asses stuck up in the air, while she would strap-on, telling us to play with our clits while she watched. I could see her from between my legs stroking her strap-on, making it ready for us. First she would take that huge cock and shove it inside Joann's pussy, making her cry out in pleasure. I was made to just lay there and watch, hoping that my turn would come soon.
Nikki would grab Joann's hair while she fucked her, making her cry out, begging for more, and it was always just before she was ready to climax that Nikki would pull out and bring it to me. I was always ready for it, dripping wet from watching her fuck Joann. She would plunge the cock deep into my pussy, telling Joann to keep playing with herself and watching while she fucked me. This would go on and on for what seemed like for hours. She would bring us so close to cumming and then switch pussy's again. We all wanted just one more pussy to enjoy in this too.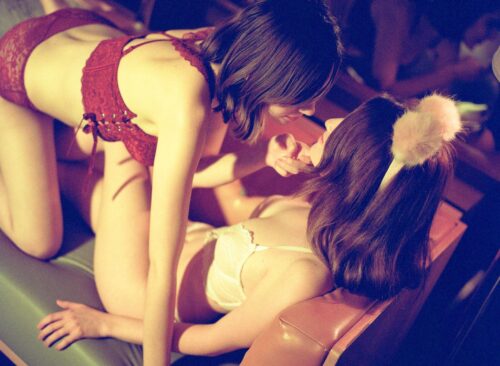 This night didn't really seem any different from all the rest. We went to the club, dancing into the hours of the night, rubbing up against whoever wanted to dance with the three of us. I think it was about midnight when she walked in. She had to have been about 5 feet 8 inches tall, legs that didn't quit, but the thing that caught all three of our attention was her tits. They were almost as big as Nikki's. All three of us noticed her at the same moment, we knew she was the one. She walked right up to us and joined in the dancing. She knew what she wanted. We wanted to give it to her. The four of us became quick friends. We closed the bar that night, and invited our new friend over to our place to continue the party.
Four of us and a strap-on
We went back to our place and got comfortable, Nikki's idea of comfortable was being naked, she was stripping her clothes off as we walked into the door. It seemed our new guest was enthralled with the way Nikki's body looked. She was the first one to go over and touch her boobs. She was kissing them as if she had never kissed tits before. It didn't take long and all of us were naked and enjoying each other.
Nikki and Mindy were at each others pussies, while Joann and I went to join in. Nikki's ass was up in the air while Mindy's face was buried deep in her pussy. I took my tongue and began to give her an ass licking, as she shoved herself back impaling herself on my tongue. Mindy's hand reached up and began playing with my pussy, never missing a beat with her tongue. This was incredible! I tried to see where Joann was. She and Nikki were taking turns eating Mindy. Nikki jumped up, and I instantly knew what she was going for. Joann and I looked at each other and smiled. I could tell Mindy didn't quite know what to expect. Nikki came back out of the bedroom, breasts bouncing with every move she made. She had on the biggest strap-on we had. I heard Mindy gasp!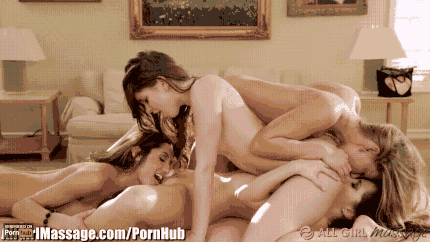 Joann and I each took an arm and had Mindy lie down on her back as her legs were spread. The three of us began kissing, as Nikki watched. Slowly we moved down to her breasts, each taking one, and giving it the most special treatment that we knew. Nikki was guiding us, telling us what to do next. Mindy had her ass up off the floor when Nikki approached her with the strap-on. Her eyes got big, as she watched the approaching huge cock. Nikki asked her if she wanted her to fuck her and all Mindy could do was nod.
Nikki told her she had to earn it first. She had the three of us line up in front of her and made us one at time suck her cock. She would go from one mouth to the next. Then she made Joann flip on to all fours and shoved that cock into her pussy. All we could do is watch. When her tool was soaking wet with juice, she brought it to Mindy's mouth and made her clean it. Next it was my turn. Nikki shoved it in my pussy, I had never been so excited, knowing that they were watching and that Mindy would have to clean it up after we were done. Mindy's pussy was dripping wet, I could see the juices running down her legs, she needed to be fucked, was begging for it.
Joann and Mindy were made to get into the 69 position, readily sucking each other, Nikki came from behind and began fucking Mindy in the ass with that big strap-on. I went underneath Nikki and ate her out while she fucked Mindy's ass. It was an incredible time, and by the time we had all came over and over, we just passed out on the floor.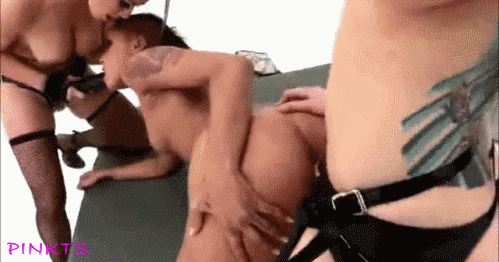 We still go to the club and dance, but it is the nights when Mindy shows up that we all look forward to!!
You'll also like these stories: