[en] Ann Opened her Legs for Me
I am going to reveal one of the most exciting experiences of my life, which I never disclosed to anyone before. Even though I am 38+ now, I'm considered to be attractive and have always taken good care of myself. I'm proud to say most men find my pretty face attractive, but my full breasts (36c), flat stomach, and my firm bottom get the most attention, although I have to admit I've never really dressed to show them off.
The story, which I am going to tell you, is eight years old. My Hubby's boss had 2 daughters: the elder aged 22 and the younger one aged 18. Ann, the younger one, was studying for commerce. Mr. Sharma (my Hubby's Boss) knows that I have done Commerce and requested me to help Ann in her studies and she comes every Saturday morning for clearing her doubts in commerce, stay for lunch and then leave in the evening.
Since my in-laws were living nearby, they will take my son away on Saturdays. This helped me to pay my full attention to Ann in her studies and she was doing well in her studies also. She was so cute and charming that I had never seen any girl so lively and beautiful. She brings back memories of my college days (also my lesbian fantasies). I will admit to you that I had often wondered what it would be like to kiss Ann, but never had the courage to do it.
So, when one Saturday when she suggested that we go out for lunch I agreed. I suggested Pizza Corner, which I was familiar with, in my neighborhood. Before she had a chance to say anything, I told her it was my treat, no arguments! Again, before she could say anything, I put a finger to her mouth and shhh'd her, saying I wouldn't have it any other way. Just having my finger against her soft lips gave me an unexpected chill. Calm down, Sheela – I cautioned myself, she might be like an ordinary girl, soon to be married to a good-looking hunk of man after her studies.
Was it my imagination, or did her lips move just a little bit against my finger?
After ordering our pizza at the restaurant, we started talking, just general girly talk. How was school, compared to the late 80's, when I finished my college days? She laughed when I said I had graduated college in 80's, saying she didn't take me for being nearing 40's. I told her I really take care of my body and mind, keeping the years at bay.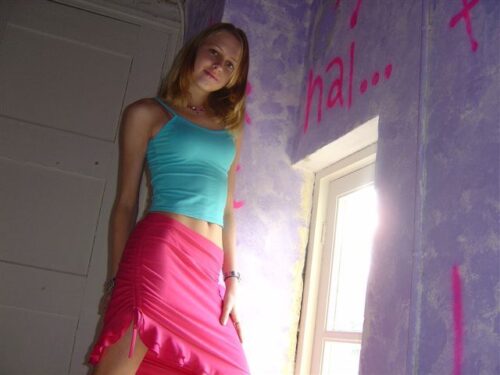 Our lunch was as delicious as I can ever remember, along with a very nice conversation, with somebody interesting, as she was beautiful. Rethinking the term beautiful, I changed it too very cute. A fresh virgin look, that was just as appealing without much. Several times during lunch, to make a point, I would place my hand on hers, feeling no adverse reaction. Her skin was so soft I couldn't believe it. I would have loved to see her married to any one of my bachelor cousins.
After lunch, we came back to the flat and decided not to study but talk. As we talked, I sensed Ann was getting more comfortable talking with me, and I with her. I offered her some ice cream from the refrigerator, we just chatted away about nothing in particular. After a few minutes of conversation, she got quiet and asked if she could ask a personal question.
– Of course – I said. – What is it?
– What is the secret of your long marriage? – She asked.
– No secret – I said Nisha just a large portion of trust and frankness. A very good sense of humor is a must, also Nisha I said. Smiling, Ann told me that she could learn more things from me than commerce. I figured she didn't need a dissertation on my other activities, as detailed in my other stories.
Ann got up from the sofa to take the ice cream cups to the kitchen. She then tripped on the carpet, fell down and twisted her ankle. I applied pain reliever to her knee and started massaging. After about 5 minutes of massaging her pain dropped.
– That feels good – she whispered, hardly loud enough to hear.
– Shall I continue? – I asked.
– OK, but please stop, if I ask.
Nodding my assent, I decided to take a risk and after a few more minutes of massaging her knee, my hand moved upwards from her knee. Feeling her soft, but firm thigh, my fingers moved up and down her leg. I noticed her eyes were closed and her breathing was a bit faster. I allowed my hand to move up toward the leg band of her panties (she was wearing only a skirt and blouse), inching underneath it. Moving slowly, my finger found the edge of her silken patch of pussy, feeling my way over to my ultimate goal.
– Can I proceed further? – I asked.
All she did was shake her head, as my finger found the very edge of her girly opening. With a short gasp, Ann opened her legs, slightly, allowing my finger to enter just the outer portion of her pussy. Feeling my way up and back down her pussy lips, I noticed how wet she was, and how her breathing was coming in short bursts.
Almost simultaneously, we leaned towards each other and kissed, briefly. Her lips on mine, tasted like the pizza we just finished, and she was the first to lean back to me and kiss me a bit harder, this time. With my finger slowly moving up and down her pussy lips, her hand found its way to my blouse and started unbuttoning each button, one at a time. My finger found her tiny, throbbing clit, which suddenly grew, under my touch. Then, suddenly, she pulled back, and half pushed me out of her arms.
– Sheela aunty, no. We shouldn't be doing this. Why are we doing this?
– Because… Ann… Because it feels good – I responded, and kissed her again, and of course, she responded.
The smell of her perfume was girly, and it was driving me crazy. My tongue sought her, and she responded. She wasn't struggling at all and wasn't pulling away from me. I slowly ran my hands all over her back and in the process the skirt and top gave way and at times I could feel my hands on her bare skin, that soft velvety touch of her thighs, and on the fleshy panty-clad pussy mound. Ann freed herself from me for a moment (only to join me soon later) and removed my dresses and we both were in sexy undies – just lacy bras and the silky panties, all wet and damp. Her hands came up to my front and ran lightly over my bra, over my breasts.
– Ohh god, they're luscious – she murmured, with both hands feeling the lacy cups of my bra.
– You can take my bra off, if you'd like – I said, hoping that was her desire. No sooner than the words were out of my mouth, she reached in back of me, to unhook the clasp. She pushed the straps off my arms, and it too fell to the floor. Before either of us noticed, we had disposed of all our clothing, and resumed our explorations of each other's bodies.
My hands quickly went to her perfectly formed breasts; capped by those tiny, rock-hard nipples. I started rubbing around the base of her breasts and made squeezing motions around and up until I reached for her nipples. Her nipples were hard when I reached them. I flicked them with my thumb, pinched them, and rubbed them. I felt them with the base of my hand and with my fingers. I wanted to suck them so badly (and now I know why men are so crazy about sucking breasts). Ann was making a sound from the bottom of her throat. It started out as a moan but soon began to be a purr. I was making her, a lovely girl, purr!
With my finger still moving up and down her pussy, she leaned forward, placing a soft kiss on my nipple, taking it into her mouth. Feeling its size, she started sucking on it, slowly, causing my breath to quicken. My nipple quickly grew in her mouth, never knowing that this was the first time she had ever done this. I soon found out just how sensitive her nipples were, as my mouth found one of them and my finger re found her slit, and teased it up and down, as my mouth hardened one nipple, then the other. Ann's breathing told me she was about to experience her first female induced orgasm, and true to my senses, her body shook mightily, and she literally soaked my finger.
Breathing heavy, we collapsed in each other's arms. Kissing her lips, she whispered to me how fantastic that was. While we were relaxing, I noticed her hand moving its way down my tummy, to my lap. Nearing my patch of hair, she gave me this:
– May I… look? – I took her hand, with mine, and moved it in between my thighs, and left her to her own discovery. It took her all of about three seconds to plunge her finger into my drenched pussy. Her finger probed my pussy, gently, belying the fact she had never done this in her entire life. Then I told her we will continue the explorations in the bedroom where we will be more comfortable.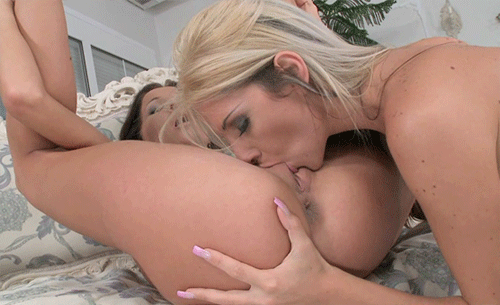 We lay down on the bed and continued kissing and fondling each other…
Her body is perfect… I kissed and licked her neck, then her shoulder, then down to her cleavage. I was now lying on top of her in a modified "missionary position" with my mouth on her breasts… As I caressed her breasts I started to kiss and suck her now erect nipples. All I could hear between moans was:
– Please, don't stop – (like I really could).
I again started kissing her on the cheek and on the lips and told her I felt the same way. I know Ann had never kissed a girl on the lips before, and was a bit nervous, so we hugged each other and when we broke… She kissed me… This time a little more passionately… I responded by filling her mouth with my tongue… What a sensation!!
I loved sucking on her nipples… they were small, thin, and VERY sensitive. Her body jerked and her back arched as I made love to her breasts. I started to slide down and began kissing down her body. Ann now had her hands on my head… almost pushing me down, as if to let me know what she wanted… When my lips reached her pussy, I pushed on her knees, bending them and pushed them up towards her chest. She was now spread wide open.
I had never seen such a girlish pussy before, at least, not up close and all spread open like that. I had looked at mine in a hand mirror before while masturbating but this was different somehow. Ann was soaked with aroused passion, practically dripping down to the crack of her ass. Her pussy lips and clit were all swollen. I looked up at her face and saw an exciting expression. I knew it wouldn't take much to make her cum.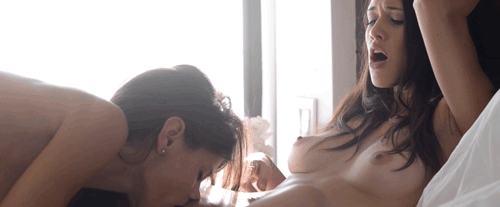 I gave the entire length of her pussy slit a long hard lick and stopping only at her swollen clit. Ann tasted so sweet when I started to make love to her clit by sucking, kissing, and licking. Placing her hips right above my face, I used my tongue to good advantage, licking her folds, from top to bottom. Sensing how much this got her blood boiling, again, I continued, licking every crease I could reach.
Her body was in spasm and her hands pushed my face against her pussy. As soon as I felt her orgasm building to a climax, I put my tongue deep inside her pussy and started to tongue her. The walls of her pussy squeezed my tongue, and I could feel her pussy throbbing with orgasm. Then Ann came and my mouth was flooded with her sweet, spicy juice. I licked and sucked her clean.
It took a few minutes for her to recover as well as for me to recover. Ann looked at me and told me that she wanted Me now. Only more than happy to oblige I slid back up and we started kissing again. I loved the way her body felt against mine. I sat up and turned around, I then straddled her in 69 position, and told her to eat my pussy as I ate her out again. Ann was wonderful, she put her face into my mound, licking each inner thigh, her tongue found its way into my pussy opening, and started licking my lips, up and down. She soon found my clit, and started kissing it tenderly, causing me to twitch, and moan, as her tongue pressed as far inside me as possible.
After the sensuous orgasms we ended up cuddling up to each other and I was lightly and gently fingering Ann's very swollen pussy. Her looks felt so good not in a "I am going to explode" way but in a way that just felt so good. It is hard to describe. Her pussy clenched on my fingers, and then she came again, and again, while I kept fingering her. Finally, she could take no more and grabbed my hand to stop me. I pulled her down on top of me and held her for a long time after that. Neither of us wanted to move much, just a little stroking.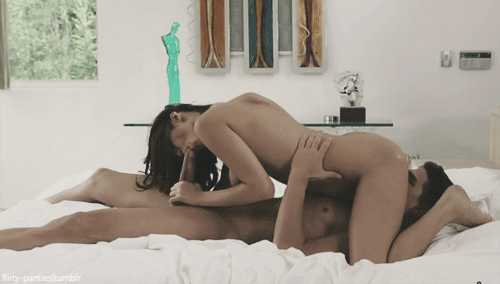 After such a romantic play, we cleaned up and I told Ann that it is time to leave. From next day onwards I promised her more ways to make love, trying out different experiences. We finger-fucked each other's pussy, tried with a large dildo like hairbrush, poured honey on each other's bodies and licked it off, bathe together and the like for some time. Unfortunately, her dad got transferred and our lesbian love life had to end, but what I still remember is the pleasure that we got during her stay here.
You'll also like these stories: