[en] [solo-guy] My First Masturbation Session
I went back last night and revisited the very location where I experienced my first masturbation session. Very very vivid memories of that day several years ago. I was a teenager although I don't recall precisely how old I was the first time I actually jacked off and had my first ejaculation. I'd been looking at mags with pics of sexy women for some months, and then, somehow, I learned from some of my other male friends about jacking off. They told me all about it, and I was a bit unbelieving, but I determined one day to find out the realities about masturbation for myself.
I had enjoyed looking at Playboy and some of the Newstand Specials for some time and I headed for the bathroom in my family's home, secretly equipped with one of my sexy girlie magazines for jacking off material.
I had several of the different Playboy Playmates in mind for mental sexual material and when I got into the bathroom, I took my pants and my briefs off, got the Playboy situated on the commode beside the bathroom window on the second floor and then I began to do the things my buds had told me was involved in jacking off. I wrapped my hand around my flaccid dick, occasionally looking over where I had the Playboy open to some pics of several sexy naked chicks, and I'd opened the window of the bathroom and was leaning with my chin on the window sill as I focused on the feeling of my hand stroking my naked dick.
A full-fledged young man's cock
I stroked my cock back and forth, not really knowing what to expect, and I stared out into the backyard, but my mind was with the different scantily clad or naked young women in my sexy photo magazines. Sure enough, just as I'd been told it would, my dick began to get hard as I thought about the sexy images I was having and gradually speeding up the rate at which I was moving my hand up and down on my dick. At that time, that's all I had between my legs – a dick – but its sexual education had begun and before the next few moments ended, my dick would have taken some major forward steps to becoming a full-fledged young man's cock.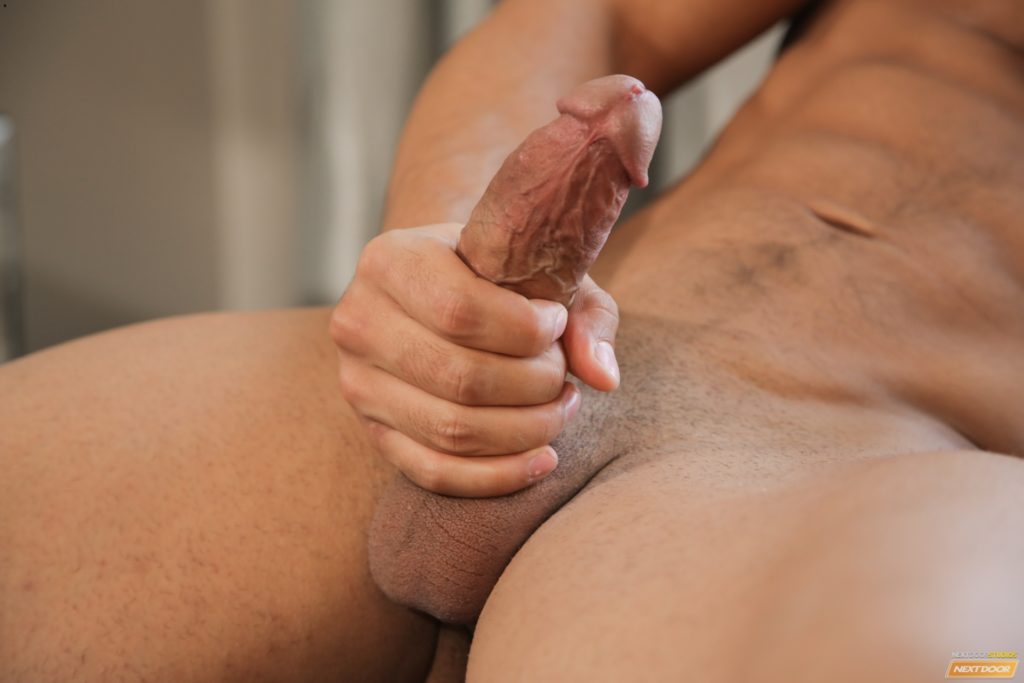 It was feeling very good in between my legs as I felt my dick growing fully hard and now I had my hand wrapped around a hard-on that I'd never quite experienced before. I didn't really know what to expect during the rest of this very first masturbation experience, but I was finding this entire self-masturbation session to be very, very pleasant. I had never felt this kind of sensual and sexual pleasure before and as I felt my dick loving the manual attention I was giving it, and I felt myself becoming increasingly aroused and moving steadily towards my first orgasm, the very erotic and sexual images I was associating with jacking off were rapidly making me a confirmed believer and practicer of masturbation.
I had images of many of the most beautiful and sexy women in the world passing through my brain as my hand began to move more and more quickly back and forth on my dick, and then I passed through the threshold where there was no question that I was about to have a sexual experience like I had never had before.
I was mentally "with" Dede Lind, Barbara Edwards, Kerri Kendall, Teri Weigel, and a host of other babes who wanted to pleasure me and who wanted me to get off on their beautiful naked bodies. As I was really jacking my hand up and down, up and down, up and down more and more quickly on my now totally hard dick, I was also experiencing the feelings of arousal that have become distinctive as the prelude to ejaculation and orgasm.
I didn't know what to expect and the feeling of hotness and sexual tension and pressure began to get so strong that I didn't figure this could continue for much longer. I was right. I suddenly felt a strong pressure in my nuts as they had been swaying freely in my crotch while I was stroking my dick, and when I felt my body reach climax, I knew that I was going to need somewhere for the cum to go when I shot off. I continued to lean with my chin against that window still, my breathing was coming fast and hard, and then my orgasm exploded in my nuts. Before I could turn and face the commode there next to me, I felt the first powerful spurt of cum shoot up the length of my hard dick and hit hard against the bathroom wall.
I kept my hand jacking back and forth, and when my second, third, fourth and fifth spurts shot from my juice hole on my dick, they splattered in the water inside the commode. My dickhead was covered with very sexy looking semen and I was feeling lightheaded and knew that this was a wonderful experience that would be repeated over and over through the rest of my life. I loved it. Jacking off was wonderful and one day I would find out that there were other things that were even better – fucking and getting your cock sucked off.
The End
Tom Land
You'll also like these stories: