[en] [lesbian-threesome] A Caribbean Cruise That Turned Out to Be One Hell of a Week, Pt 3
Previous: A Caribbean Cruise That Turned Out to Be One Hell of a Week, Pt 2
The next day brought another beautiful island. The four of us enjoyed a day at a beach and took in some snorkeling. Unfortunately, this island did not have nude beaches, but it was a very enjoyable day. We really took pleasure in basking in the sun and drinking the local Caribbean drinks, not to mention the nice tan we got.
Back on the ship we cleaned up and had diner as usual. We weren't too fond of the entertainment in the theater that night so decided to spend the evening in the big lounge. Two shows were on the schedule for the evening. First a hypnotist during the early evening and later a comedy show at late night. The seating in the big lounge were mostly big half circle booths that faced a big stage where all the shows took place. The booths had very high backs. They were very comfortable and very private since you could only see in them from the stage side. We purposely arrived early to get a good booth up close to the stage. Joann and I were seated between Larry and Jake around the half circle table, I next to Larry and Joann next to Jake. We ordered our first round of drinks and sat back and had some good conversation while we waited for the first show to start.
The hypnotist was very good; he had us all laughing in stitches. After the show, we had about an hour before the comedy show would begin. We ordered more drinks and sat back for the second show to begin. While deep in conversation with Joann, I felt a hand start to run over my thigh and up under my skirt. Larry first startled me but then I started to get turned on. I half-heartedly told him to stop since someone would see us. He said that no one was going to see in, if someone would walk in front of the booth, the table hid anything that he was doing.
He slowly ran his hand up my thigh and parted my legs. He ran his fingers over my panty-less crotch. I felt him start to rub my clit and pinch it with his fingers. I spread my legs to give him better access. I looked over at Joann and saw Jake was doing the same to her. I couldn't believe that I was having my pussy rubbed in the middle of a crowded lounge.
I felt Larry's fingers part my pussy lips and run them up and down my slit. Soon I felt him slide his finger into my pussy. I was so wet that he was able to quickly and easily slide in. I tried to keep a straight face in case someone did pass in front of our booth. It is very difficult to keep a straight face when you have someone fingering your pussy. Larry and Jake were carrying on a normal conversation so no one would get suspicious. They continued to rub our clits and probe their fingers into our pussies for the next five or ten minutes. Joann's and my breathing were getting very deep and loud. I couldn't take it anymore. I threw my head back against the back to the booth and closed my eyes taking in the full affect of their actions. It wasn't long until I couldn't hold back any longer and was thrown into an incredible orgasm. I think I actually passed out for a couple seconds, probably also had something to do with the fact I had been drinking alcohol all night long.
After I composed myself, I looked over at Joann and I could tell she had cum as well. She looked as exhausted as I. We just looked at each other and started to laugh. It was so absurd that we both had just had an incredible orgasm with all these people around us.
I then pulled my skirt back down and reached over and felt Larry's cock through his pants. He was already hard. I whispered to him that I better do something about this. He just smiled back at me. I rubbed up and down his cock for a little while. After several minutes I unzipped his pants and managed to pull his cock out. This time Larry and Jake was having a hard time keeping composed as Joann and I carried on a casual conversation.
We continued stroking their hard cocks
We continued stroking their hard cocks for quite a while, changing from slow easy strokes, when someone walked by, to fast furious strokes when no one was in view. It seemed that we were stroking their cocks for a long time when a voice come over the sound system announcing the show was going to start in about 10 minutes. Shortly after that I felt Larry's cock start to convulse. I knew he was about to cum. I looked around to make sure no one was looking and then quickly ducked under the table to catch his cum in my mouth. I wasn't able to get all of it, but I did get the majority of it. I quickly came back up licking my lips as if nothing had happened. Joann and Jake had watched me take his cum, they started to laugh when I returned above the table. I couple minutes later Joann did the same to catch my husband's cum while he had his orgasm.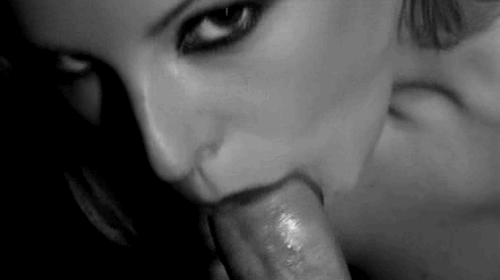 The comedy show was also a very good show. We laughed so hard and so long that night, our guts were hurting from so much laughing.
After the show we sat around drinking our last drink and talking. I don't think we wanted to go back to our cabins because we knew that this was our last night on the ship and we didn't want it to end.
We eventually decided to go back to Joann and Larry's cabin for one last good time. On our way back, we decided to take a detour and go up to the top deck to take in the warm Caribbean air one last time. It was late, about 2:00 am, and very few people were up on top at that time of night. We walked around for a little while, looking out over the romantic ocean waters. The stars and moon again lit up the dark skies.
We walked past a set of stairs that lead up and had a sign that said you must be 18 to enter. We heard rumors that there was a place on the ship that you could sunbath nude but never did find out where it was or even if the rumors were actually true. We put two and two together and concluded that these stairs must lead up to that place.
Obviously, we couldn't sunbath nude that night, but curiosity took us upstairs to check it out. On top there was simply a small area that had nothing but a bunch of deck chairs. This area was actually the roof of one of the bars on the top deck. On the far side of this area we saw a couple what appeared to be making out. After realizing what they were doing, we quickly apologized for interrupting and turned to leave. The guy spoke up and said we didn't have to apologize. He said we could stay if we wanted.
We were curious to look around so slowly started to approach them. As we got closer, we realized they were doing more than making out. They were half naked and were obviously fucking each other before we rudely interrupted. Both of them had their shorts off but still had their shirts on. They didn't seem to try to hide their private parts as we approached them. The guy still had a very hard cock and you could see her pussy juices reflecting off it in the moonlight. We also noticed that they were very young, I would have guessed teenagers. We asked them how old they were and they said they were both 21 years old, I never did believe them. They said their names were Jason and Brianna. They said they were on their honeymoon.
We sarcastically asked if they were enjoying themselves. Brianna responded and said they were. I couldn't believe when she then invited us to join them. I think they had been drinking as much as we had been and were acting differently than they normally would. It appeared that they were feeling no pain. They didn't have to twist our arms too much; we immediately decided to take her up on her offer.
Jason was a rather short guy, but seemed to have a nice looking body. Brianna was very petite had a very cut face and also a nice-looking body.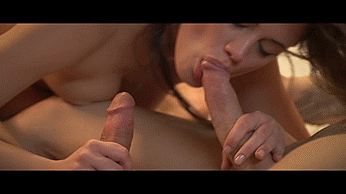 Larry and I sat down on a deck chair that was next to them while Joann and Jake sat down on a chair on the other side. We started to rub each other's crotches as we started some small talk such as where they were from and what they had been doing on their honeymoon. We found out they were from California. They also told us that they had been coming up to this area each night to fuck each other. A couple nights they even slept up here all night.
As we talked, I noticed Jason's cock started to go soft. I got up and sat down next to him, on the other side from Brianna. I made some remark to Jason that we needed to get him back up again. As I said that, Joann got up and kneeled in front of him. We both reached out and started to stroke Jason. At the same time, Jake and Larry held out their hands for Brianna to guide her over to another chair where they were going to work on her. You should have seen the look on Jason and Brianna's face. I don't think they had ever done anything like this before. A look of nervousness and fear came over their faces.
But, we eventually turned those faces into lust and excitement
Joann lowered her head onto Jason's cock and started to lick up and down its shaft. I leaned over and started to French kiss him, darting my tongue in and out of his mouth. Jason would periodically look over at Brianna but I would wrap my hands around his head and pull him back as to say "forget about her for now, we are going to take care of you". I then pushed Jason down on the deck chair so his head was towards Brianna, this way he could not see her or pay any attention to her. I started to lick and rub my way down to his chest, past his stomach and finally to his now-very-hard cock. Joann let me share his cock with her. She would suck on his balls as I took his cock into my mouth. I sucked it for a while and then we would trade placed.
We sucked and licked his cock for quite a while until Joann got up and stood over him, preparing to lower her eager pussy onto his hard manhood. She slowly lowered herself as I held his cock to guide it into her wet cunt. It easily slipped right over it. I reached one hand around Joann and played with Jason's balls as she moved up and down on his stiff rod. I used my other hand to rub against Joann's rigid clit.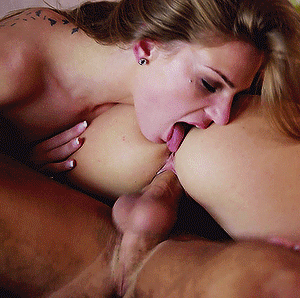 After several minutes I looked over at Jake and Larry and saw that Jake was ramming Brianna's pussy as Larry had his cock in her mouth. I got up and decided to copy Larry and straddled Jason's head. I lowered my dripping wet pussy right over his face. Jason immediately stuck out his tongue reaching for my willing love hole. I felt his tongue stick right into my pussy. I raised and lowered myself so that I was fucking his little stubby tongue. As I fucked his tongue, I continued to watch Jake and Larry give it to Brianna. I'm not sure who came first but it seemed like one started to scream in ecstasy and then another would start. After just a little while we had all come.
We then all switched positions and paired up with other non-spouses and continued our fucking festivities. We continued fucking all night long in every imaginable position, with every partner. We three girls had all three cocks in every hole at sometime during the next several hours. The one that got me the hardest orgasm was when Jason was fucking my pussy, Larry poked his cock into my ass and my husband fucked me in my mouth. I don't know how loud I screamed, but I hope no one heard me.
After several hours, it was obvious that the guys were spent and couldn't go on. It seemed like things were starting to wind down and we needed to get back to our cabins. I wasn't quite done yet. I looked over at Joann with a seductive smile and then looked over at Brianna. Joann got the hint and we both went over by Brianna and started to fondle her tits. She got a look of terror on her face. When we reached down and started to rub her legs and torso, she said that she had never made love to another girl before. Both Joann and I said that was ok, we would show her everything she needs to know. We told her just to relax and enjoy. You could tell she wasn't so sure about this but that didn't stop us. Joann leaned over and started to lick Brianna tits as I reached down and spread her legs and reached towards her pussy. I quickly slipped a couple fingers into her cum filled cunt. I rubbed my thumb over her clit. It was still very hard and very large.
The three guys just sat back and watched intensively as we put on a show for them. Jason's eyes were as big as quarters; you could tell he had never seen his new wife in any situation like this before. Occasionally one of them would shout out some rude remark like "suck that sloppy pussy, bitch".
Joann and I licked and sucked all over Brianna until we got her to explode with her final orgasm of the night. Then Joann and I turned to each other, determined to get one more orgasm before the night (and week) was over. Brianna joined right in, digging deep into our pussies and licking and sucking on our clits. For never doing this before, it didn't take her very long to catch on. We three girls pleased each other for another 10 to 15 minutes until we climaxed one last time.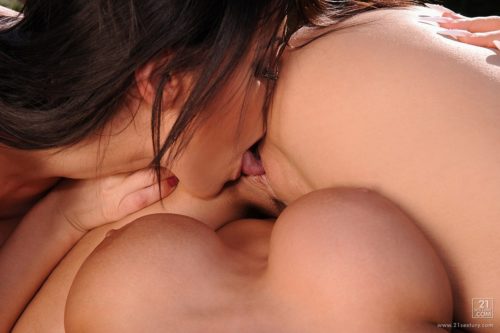 All six of us lay exhausted on the deck chairs and the ship deck. It was starting to get a little light. The sun would be coming up soon. We could see some lights far off in the horizon. We were coming into San Juan, our final destination. We were all sad that the week was coming to an end but was very happy that we had the week that we did together.
Eventually we got ourselves to go back to our cabins, get packed and get ready for the debarkation process. Before we did debark, we said our goodbyes to Joann and Larry, exchanged phone numbers and addressed and promised to keep in touch. And if either of us were to ever go on anther cruise, we would invite the others. I can't wait to have another week like this one.
You'll also like these stories: