[en] [slave-girl] I Caught My Mom in a Gangbang… and She Was Loving It!
I am Shanta and now I am 37-year-old married lady. But this is a story when I was 18 years old and about that time when I caught my mom in a gangbang.
I had come back from school at 2:15 pm instead of usual 4:30, because the manager of our school had passed away. I entered the house with my spare key and went straight to my room. I changed and came down to drink water and at that time I heard sounds coming from the guest room. My mother should be working in her office and the house should be empty…
Fearing thieves I took a knife and went near the room but it was locked. Using the company entrance of the adjoining bathroom, having opening, in this room I entered. But before I entered the room, I saw my mom lying on the bed with half of body outside and three guys around her. All naked.
Mom's hand were tied with a saree and arched back. Both her legs were spread apart and she was on her back, with massive 40 DD boobs that were jutting out. One guy was standing in front and slapping his 7″ dick on her boobs and occasionally breast-fucking her. Second guy was sitting down on the floor and sucking the pussy which was hanging outside the bed. Third guy was trying to put his dick inside her ass while pulling the saree, keeping her arched.
I caught mom in a gangbang… And I wanted it to last longer…
First I thought they were hurting her. But when my mom kept on saying "do that!", realising she was enjoying it, I got stunned. I stayed in the bathroom looking at them from the door gap.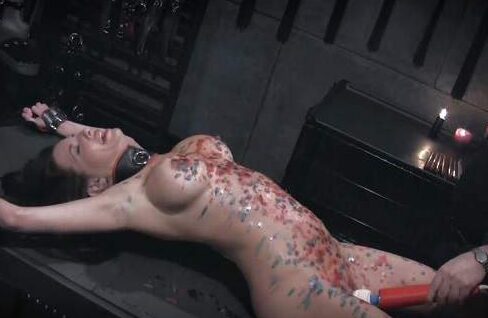 They later changed positions and started beating her boobs and butting it, when one guy was butting her pussy. One guy then came with a candle and poured melting wax on her pussy and immediately took an ice-shaped thing that looked like a cucumber and started fucking her with it.
All the time mom was enjoying it a lot. The three men had cum at least 2-3 times, each. My mother would have cum at least 5 times… her pussy was still leaking juices.
Full time they were abusing and using dirty works. But mom was enjoying. Then the alarm started ringing. It was 4:00 pm. Mom told them that it was time for me to come and hence finish the sessions.
They all stood in a circle and mom knelt in front of them. They then gave her a bukkake. And told her to come to bathroom for a piss shower. I ran from there and went inside my room. After few minutes all of them, including mom, left the house.
This is how I had seen a real sex. Though earlier to this I had seen porn in one of my friend's elder sister's computer. It was a very nice experience. I had learned earlier how to finger my pussy and after they left fingered myself to satisfaction.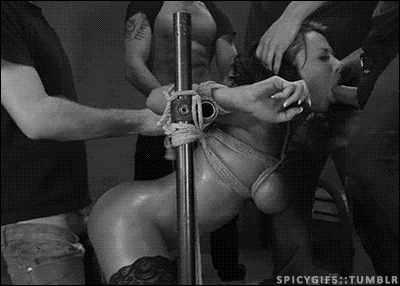 I never told my mom that it would be holiday for me for the next two days and I saw many things those days… but on the third day I got caught. I will tell you that in the next episodes.
Next: I Was Watching While My Mom's Boss Pissed on Her
You'll also like these stories: