[en] [orgy] A Caribbean Cruise That Turned Out to Be One Hell of a Week, Pt 2
Previous: A Caribbean Cruise That Turned Out to Be One Hell of a Week, Pt 1
The next day was pretty much the same. We toured another island with Joann and Larry. Back on the ship we had dinner again with Joann and Larry and took in some more entertainment. Afterwards, Jake and Larry wanted to spend some time in the casino. Gambling doesn't do anything for me and Joann, so we decided to go off on our own. We explored some other less populated bars on the ship and got to know each other even better. I couldn't believe how well we were getting along for only knowing each other for a couple days.
We ended up ordering one last drink and headed back to their cabin. Once back in their room, Joann immediately started to seduce me, running her hands over my body and giving me a very passionate kiss. We fell on the bed where we proceeded to remove each other's clothes. I love fucking guys, but there is something so special about making love to a woman. It makes me feel so comfortable and sexy.
Joann started to lick my entire body. Starting at my neck and working her way down to my pussy, paying extra attention to my tits and nipples. She had me so turned on. I then felt her tongue spread my pussy lips and circle my clit. Her fingers plunged deep into my pussy, hitting my G-spot. I could tell she was very experienced at satisfying women. Only after a couple minutes, I felt myself getting very close to an incredible orgasm. I shouted out to her that I was cumming. My body started to shake, my eyes rolled back into their sockets as my orgasm overtook my body. It seemed to last forever.
After I was able to compose myself, I returned the favor to Joann. I started by sucking and licking her nice firm breasts. I circled my tongue around her very hard nipples while I massaged her breasts. Her boobs were so large and so firm. I hope my boobs are like this when I'm 38. I continued by licking and kissing my way down her flat stomach to her shaved pussy. I shot my stiff tongue as far into her pussy as I could. I could tell by her moans that I was hitting her just right. I started to rub and pinch her clit with my fingers. She was so wet. I then easily slide a couple fingers into her love hole, then three and then four. I continued to fuck her with my fingers as I started to nibble on her clit with my mouth. I flicked and circled her clit with my tongue. After several minutes, her body started to quiver and she started to cum. I soon realized that she was a squirter, as her cum started to squirt all over my face. It startled me at first but I quickly composed myself to take as much in my mouth as I could.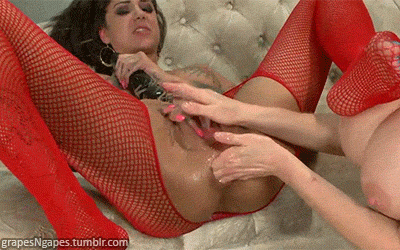 After her orgasm subsided, she pulled me up and gave me a very passionate kiss. We lay next to each other for quite a while, it felt so good to have a naked female body nestled against me.
Suddenly we heard the key card open the cabin door. Larry and Jake walked through the door and saw Joann and I holding each other's naked body. We didn't move but simply smiled up to our husbands. Larry said:
– See, I told you we could find them back here. – Jake asked if we were having fun. I said, with a big smile on my face:
– More fun than you can imagine. – Joann responded by saying:
– But we could have much more fun – as she motioned the guys to join us.
It didn't take the guys long to remove their clothes and join us on the bed
Just then Joann got up off the bed and said that she was a little tired and needed a little time to recover. She looked at me as to say "follow my lead and come over here". I also got out of bed and stood next to her. She told the guys that we had just had a very exhausting love making session and we needed to relax a little. Both guys started to complain and informed us (as if we didn't already know) that they both were very horny and needed some good fucking to relieve them. Joann said:
– Go right ahead, don't let us stop you, we will just sit here and watch.
We both sat down in the chairs next to the bed. Joann had told me earlier that Larry liked sex with guys but I knew Jake says he doesn't like it. I have seen him do it several times and he seemed to have a good time with it. I don't know why he just doesn't admit he likes it. I started to persuade Jake to let Larry suck his cock. Larry looked at Jake to see if he would allow him to do it. Jake didn't give much resistance so Larry leaned down and started to lightly rub his hand over Jakes cock. His cock wasn't hard but it seemed to jump when Larry first touched it. We watched as his cock grew and got hard right in front of our eyes. In just a couple minutes, Larry had Jake's cock as hard as I had ever seen it.
Larry then took Jake's cock into his mouth and started to suck on it. Jake's cock is rather large, I can never get it all the way into my mouth, and neither could Larry. While sucking his cock head, Larry slide his hand up and down Jake's shaft. Joann and I just sat back and watched the show. I could tell by the look on Jake's face and by his moans, he was really enjoying it. I asked Jake how it felt. He simply responded by giving me a big grin and shaking his head in approval.
I could tell that Jake was just about ready to cum when he pulled away. He moved down and let Larry lay down on the bed so they could switch places. Larry's cock was already hard, although not quite as big as Jake's.
Jake took Larry's cock into his mouth and started sucking it furiously, sucking it as he massaged his balls and ran his hand up and down the shaft. After several minutes Larry got up and moved around so that they were in a 69 position. Both took each other's cock in their mouth and continued to please each other. Joann and I were getting so turned on just watching them. Both of us were running our hands over our pussies.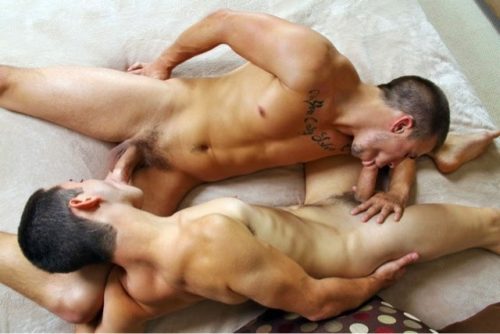 It wasn't long until I think they came together. Both took the others cum into their mouth. Joann and I applauded seeing each of them take each other's cum in their mouth without spilling a drop. After the guys collected themselves, they asked us girls if we were satisfied. I said:
– We are greatly satisfied but I don't think we are as satisfied as you two.
To let the guys recoup, Joann went and opened another bottle of wine. I helped her pour four glasses. We sat around talking for a while. We asked how much money they had lost in the casino. They wouldn't tell us. After about 15-20 minutes of conversation, Larry looked at me and motioned for me to come over by him on the bed. I gladly got up and joined him. Jake proceeded to go over to Joann and attend to her. Larry was sitting on the edge of the bed. I sat down on his lap facing him and wrapped my arms around his neck. I started to kiss him and rub my fingers over his head and through his hair. Together, we ran our hands over each other's body. For some reason I started to talk very dirty to Larry. I said something like "do you think you can fuck me with that fag cock of yours?" He replied by saying:
– This cock can fuck the shit out of any pussy around.
Jake and Joann started to laugh at our verbal comments and started in with their own dirty remarks. Before you knew it, all four of us were voicing comments like "come on, you fucking whore, I'm going to fuck your hot pussy for all its worth." I think it was a contest who could say the most disgusting things.
I started to rub my very wet pussy over Larry's shaft
– The fucking slut has a soaking wet pussy, bet she wants a big fat cock in it – Larry said as he rotated his hips to let his cock slip right in. I immediately rammed my pelvis down hard on him so that his cock would dig deep inside me.
I pushed Larry back onto the bed and leaned over him so we could fuck hard and furious. We continued our verbal assault as we pounded ourselves at each other, my pussy sliding up and down and his hard cock.
– Give it to me you big stud, ram that hard fat cock deep inside me, fuck my hot cunt baby.
We were fucking like there was no tomorrow, when I felt a hand start to rub my pussy from behind. It then parted my ass checks and started to probe at my ass hole. Jake was lubricating my ass from my pussy juices. I knew exactly what he was going to do. He knows how much I like to be double fucked. Sure enough, I soon felt his cock start to enter my ass. It took him a little time but he soon had it jammed in as far as he could. I just love having a cock fucking my ass at the same time as one is fucking my pussy. Jake and Larry got into a rhythm, both shooting their love tools in and out of me at the same time.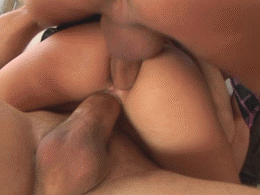 After we all got in a steady rhythm, Joann came over. I motioned for her to move up so I could lick her pussy. She shoved her cunt right into my face, allowing me to slide my tongue between her pussy lips and over her clit. Her clit was so hard and big. My fingers soon found her hot pussy, digging deep inside. The guys helped me out by rubbing and pinching at Joann's tits and nipples.
We continued our four-way fuck for some time until I was the first to explode into another incredible orgasm. Joann soon followed, shooting her hot cum over my face again. A couple minutes later Jake and Larry shot both their loads deep inside my ass and pussy at the same time. We all four fell totally exhausted in a pile on the bed. It had been an unbelievable night of enjoyable fucking.
After we caught our breath, Jake and I made our way back to our cabin. It was very late and we needed to get some sleep before we met again the next morning to explore the next island.
The next day we had a very exciting time on the island. The island that we were visiting was a very beautiful mountainous island. It is known for its beautiful mountain streams and waterfalls. The four of us decided to get a taxi and take a tour up into the mountains. The tour guide (taxi driver) first took us to a mountain cave and then to a gorgeous waterfall. At the base of the waterfall was a nice little pool that looked very enticing for a nice swim. It was a very popular waterfall and the crowds were quite large, so we didn't feel like swimming in front of everyone. We asked the guide if there were any waterfalls that were not as crowded. He said there was two not too far away. One was a five-mile hike into the rain forest. The other was one-mile hike. We thought five miles was too far, but one mile sounded good.
He drove us to the end of the one-mile trail and pointed us into the direction of the waterfall. He said he would wait there until we get back. On our hike back to the falls, we met one group but other than that, we didn't see anyone. As we got closer to the falls, we could hear the roar of the water falling over the mountain cliff. It was absolutely gorgeous. A small waterfall appearing out of the side of the mountain, tumbling about 40 feet to a small little pool of water nestled in the rocks surrounded by the lush foliage of the rainforest. Although not as large as the first waterfall, it was definitely just as stunning.
The best thing was, we were the only ones there
We had brought our swimming suits with us but since no one was there, we decided to take a little skinny dip. We all stripped down and jumped in. Oh what a refreshing feeling. The water was magnificent. I soon felt a pair of hand wrap around me from behind. It was Larry. He immediately started to massage my breasts from behind me. I felt him push himself against my backside. I reached my hand behind me and felt that he was already hard, mmmmm. I pressed my ass back pressing against his hard member. We were standing in water just deep enough that we could stand on the bottom and have our heads above water.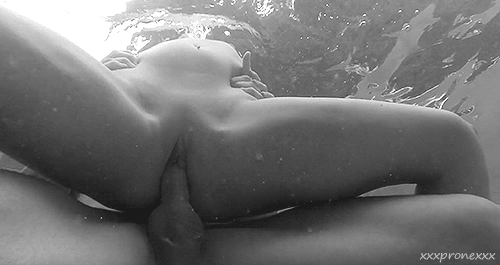 I looked over at Jake and he was busy with Joann. Jake and I had fucked many times in water. It is something we enjoy doing because you are much lighter in water so you can move and pick up your partner more easily.
I turned around to face Larry. I wrapped my arms around his neck and started to kiss him very fervently. I then jumped up and wrapped my legs around this waist, pressing my crouch against his. Larry started to slide his hard cock up and down over my pussy; damn I was so wet and horny. I spread my legs slightly to invite him to enter me. He slid right in. I started to bounce up and down in the water, allowing his cock to slide in and out of my hot pussy. I looked over at Jake and Joann and they were doing the same.
After a couple minutes, we started to hear voices approaching from down the path, oh shit! All four of us separated. We realized that because the water was so clear, anyone looking down at us could see that we didn't have any clothes on. We then got the idea to move closer to the waterfall so that the bubbles that formed on the water from the falls splashing down on the surface of the pool would hide the fact that we were naked.
A group of elderly tourists came into view. We just hoped to God that they wouldn't stay too long. The water depth was over our heads where we were, and we didn't know how long we could tread water. Besides, we had much better things to do. Thank goodness they didn't stay very long. As soon as they turned to leave, we quickly moved back to shallower waters and were back fucking our partners as before. It wasn't long until Larry was cumming inside me.
Larry then floated me over to a large rock on the edge of the pool. This rock was just below the surface of the water. He placed me on the rock face up. My head was above water, but my pussy was just at the surface of the water. He spread my legs and placed his face against my cum-filled pussy. I felt his tongue swirling around my clit. The small waves of the water were splashing against my pussy as his tongue started to explore inside my cunt hole. God, it felt so good.
After several minutes of Larry eating my pussy and rubbing my clit, I heard Joann start to scream. I had totally forgotten about Jake and Joann. I looked over towards them and saw Jake doing the same to Joann as Larry was to me. It was obvious that Jake had sent Joann into a gigantic orgasm. They were probably 30 feet from us but I still could see Joann's body shaking in a massive orgasm. Seeing this sent me into my own climatic orgasm as well. Larry was doing such a fantastic job of satisfying me.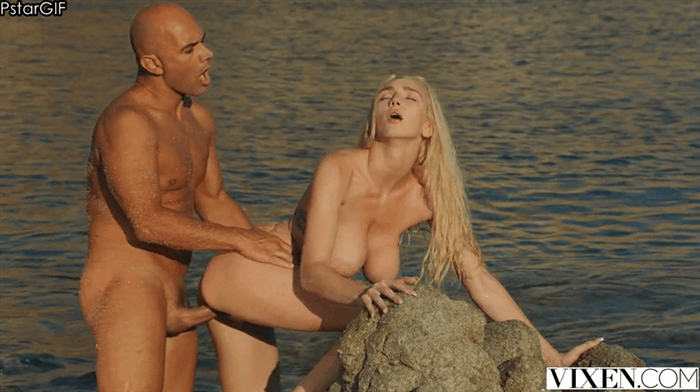 Just as Joann and I were catching our breath, we heard more voices coming from down the path. We all again quickly swam over under our canopy of bubbles near the waterfall. This time two couples come up to the edge of the pool and started talking to us. I guess they were about 30 years old. They asked us how the water was. We said very refreshing.
They looked around the area and saw our clothes over on some rocks where we had left them. They had their swimming suits and towels in their hands. They asked us were we had changed into our swimming suits. We didn't know what to say. We didn't want to make up some story so decided to tell them the truth and told them we hadn't changed into our swimming suits. It took them awhile to catch on to what we were saying but it finally hit them that we were all naked. You should have seen the embarrassing grins they all got on their faces when they finally realized this. Us four had floated from the cover of the bubbles and I'm sure they could tell that we were truly naked. Jake and Larry then spoke up and told them that they were more than welcome to join us if they wish. After a little discussion, the four of them decided to get naked and join our skinny dip party.
We watched as the four of them stripped their clothes and entered the water. I think Larry, Joann, Jake and I all wanted to have a big orgy. We talked for a while, but it was obvious to us that these two couples were not into that. We decided that we should just leave. Besides, I'm sure our guide was wondering where we were, we had been gone for over an hour.
We got out of the water, dried off, got dressed and said goodbye to our new acquaintances. After getting back to the taxi, we had the driver take us back to the ship.
Back on the ship we went to our cabins and got cleaned up. Jake and I had another good fuck in the shower before we met Joann and Larry for dinner. We then went to the early show in the theatre.
After the show, the guys and us girls split up again and went our separate ways. Joann and I went and visited a piano bar where a piano player was entertaining anyone that would listen. There weren't many people there so Joann and I sat down at the piano right next to the piano player and ordered some drinks.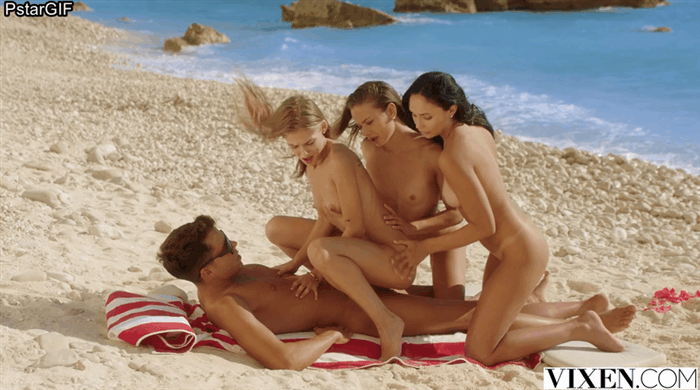 The piano player was a gorgeous looking guy about 30 years old. He had nice blonde hair and blue eyes; a very masculine guy, not your typical pianist. He was a great singer and entertainer. We started to flirt with him and he flirted back. He took several requests from us and sang to us as if we were his lovers. He really knew how to earn his tips (if you know what I mean). After several drinks and feeling very horny, Joann and I went back to our cabin this time. We were both feeling a little frisky from all the drinks and being serenaded by the nice-looking pianist for the past couple hours. It didn't take us long until we had each other's clothes off and was making out to relieve our sexual tension that had been building up in us.
We were right in the heat of the moment when we heard the key card slide open the cabin door. Our two guys had returned. Joann and I were so into each other that we totally ignored they guys when the entered. They tried to talk to us but again we ignored them.
Joann and I were in a 69 position on the bed. I was fingering your pussy as licking her clit as she was doing the same to me. We were in total ecstasy as we pleased each other. We continued in a 69 position for quite a while, totally oblivious to Larry and Jake. I did look up once to see that they had both gotten naked; Jake was sitting in the chair while Larry was sucking his cock. I motioned to Joann to look; she simply smiled and returned to pleasuring my pussy. After what seemed to be hours, Joann finally came in a very intense orgasm. Shortly afterwards, I followed with my own huge orgasm.
After we collected ourselves, we looked over and saw Larry ramming Jake's asshole with his hard cock from behind. I couldn't believe he actually let Larry do that without anyone coaxing him. It didn't take Larry very long until he shot his load into Jake's ass. It was a big turn on for Joann and me to watch the two guys go at it. After Larry was done, they asked if we wanted them to join us on the bed but we told them that they were doing just fine without us and that they should continue.
Larry switched positions with Jake so that Jake could fuck him in the ass. Joann and I had a great view as we watch Jake's cock slide in and out of Larry's ass. If I wasn't so exhausted, I would have joined them. Instead we were completely satisfied with just watching our two ladyboys going at it with each other.
After Jake filled Larry's ass with his sperm, we decided to turn in for the night. But this time Jake and Joann went back to Larry and Joann's cabin together while Larry stayed with me in our cabin.
Larry and I had some very passionate love making while I'm sure Joann and Jake did also back in their cabin. I love my husband very much and love fucking him, but the time Larry and I had together alone was very special. Most of the fucking we had been doing that week was very erotic and fast paced. Larry was very slow and soothing which was very nice for a change. It was a little strange going to sleep next to another guy other than my husband. But I did sleep very well before we woke to tackle another day and another island.
Next: A Caribbean Cruise That Turned Out to Be One Hell of a Week, Pt 3
You'll also like these stories: