[en] Her Tongue Made My Pussy Squirt
I walked up to the front door of my girlfriend Sonia and rang the bell. That was the day someone made my pussy squirt and it wasn't my husband. It wasn't long before I heard the clip-clop of high heels on the tiled floor and then she opened the door. Sonia was standing there in her underwear and stockings, she had on black stiletto high heels, black stockings and garter belt, with black lace panties and matching push up bra that made her ample breasts look ever bigger. I said:
– I can see you, don't want to waste any time.
I stepped into the entry hall and put my arms around Sonia and kissed her passionately, she pushed the door shut and forced me back against the hall stand. We were still locked in the passionate kiss, our tongues probing each other's mouths.
This is not what I had expected when I woke up this morning. It was a lovely spring day and the sun was shining through the window onto the bed. I was just lying there contemplating what I was going to do for the day as my husband had just told me he was going to get up and go to golf shortly. My phone rang it was Sonia. I got out of bed and walked into the suite with my phone.
– Hi Sonia how are you? – She replied:
– I am great, my husband has just left and will be gone all day. Vanessa, why don't you come over I am sure we can find some things to do – which she followed up with a cheeky laugh.
– OK, I think I know what you have in mind. Give me a chance to dress and I will be right over. – I went back into the bedroom and told my husband that seeing he was going to golf, I was going to Sonia's for the day. Without even looking up, he replied:
– That's good as I am teeing off in a few hours and will stay at the club and have a drink with the boys, so I will be home late anyway.
A quick shower and I squeezed myself into a little black dress, that was very tight in all the right places, it didn't need a bra, as that was part of the dress and I didn't bother to put on panties and as it turns out I was right they wouldn't have stayed on long in any case. Next a pair of red pumps with 5" heels to match my nail polish and lipstick, and I was out the door.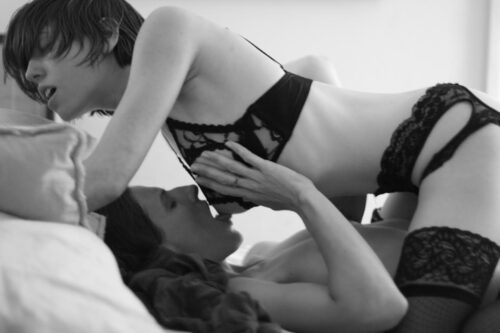 Now, back to the present…
I was pushed up hard against the hall stand which I was almost sitting on. We hadn't stopped kissing each other and we were both getting hornier by the second. I could feel my pussy getting wet and I was inhaling Sonia's odor: a mix of perfume and juices that were wetting her panties, it was just the aroma of sex.
I pulled back a little from embrace and looked into her beautiful brown eyes. I could see on her face that she wanted to make love, right here, right know. She pulled up the bottom of my dress and revealed my hairless pussy. She crouched down and spread the lips of my pussy apart and ever so softly pushed her tongue into the slit. Her tongue started to move up and down over my hooded clit. At first it was slow, but the pace quickened. She was also pushing her tongue deeper while her lips were moving over my swelling vulva. I was getting wetter and wetter and more turned on and horny, I could feel an orgasm building up.
I pulled the straps off my shoulders and exposed my boobs, I grabbed at each of my nipples which were now fully erect and rolled them through my fingers It heightened my ecstasy. Sonia was still working hard on my pussy and I could feel myself on the brink of orgasm. With both hands I grabbed her head and pushed it in and out, her tongue was a machine moving in and out and around my whole pussy. Sonia exposed my clit and tongued it feverously, all the while I was pushing her head back and forth. I was breathing heavy and started screaming:
– Fuck, Fuck, Fuck… I am coming – and my juices flowed and squirted out all over her face. I was still coming, she made my pussy squirt and it was running down the inside of my legs. I pulled her up and kissed her softly: – That was amazing, I have never came like that ever. – My whole body was tingling.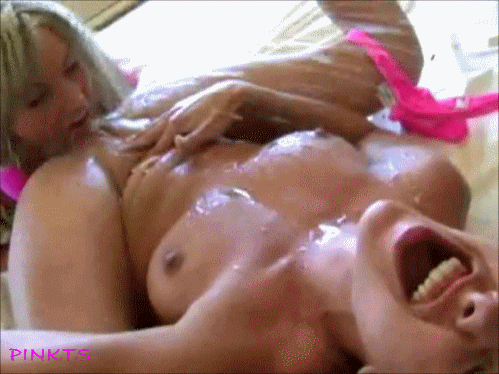 Without saying a world Sonia took my hand and led me towards the stairs. I stopped her at the bottom landing and from behind pushed her torso forward so she was bent over with her pretty bottom and panties were facing back towards me.
– It's now your turn Sonia – I said and I pulled her panties down exposing her pretty anus and pussy, the smell was amazing, I couldn't wait to repay the favor. But that's another story.
You'll also like these stories: