[en] [cuckold] My Trailer-Trash Wife and Her Wet Cunt
My wife likes to fuck and she does it a lot. She tells me about some of her fucks when I'm pumping her wet cunt. She is so sexy. I'm a lucky guy. I've been told some wives don't like to fuck very much. I can only get my dick hard to get in her when her twat is really wet. I guess that's because my first time ever in wet cunt was when she took me in her bedroom and took our clothes off.
She played with my pecker and then got her wet cunt right over my hard dick. Some white man-cream dripped out onto my hard-on. She giggled and said she'd be really slippery. She sure was and I loved moving in and out in that silky stuff.
Pretty soon my cock squirted a lot into her. My hand never felt this good. From then on I had to have pussy that way. I asked her about the cream and she said that her stepdad and her brother had just fucked her and she hadn't had enough. I was walking by because I lived two trailers down so I got lucky. She asked if she could be my girlfriend. I never had one, so I said: "Sure".
She would be in my bed when I got home from work or would slip in late at night or just about any time I was around. Her cunt was always slippery and she wanted me to put more in there. I liked doing that for sure. She reassured me that she had plenty of pussy for everyone and it doesn't wear out, so all the other dicks getting in it didn't hurt nothing.
Her titties are kinda small but her hips are wide and comfortable to lie on top of. She doesn't shave her pussy hair, but trims it once in a while. Her inside pussy lips stick out a little with flaps inviting you inside. Her pussy muscles can grab you real nice too. Her face is sort of plain but not ugly and she has a pretty smile.
We would go out on dates sometimes and when we came back to my trailer she would go back to hers for a little bit. Then she would get in my bed and open up her legs for some fucking. When I would see the fresh cum in between her pussy lips I'd get real hard and we'd have a real good screw.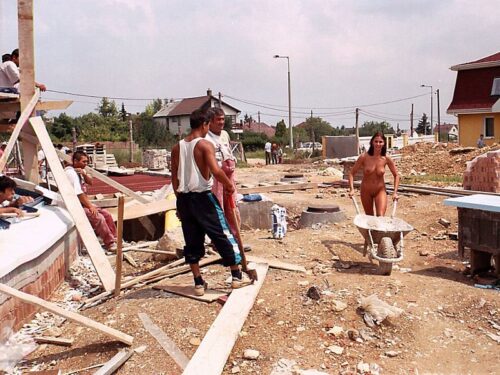 After a while I asked her to marry me. She thought I was a good catch because I had a full time job down at the feed store. One thing she made me promise was that she could always get her wet cunt ready for me so we could have the best sex. Of course, that was OK!
We honeymooned a couple of miles away at the Motel 8. It was cool getting the free continental breakfast. I fucked her so often she stayed wet and didn't bang her stepdad or brother for two days. I rented us a nicer trailer closer to my job and that's when a problem appeared. Her pussy wasn't wet enough when I tried to fuck her. She couldn't just walk down and get it filled up before I came home. I called her brother, and he came over and I listened to them in the bedroom then I could get in my wife's pussy! He couldn't get over to our place every day though. Sometimes things just work out.
The older guy next door had been making friends with my wife. He asked her if she'd do cooking and housekeeping for him. Wow, a job! She was happy to have something to do and spent a lot of time over there while was working. He didn't have a girlfriend, so she figured he was horny.
The weather was warm and she was wearing some pretty skimpy outfits. She saw that he had a crotch bulge and asked him if she was sexy. He said:
– You're damn right you are! – She saw the opportunity and peeled off her few clothes.
– I'm horny too, so let's do something about that!
There was a very wet and swollen pussy waiting for me when I walked into our trailer…
She told me all about how they screwed the afternoon away until just before I came home. She would have a nice wet cunt for me any time now.
About a week later she was real hot one day. As I slammed into her wet cunt, she told me that she was wearing out the neighbor so he called his twenty year old son and they'd both fucked her a couple of times that day. Wow, what a sexy wife I have! I have two buds. One is single and the other married. My wife dresses real sexy and flirts with them when they are over. They like that and get hard-ons sometimes.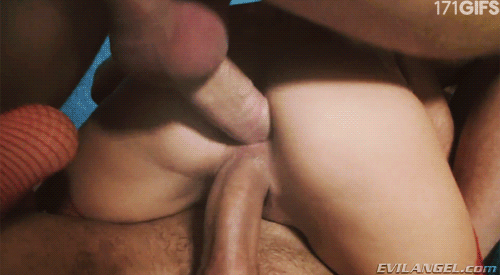 One Saturday night we had a couple of cases of beer and were watching a ball game. My wife was being a hostess and serving beer and she was drinking too. Doesn't take many for her to get real horny. She would sit on my buds' laps and help them drink their beer. She had on a tube top and a short jean shirt with no panties.
She wiggled her ass on their bulges. When anyone had to piss she said she was in charge and aimed their dicks in the toilet. When she had to piss, she took off all her clothes and stood in the bathtub and we watched her yellow stream splash all over. I told the guys to piss on her like I did and we soaked her titties and cunt. I don't remember anything after that.
When I woke up my head hurt and my pecker was hard. I peed and went looking for my wife. She was sleeping between my two buds on the floor and her wet cunt sure looked well used. I got on top and fucked her awake. My buds took another piece and left.
I was so proud seeing how hard they got and how happy they were to be fucking her. She was making all kinds of hot noises too. She squeezed my pecker and made me kiss her when each of them squirted inside her. I could hardly wait to push into her super wet cunt. It was wonderful.
We talked later. She said I kinda passed out so they put me in bed. She was naked so they fucked as long as they could. The married bud didn't got much from his prude wife so he had a ball. They promised to do this again if my wife was willing.
Of course, she was willing! My wife is so kind hearted. When my dad, and later my brother, came to visit, she had them sleep in our bed with her and I was on the couch. That way it was easy for them to get plenty of sex. I could tell she was being a good hostess by the thumping sounds and their moans. She was squealing pretty good too. Of course, she came out and fucked me on the living room floor after they finished inside of her. She wouldn't let me watch though, because it was family and they wanted privacy.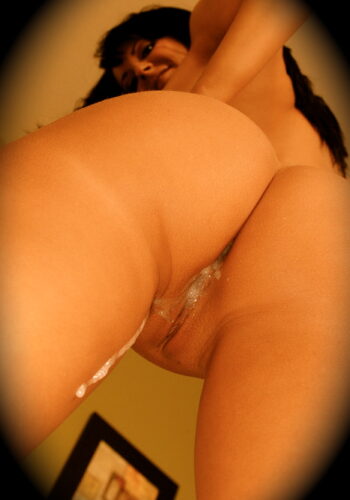 She is pretty happy. Her pussy is kept wet by the guys next door, she is fucking my buds a few times during the week, and her brother gets s piece from time to time. I'm a lucky man to have such a sexy wife to dip my dick into, every day if I want, as long as it's wet.
You'll also like these stories: