[en] [slave-girl] I Discovered My Lover Jenny Likes to Be Treated Like a Dirty Slut
Jenny and Robyn were polar opposites, mentally and physically. Robyn was a self-centered stuck-up bitch 5'0 100 34DD with no ass. Jenny was 5'6 150 36C with an amazing ass that was rivaled only by her selfless and kind nature.
My sex life with Robyn was about as boring and predictable as you could possibly get. She hated anything outside of "the normal" unless she was drunk and then if she was too drunk, she was an even bigger bitch than when she was sober. Robyn worked nights so finding time to talk to Jenny was a pretty easy thing to do.
So, after our kiss at the park the conversation with Jenny began to intensify. With only a couple of days to work out the details my wheels were spinning. Robyn was leaving with the kids to visit family Friday after the kids got home from school. I was on call that weekend and "couldn't find anyone to cover for me" so I had to stay in town. I got off work around 4 and when I got home everyone was gone. Now was the time to put my plan into action.
I sent Jenny a picture of the blue tie next to my badge and gun with the caption that read "I will get a confession from you tonight by any means necessary." A few minutes later I get a response oh really huh well it will have to be later tonight as my kid's dad won't get them till after 8.
– Well, I don't have anything else planned so when you drop them off you can head this way.
You could tell that the nerves and reality of the situation were starting to sink in as the questions of is Robyn really gone is she coming back, etc. were asked. About 9 o clock Jenny texts and says:
– Hey I just dropped off the kids, I don't know what to do.
– What do you mean you don't know what to do – head this way.
– But what if someone sees my car outside of your house with Robyn's car gone and says something to her…
– Hmmm good point… I'll meet you at the store down the road, we will drop your car off there and you can ride back with me and I'll take you back to your car when you're ready to go.
– Ok I'll be there in 15 minutes.
I'm waiting for her at the store when she pulls in she quickly jumps out of her car and into my truck and closes the door. She doesn't say anything. You can tell she's nervous and kind of taken back by it all. I don't press the issue and decide to let things play themselves out as we drive the short distance back to the house.
When we get to the house, I grill some chicken and we settle in on the couch to watch a movie. With her leaned against me in the dark living room I shift around so I can kiss her. As the kissing intensified my hand finds the buckle to her jeans and works open her belt. Shortly after her jeans are unbuttoned and unzipped as my hand first finds the front of her lace panties. A short distance later my finger touch the front of her lace panties to find them absolutely soaked. I whisper in her ear:
– Mmmmm is this for me? – As my finger slowly rubs her clit she moans out:
– God I hope so. – I whisper back in her ear:
– I think we should take this to the bedroom.
Without saying a word I stand up and take her by the hand and lead her to me and Robyn's bedroom
There a lite glow from the closet light. Standing next to the bed I lean in to kiss her again. When I break the kiss. I whisper in her ear:
– So you want someone to have their way with you huh? – As my lips kiss her neck all she can do is moan her approval. I whisper back: – I'll take that as a yes then – and shove her on to the bed. You can tell that she is kinda taken back by this, but by the time she comes to her senses, I already have my hands in the waist band of her jeans pulling them over her hips. I notice her panties, black lacy boy shorts with a ribbon up the back (my favorites). I begin kissing up her leg starting at her ankle working my way up to her knee then her thigh. I slowly move from her thigh to just above her clit. I look up at her face and she has her eyes squeezed shut trying to force her mouth to stay closed.
The first time my tongue touched her clit may have been the sweetest taste ever. As I wrapped my lips around her clit and start sucking softly on it and lightly nibbling it I glance up and she has already grabbed a pillow and put it over her face. A few long slow strokes of my tongue over her clit I can hear her moan out from the pillow. I slowly start to slip a finger inside of her a realize that she isn't the only one in for a surprise. Despite having 4 kids, Jenny is super fucking tight. She immediately tenses up with the insertion of my finger.
I slowly begin working my finger to find her g-spot. Once I do, I begin making the come here motion with my finger as I begin to suck and lick her clit. She begins to tremble and her hand immediately finds the back of my head. Her legs wrap tight around my head as she begins to scream out into the pillow. After what seems like an eternity her legs loosen from around my head and she ditches the pillow and begins to beg me to get inside of her.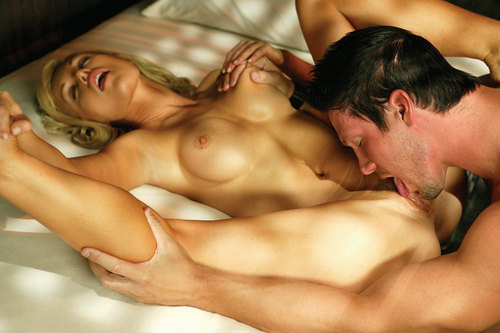 I look up at her and grin:
– No ma'am you're not in control tonight – as I slip a second finger inside of her and go back down on her clit. She immediately grabs the pillow again with both hands as her body begins to shutter and shake. I don't stop devouring her till I know has cum again. I slide up her chest and whisper in her ear…
– I don't wear condoms – to which she replies:
– Good I hate them!
I begin to rub the head of my cock against the soaked opening of her pussy. As she still tries to force her eyes to stay closed. I lean down and whisper in her ear…
– Open your eyes or I'm not going to give him to you.
A look of shock comes across her face as her eyes spring open. Once they are open I shove him inside of her little tight pussy. Her eyes roll back and as she goes to scream out her hand covers her mouth. I immediately grab both of her hands and pin them above her head and whisper in her ear:
– Nobody is here to save you and nobody can hear you scream – as I pull back and slam deep inside of her. Jenny immediately screams out:
– Oh fuck!
Her eyes immediately open wide as she's obviously take back because in all of the time I've known Jenny this is the first time I've ever heard her cuss. I begin picking up the pace as her body begins to tremble and shake and she screams and moans out. Jenny is so tight around me I can literally feel her pussy pulsating every time she cums. When I get close I whisper in her ear:
– Just so you know, this is just the beginning – She screams out:
–God! Yes!
I pull out and shoot my load all over her stomach and collapse beside her. We both must have fallen asleep for about an hour or so cause by the time we came to it was 2 in the morning.
Jenny says she has to get going as she has kids activities in the morning. As she goes to the living room I look on the dresser and see the blue tie. I think to myself – now's as good a time as ever. I walk to the living room spin her around to face me and kiss her hard. As I break the kiss I tell her that she isn't leaving just yet.
– And why is that? – She asks.
I pull the blue tie from my pocket and tell her I haven't fulfilled my promise to you yet now take your clothes off… I don't think I've ever seen a woman lose a shirt bra jeans panties and shoes so fast. I tell her to close her eyes and give me her hands. I tie the tie tightly binding her wrists. I lay her on the living room floor and slam my cock back inside of her still soaked pussy.
With my right hand handing the tie and pinning her hands to the floor my left hand finds a fistful of her hair. The harder I pull on her hair the more she moans. I growl in her ear:
– So this is what you wanted huh?
–God yes! – she screams out…
Knowing I have her right where I want her, I decide to see just how deprived she really is…
– Oh really nobody would tie you up and just fuck the hell out of you huh… sounds like you have never been actually fucked before… – the words only make her tremble more… I decide to go for broke:
– You like being fucked like a dirty slut, don't you Jenny!?
– Oooooooo fuck oooooo fuck – her body is convulsing…
– You've never had a real man inside of you, have you? Just a couple scared little boys who don't know how to fuck a real woman huh!!
– YESSSSSSS!
– Who owns you Jenny? I wanna hear it from your dirty little fucking mouth!
– You dooooo oooooooo fuck!!
As I am about to cum, I pull out and unload on her tits. Jenny lies on the floor for some time hands still tangled in the tie above her head. I go grab her a towel to clean up with. I whisper in her ear:
– I wasn't kidding, this is just the beginning and I will make every single filthy fantasy you've ever had come true. Little did I know just how filthy her mind would get…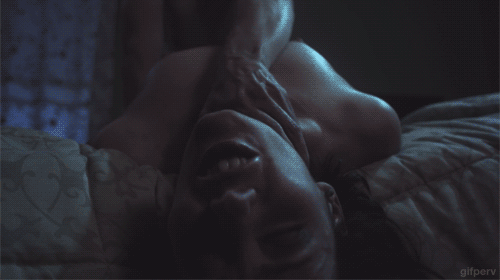 You'll also like these stories: