[en] [lesbian-scissoring] [double-dildo] Two Girlfriends and a Double Dildo
You may remember my little-titty friend who wore padded bras and liked to tease, but she is no action (except with me now). I will call her Phoebe. My husband was still deployed (and he thinks I am monogamous and faithful).
Phoebe flew in to stay with me for a few weeks with two of her kids. We did the family stuff with the kids and sites during the day, but the nights in my bedroom became a hot lesbian sex capade. It was hard for me to find affairs at this military base without it being obvious (so I never tried), and I was glad Phoebe came to visit.
Phoebe is about my height, 5 foot 6 inches, and I have a softer white skin tone, and she is a brunette (shoulder length) and I am a sandy blonde (middle of the back). We both have sexy legs, feet, and toes, but I keep my toenails painted (usually red), and hers are painted occasionally. Her "titties" don't really bounce, but perking, a B cup is a stretch. I can fit one of her tits in my hand, and because she wears padded bras, I don't talk about it. Mine are 36 dd and bouncy and soft, and we both have gorgeous nipples and areola. We both keep the area of pleasure of our pussies shaved smooth. I have trimmed hair above my pussy in the common triangle shape, and her hair is much darker than mine with a strip instead. Phoebe's ass is a little rounder than mine in protrusion, and we both have nice hips. I have a small C section scar and a tiny soft pooch above it, and her stomach is flat. I am not fat; everyone has always loved my sexy stomach because it is so soft right above my scar.
The first couple of nights Phoebe was there, and the kids were in bed, we fucked, but it had been a while, and it was pretty straightforward because we missed each other. So, we had our sex fun and got each other off. After that, the nights got into more foreplay and the introduction of toys. We were in the bed on the third night talking and watching TV in night shirts and panties sitting against the headboard. I reached over and I started rubbing the inside of Phoebe's thigh and down over her panties and pussy – she started doing the same to me. After some over the clothes petting, I started running my hand inside her panties and rubbing her pussy directly, and she followed suit. We took our clothes off, and set back against the headboard and masturbated each other. I got my girlfriend off first, probably because I was using my right hand. Phoebe locked my arm up with her hand and knees and gave the moans, and ohs, as she shook in pleasure.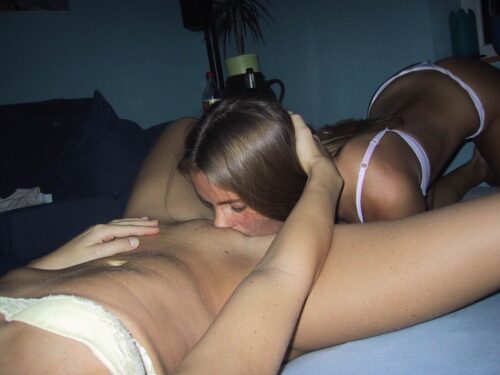 I slid down a little and pulled Phoebe's head into my hairy pussy, and she placed her mouth on my wetness, and I could feel her tongue on my clit. I moved her head, and I fucked her mouth with my pussy moving my hips and holding her head. It did not take me long, and I tried to squeeze her in two when I got off. She moved back up beside me and we rolled together and kissed and rubbed down each other's body.
I really liked getting eaten out by a girl, and it was getting to the place that I really liked eating pussy. But I still wanted some big cock. We were laying there and rubbing each other still totally naked, and I got up and went over to my special drawer and pulled out a harness and double dildo insert I had bought and returned to the bed.
I laughed when I showed it to Phoebe. I told her my husband had seen it (and another double dildo vibrator) and wondered why I bought them. I have a lot of vibrators and dildos. Aside from why I needed a strap-on dildo, the dildo itself was the kind that has the part that goes into the other girl. I told my husband they sent me the wrong thing, but I just wanted to keep them, because they were still dildos.
The harness works with several different dildos I have, including a hollow one that my husband can stick his dick in and use on me. Anyway, I put the harness and the double dildo around my girlfriend, and we inserted the bulb part of the dildo in her pussy. I adjusted the harness and we made sure it was tight.
Now the part being used in me was about 8 inches, and above thick average
I laid on my back, spread my legs and my hairy pussy, and I said:
– Fuck me girlfriend!
It was weird at first for Phoebe, her part kept popping out, but pretty soon she got a good rhythm going that kept her part in. I slid back against the headboard and I pulled Phoebe's ass into my pussy and locked it with my feet and ran my hands up her back and pulled her into me. It felt good to hold someone and feel like I had a cock in my pussy. It wasn't the real thing, but my husband had been gone for several months. We did this for about 15 minutes, but it was not going to get us off. I got the double dildo and I told Phoebe it would feel weird but good. Damn thing looks like a sci-fi laser pistol.
I stuck the smaller bulb end of the vibrator double dildo in Phoebe and turned it on. Both her hands hit the bed, and she said:
– Oh god – and I turned it off. I said:
– Is that too much? – She said:
– I was not expecting it. – I said:
– It has a lower setting, this is the setting I use. – She said:
– Leave it there. – I had never actually tried it with another girl. My cousin and Phoebe had been the only girls I had been with, and I had bought these toys in anticipation.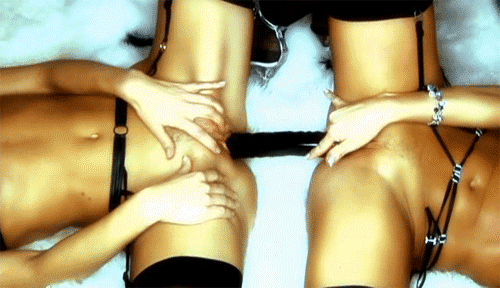 Phoebe got on top of me and I was lying on my back, I stuck the big part (about 6" long) in me and turned it on. She maneuvered onto the bulb and she fell to my breasts and her part popped out. I said, you will probably have to sit up to keep it in. We fiddled until we got it right. We went about 5 minutes and Phoebe got off, but I hadn't yet.
I held Phoebe's ass down and told her to hang on because I'm close, and in less than a minute, I orgasmed. She was going:
– Oh fuck, oh shit… – right before she erupted, and her moans and chatter continued because the vibrator was still going waiting for me, and both of us experienced the cascade of mini orgasms together. She loved it.
The next night we used this "g" spot vibrator I have. We took turns and she did me first, I kept telling Phoebe to, hold it that way, and I would also help her use it on my pussy because when I start to get off, I like the cascade effect of the mini orgasms you get from vibrators. I would close my legs around it and roll to my side and moan steady when I was getting off. I used it on Phoebe, and had to fucking change the sheets on the bed.
I made her squirt. I asked, and she said, she had never done that before. She said she was going to order some when she got home. We messed around for a couple more nights with toys and stuff.
About 3 days after that, I woke up at about 5 AM, and I really wanted to eat Phoebe's pussy. She was asleep but we were naked in the bed. I pulled the covers back and moved down and she was on her side. I gently pushed Phoebe's top leg forward a little, and I could see her pussy lips as I looked at her ass. I got really close, and I can still remember the smell of her pussy. We had been fucking around before we went to sleep, so the scent of pussy was strong, and I wanted it. I started kissing on Phoebe's pussy lips and she started squirming around.
I kissed some more, and I was rubbing my tits on the top of her ass. She started to wake up and she said:
– What are you doing Amy? – I said:
– I want to eat your pussy.
She woke all the way up and I told her to roll on her back and stick her hips in the air. I was holding around Phoebe's waist and spreading her with my hands, and eating her pussy as her ass was under my chin and resting on my breasts. I ate the shit out of her pussy, and she got off. I laid her back down and moved between her legs and laid on her, so we were breast to breast, and I kissed on her neck and hunched her pussy with my pussy. I was so wet. I moved my legs apart, sat up, and we scissored. She laid there while I rubbed my wet pussy all over her wet pussy until I got off and fell forward in excitement clutching one of Phoebe's legs.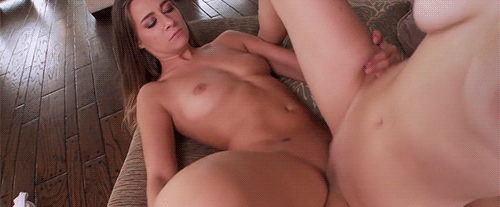 It was a fun few weeks, but I guess good things do end. She visited me a couple times more before we moved.
You'll also like these stories: