[en] [mother-daughter] Mom Was Fucking Her Daughter's Pussy While I Was Watching
This happened about a week ago. I was home sitting on the couch and my neighbor knocked on the door. I told them to come in.
So she opened the door and in the two of them came. I had on baggy shorts and nothing else. My family went out of town and the neighbor said:
– Just checking in on you.
I sat up and I offered them a drink. She said she would make them and the ice machine made some noise then some poring in the glasses and out they came. She said her husband was out for a week. We watched a little TV and I poured my second drink and I sat back on the couch with my knee up and her daughter is staring at my dick. Both of them are in very skimpy outfits.
Mom noticed daughter staring at my dick.
– What you looking at, kid? – She then looked away and said that she was checking out the sights. I asked her if she likes what she is looking at. – Yes I do! – So I stood up and dropped my shorts.
Now I sat back down naked. Mom said:
– Very nice dick. – Daughter said she wanted shaven dick but she only gets hairy dick. I asked them if they are shaven, and both respond with a yes. Then mom stripped and daughter followed.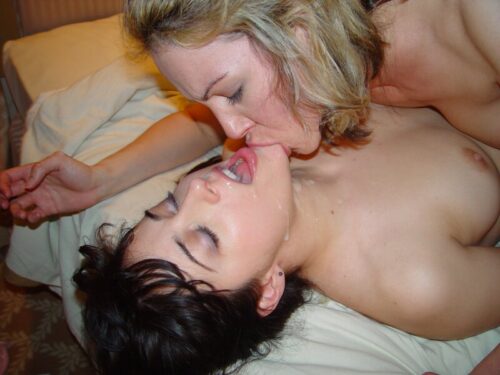 I walked into the bedroom and got a box of toys and lube then came back out. Daughter picked up a 12″ glass dildo and she was hugging it, then she slipped it in her pussy. Mom turned on a 8″ vibrator and she licked it then slid it in to her pussy with a nice moan. I am watching them and getting hard. After they both came a few times, mom said she wanted some oral.
She started eating her daughter's pussy…
Daughter slid her tongue in her pussy and mom is coming hard and rubbing daughter's head. Then she said:
– Let me lick your pussy – and they changed places. Mom was fucking her daughter's pussy with the glass dildo and daughter is coming hard and loud. Daughter grabbed mom's head and was pushing her pussy on moms mouth, then she squirted all over mom's face.
After she came mom asked me for a towel. As mom went to get a towel daughter said she has never came like that. Her pussy is now dripping wet.
Mom rinsed off in the shower and daughter is licking my nuts and dick. Mom is watching her and she will watch then I was rubbing her head and I was in her neck. I asked her if she has swallowed cum and she nodded no so I held her head and I started squirting in cum she was swallowing it then I let her head move up and I covered her face in cum.
Mom said:
– Very nice – and she used her glass dildo to rub it on her face. Then I moved behind mom and I put it in her asshole. Mom said I needed cum in my asshole so 30 minutes of pounding her asshole I came and filled up her ass and she was dripping. Daughter is licking mom's holes and mom is coming hard. I cleaned my dick and I mouth fucked mom and daughter then I came in daughter mouth. I kept my dick in her mouth and she was licking and sucking my dick and I came again.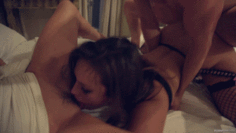 I was done and so was mom. Daughter wants more so I told her to fuck all the toys. LoL, mom grabbed the 3 1/2″ ass plug and I lubed up her hole and I spread her cheeks open and mom jammed it in her asshole. When it had the 3″ ball all in her hole she was moaning loud and fingering herself.
The glass ass plug is all the way in her. She is rubbing the outer 4″ handle of the plug and cuming then she squirted again. She is just moaning and squirting she bent over and blasted her own face.
Mom and I are in the shower and washed each other. We went out to the living room and she is just fisting her pussy and cumming hard.
I love my neighbors cuming over.
You'll also like these stories: