[en] We Fucked till We Couldn't
I got stranded in Paris, a strike and then the weather. I checked into an airport hotel overnight. I went down to the lobby for a drink and got into a conversation with an older man, also stuck for the evening.
We say people being turned down, the hotel was full. We had another drink and kept on talking. He asked me a lot about myself, student, going home to Chicago after a week in Paris with a friend, he a businessman away from home for a week. We laughed that we were just then getting our clocks straight before headed home.
We kept seeing dejected faces at the front desk. He looked at me and said we could make some money, I could come to his room and we could sublet my room? What did I think. Come on, my last night in Paris, something to remember, a night to remember. He put his hand on my knee and said he would be gentle, unless of course I wanted him not to.
– Let's help that girl out, let her have a place to sleep and we could have some fun, how about it?
The girl was thankful, we all three went upstairs, I gave her the key to my room, got my bags and we took them to his room. I thought about that girl alone while he pounded me into the bed, my dick hard against the sheets, his dick hard deep in my ass, his breathing on my neck, what was she doing while I was getting fucked.
When we ended I had cum in the sheets, a great big wet spot, he had cum in my ass and needed to wipe myself. I went to the bathroom and wet a hand towel and cleaned myself, and then I washed his dick for him. He looked at me, so I sucked him.
We had sex the next morning, early before showering and getting something at the counter. The girl came down, she was dressed and looked refreshed and stopped and said "thanks" before heading over to the terminal. The question for us was did we stay an extra day? We did, checked out of my room and fucked till we just couldn't.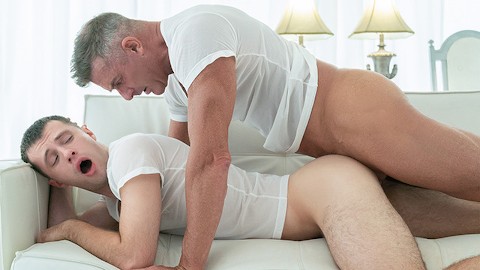 You'll also like these stories: