[en] A Stunning Blonde and My Fuck-Buddy, Who Likes Fucking and Face-Fucking
It was a Friday night and I was home, alone and horny. My "girlfriend", for lack of a better word had gone out clubbing with her friends although I was sure (and later proved correct) that she was using that as an excuse to go and sleep with "best friend" Harry.
A couple of weeks ago I had been browsing Facebook (the source of many ended relationships) when I scrolled past the friend suggestions, there I saw Kayleigh. A stunning blonde who was a little on the thicker side, but damn, did she have it in all the right places, great tits and a nice round plump ass. We had met at college a few years earlier and even ended up sleeping together a few times, but it never worked out for one reason or another.
So it was Friday night, my cock was hard and apparently doing all the thinking as me and Kayleigh had been dirty talking for several hours, the pre-cum was just dripping out and soaking my boxers and from the pictures she had sent me, her pussy looked to be soaking wet and her eyes were full of lust.
I was about to say good night and have a wank to her filthy talk & photos when her latest message pinged: "God I want that cock in me now, here's my address come on over" with her address added at the end.
My hand stopped sliding up and down my shaft as I contemplated on what to do next, she knew I was in a relationship and as far as I was aware so was she, but in that moment of lust my brain didn't care and my cock led the way.
It had just gone 12 AM and I was living with my parents so I had to sneak out, that alone made me smile as it was like being a teenager again. I hadn't gotten dress in just some jeans, t-shirt and a hoody. I didn't want any delays getting my prize, so I just went commando to help speed the process up later on.
I made it out without a peep from anyone and jumped in my car, my heart racing and my cock seemingly made of steel pressing against the denim fabric. I put Kayleigh's address into the satnav and off I went for a quick 15-minute drive. The drive was uneventful however my brain was going a mile a minute wondering if her pussy was still as sweet as it was when we were in college, if she could still suck her own nipples whilst we fucked (that was definitely a turn on) and if she still would be controlled so easily.
I arrive at her house around 00:30, it's easy to find as it's the only one with the lights on. I pull into her drive and make my way up to her door.
My cock is straining against my jeans as I knock on the front door lightly
Kayleigh opens the door in a sheer black teddy, her long blonde hair in curls, her cleavage barely contained and the hem of the teddy just covering her bubble butt cheeks. I stepped in and immediately lift up the teddy to see check out her smooth supple cheeks, I graze my hand over the smooth skin before she leads the way into the kitchen and offers me a drink, I refuse as at that moment I've only got one thing in my mind.
– Where's the living room?
– Just through here – Kay replies.
She shows me into the living room and sits down on the sofa, she looks up at me with her gorgeous blue eyes, we don't say anything, but I know there's no going back. I pull my throbbing cock out of my jeans letting it bouncing free, each pulse making it jump.
I don't even have to ask as Kay indulges herself on my cock, slowly grasping my shaft with her warm hand and gently stroking my cock up and down. My eyes close and I savor every feeling as her hand runs over the veins on the sides of my cock, suddenly her hot mouth makes its presence known on my balls, she carefully licks and sucks them before letting her tongue travel up the underside of my cock.
I open my eyes and look down at her, her blue eyes still staring back at me, a small grin comes over her face as she puts the head of my cock at the entrance of her warm, delicate lips and promptly swallows my cock until it hits the back of her throat. She gags slightly and pulls back a bit, still keeping my cock in her mouth but not quite as deep, her head slowly bobbing up and down, I put my into her blonde hair and start to tighten my grasp.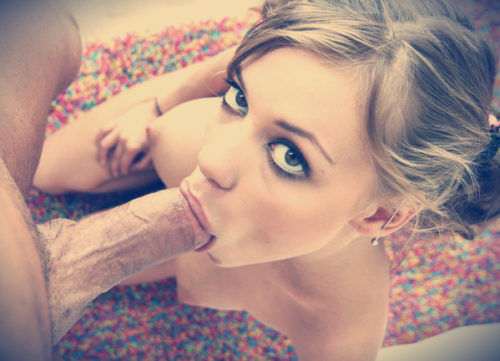 The blowjob that started off gentle and caring soon changes as I start to use my grip on her hair to control the depth at which my solid cock penetrates her throat and the speed at which it's thrusting, her hands move to my thighs to keep her balance and every time I go too deep I feel her push slightly. The gentle blowjob is now a full face-fucking, saliva is running down her chin and onto her large tits, her mascara is a complete mess and her hair is gripped by my hands to use as handles.
The gagging noises are becoming more prominent, Kayleigh still manages (tries to anyway) to keep eye contact and when I shove my cock so it's lodged in her throat her pretty blue eyes roll back into her skull. I do this several times before fully withdrawing, she gasps for breath, and has a little smile on her face. Now it was my turn.
I push her back against the sofa and kneel in front of her, push her legs apart, the small little G-string she was wearing was utterly pointless, so I quickly pulled them off and then I had full access to her pussy, all of sudden she went shy.
– I didn't shave.
– And? That won't stop me licking your cunt until you cum.
I push up the teddy to expose her nice tidy little pussy lips, the hair she was talking about is almost non-existent, a little landing strip at best. I grab underneath her thighs and pull her ass to the edge of the sofa, her pussy was so puffed up it was easy to see how horny she was, the juices were already on her thighs so I knew there wasn't much need to get her warmed up. I plunged my face it her sopping went cunt, licking like a thirsty beast, my tongue dipping into her hole trying to get as much juice as possible and then finding her clit and sucking like I was trying to get milk out of a nipple. Her hands racked through my hair, her nails clawed my shoulders, she was moaning like a bitch in heat, it gets to the point that I feel she's enjoying it too much, I pick up her sopping wet G-string from the floor, bunch it up with the wet piece on the outside and push it into her mouth, now her moans are muffled and she's sucking on her own pussy juice, it's actually even more of a turn on I continue licking her pussy, I muffled moans gets higher in pitch, her thighs start to clamp around my head, my mouth still sucking on her clit, my finger inside her pussy arched slightly to hit her g-spot when although a sudden she goes quiet, she then goes limo for a nanosecond before clamping my head so hard I can't move, my lips still sucking on her clit as her hand tries to push my head away, all of a sudden I feel liquid hit my chin, then my chest and finally trickle down my finger, she spits out the G-string.
– Fuck… fuck… That was… fuck… – she mumbled out semi-coherently.
– It's not over yet – I smirk. I pull my jeans fully off, and remove my hoody and t-shirt.
I take my cock and line it up with her pussy
Kayleigh's eyes are still shut and her ass is still half hanging off the sofa so it's easy access for me, one hand wrapped around my cock, the other gripping the midsection of her teddy. I place my cock just at the entrance with her hole.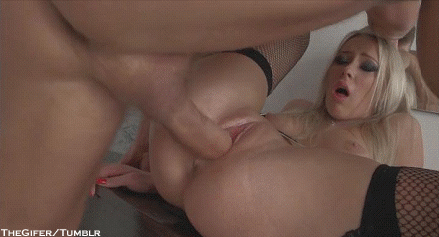 – Kayleigh… Kay… open your eyes slightly.
She opens her eyes ever so slightly, still in the afterglow of her orgasm she slowly brings her eyes to meet mine, I smile and plunge the full length of my solid cock into her steaming hot, soaking wet, vice grip like pussy. Her eyes bulge at the sudden invasion:
– OH FUCK!
I don't relent, I pound away into her cunt. My pelvis smacking against her swollen pussy, my balls slick with her juice slapping her ass hole, my cock hitting the wall to her cervix (I had forgotten how shallow her pussy was), each thrust brought pleasure and pain.
– Fuck, not so hard – she would whimper and then a second later – harder, harder – she begged: – Fuck me with that hard cock, I want to taste your cum down my throat.
I knew what she was doing, she was trying to get me off faster, and it was working. I slowed my pace but kept the force of each thrust the same, I took one hand and pulled her teddy down at the front to release her large breasts, and the other went around her throat and squeezed slightly. Slowly I fucked her, revealing in the warmth of her tight pussy, the feeling of my pulsating member being coated in her slick juices as it pulled out until just the head rest at the entrance, and then plunged back in with enough force to hit the entrance of her cervix.
I plowed her pussy for as long as I could but eventually the feeling in my balls grew, the tightening getting stronger, I released her throat and automatically she grabbed for her tit, lifted it up so the nipple was in her mouth and began to suck, I put my head down and sucked in the other nipple. Kayleigh moaned into her own breast, her pussy started to tighten, and my balls also tightened. She came all over my cock.
– Where do you want me to cum? – I asked quickly.
– In my mouth, I'm not on the pill.
– Fuck – I grunted – fuck, I'm going to cum in your pussy, it's too good to pull out.
– N… – was all she could get out as my cock throbbed into her unprotected pussy, rope after rope of hot white cum filled her pussy, my cock throbbing see inside of her, Kay's grip tightened on my back as she pulled me deeper, even though she didn't want it there she savored the feeling.
I pulled my cock out and cum seeped from her pussy all over her sofa, we sat next to each other panting. I remember her mumbling something but I closed my eyes for a second and the next thing I knew the sunlight was hitting me.
– Wha… – I looked down and there she was in-between my legs sucking my semi flaccid cock into her mouth…
– Good morning sunshine – she smiled. – Thought I'd wake you up in the best way I know how, close your eyes and enjoy – she smirked. I closed my eyes when all of a sudden I hear: – Mummmmmm? – My eyes shot open:
– What the fuck? – I whispered.
– Shit, they don't usually wake up this early – she scowled standing up. – You gotta go, but this has been fun – she rushed me to get ready. I was still figuring out what was going on, I was pulling my hoody on whilst kay was pushing me towards the door. – Maybe next time I can finish properly – she says in a sultry voice before kicking me out.
Kayleigh and I did finish of that blowjob, plus many more, but this will always stick in my memory more than the others. Remember, if you liked it, vote positive and if you didn't, please leave critiques so I know what to do next time! Bare in mind this is all true so I can't adjust what happened, but I can adjust my style of writing! Thank you!
You'll also like these stories: