[en] [ass-to-mouth] My Intent Was to Spear Her With My Cock, Fucking Her Hard
It was Saturday and I had planned on going on a March of Dimes Charity ride today and I got the e-mail. The mail asked if was still looking? from the Advert? I messaged back:
– Yeah, when and where? – The next message was 7 PM tonight:
– In Charming? – I messaged back:
– Sure, I could make it, where was good? – The next text had a picture attached and an address. I sent her a picture of me on the Harley and told her I'd be there.
Charming was almost an hour away but as Karma works the ride I was going to, ended ½ of the way there. I met with some friends and we did the ride together. The sound of 200 plus Harleys pulling out on to the road at the same time truly was rolling thunder. It was a perfect riding day and there was a lot of absolute Love in the brotherhood of riders united in a common cause.
As the ride ended, I said goodbye to my friends and proceeded down the road to Charming. The picture I received earlier was of a beautiful young woman. I thought about her most of the time I was riding imagining what she'd be like. The ride to her place was surreal knowing coitus was immanent without the courting dating rituals, social morals. Arriving at the address I was about 5 minutes late, but figured it wouldn't be an issue. I went up and knocked at the door to a nice duplex and waited. It took a minute of silence and then the lock opened and the door opened. I stepped inside checking behind the door and surveying the room. Janet, the girl from the picture, was the only person there. She was wearing a pair of tight track shorts and a cut off tee shirt that barely covered her perky breasts.
I felt particularly over dressed in my leathers and she introduced herself and I said told my name and she led me to a bedroom. As she entered she began undressing, which took about ten seconds. I started undress as she literally jumped on the bed. I took my layers of leather armor off and as Janet waited she started masturbating watching me get undressed. I was becoming self-conscious about my age and size compared to this much younger woman. Watching her spread open legs and her skilled masturbation technique had my cock fully hard by the time I was undressed. I crawled up on the bed between her spread legs and took her luscious sweet smell and began to kiss up her thighs taking my time. As I got closer to her mount, she pulled her hands away and started massaging her breasts, tugging on her nipples.
I licked and sucked her pussy and clawed at the skin on sides and legs as I ate her scraping my fingernails scratching her. I could see her skin react to the contact and goose bumps formed. Janet started rocking her hips to the rhythm of her licking and I could feel her getting wetter.
I had sufficiently warmed her up and she was obviously enjoying herself. I moved up to my knees and grasped my cock, stroking it for effect, letting her know it was time. Janet flinched and feigned protest because she wanted her orgasm before I took about entering her treasure. I reached forward and slapped her face and then grabbed her behind the knees pushing them to her chest. My cock was hard and ready and I would wait no longer.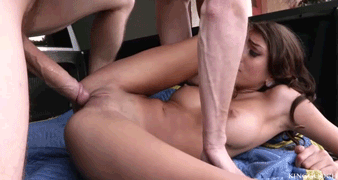 I didn't need to let go as we seemed to align perfectly and my cock slid right into the entrance to her pussy. Janet pulled back as I began to push into her but the end effect was I stayed where I was. When she slid back down, she impaled herself on my cock. My intent was to spear her with my cock, but her action had made it a simple insertion. I reached up and grabbed fists full of her tits and slammed forward fucking her hard.
I used her tits to control her body, fucking my cock with her body. She screamed out in pain, and I put one hand on her throat and her leg with the other pulling her legs open. I quicken my pace pulling almost out and then as hard and fast in as I could. Janet started to struggle to get free and I let go of her long enough to grab her by the hair and pull her to a kneeling position.
My intent was to spear her with my cock
I pushed her face into the mattress by her hair and used my free hand to guide my cock back into her pussy. I picked my pace back up plowing in and out of her with abandon. As I was slamming her pussy, and she leaned forward collapsing, and in my eagerness to remain inside her I thrust once as I pinned her down.
The head of my cock was dislodged as she pulled forward and as I thrust back into her, I met with a great amount of resistance and bent my cock. Then I felt it go back inside her, the tightness was different now though and Janet screamed. It was a different scream and I realized I had speared her asshole. I stayed inside her but held still as I listened to her cry. What I did not hear was the words stop or even no. She pushed back with her hand placing it on my leg to prevent me from plunging deeper into her, but didn't struggle to push me off or out of her.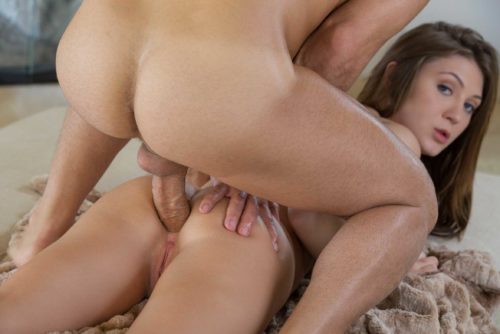 I waited a minute and she let the pressure of her hand lessen, I took as a sign to beginning to push in her asshole slowly. Quarter inch by quarter inch I pushed inside her as the pressure of her hand allowed. Her sobbing subsided, and I pulled my cock back and then started back inside. I went slowly as I had not intended to do this to her or prepared her for it. As I started to get a rhythm in and out of her, she started to rock her hips to meet my thrusts.
Janet started moaning and pushing back hard, and as the pace picked up, she said:
– Oh my god, oh my god. – And she really got louder and she screamed: – Oh my God, I am cumming.
I felt her spasming and jerking and fell forward still crying out in orgasm. My cock slid out of her as she fell forward, and I slid around her, and grabbed her hair. Jerking my cock in her face.
I jerked my cock a couple times getting closer to her face. As I started to come holding her face close to my cock, she opened her mouth and took a couple squirts of come in her face and eyes. The real surprise was when she took my cock in her mouth and sucked my cock dry. I pulled my cock from her mouth and wiped my cock though my cum on her face and back into her mouth.
I reached around and slapped her ass a few times and she pushed her butt up in the air, wiggling around. I was thoroughly enjoying myself and I wiped my cock in her hair and then stood up next to the bed. Janet stayed on the bed turning over onto her back and rubbed pussy with one hand. With her other hand she finished wiping her face of the remnants of my cock I missed with my cock and put her finger in her mouth fucking her mouth with all four fingers.
I started getting dressed and continued watched her as I finished dressing. Janet stopped as I turned to the bedroom door and walked naked with me to the front door. I said thanks and she said:
– Any time you got my email, keep in touch if you like. – I said:
– Oh, I liked you honey – and walked out the door.
She stood in the door until I started the motorcycle. The ride home that night was a series of scenarios of with Janet. I thought about making another advert looking for friends with benefits. I had met a few people I had fun with and wanted to see if anyone might want more.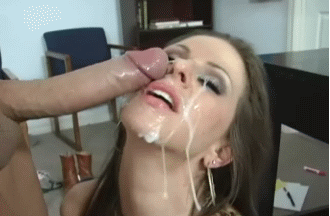 You'll also like these stories: