[en] [twins] If I Let You Taste Mine, Can I Taste Yours?
Once Andrea got the hang of rubbing herself off, her and Dani made it routine to watch each other right before they went to sleep. Dani, a virgin herself, knew so much about sex from watching countless hours of porn when her parents were gone at work on Saturdays. Andrea usually went to the mall this day, leaving Dani home alone with nothing but her fingers and a computer that opened the door to all sorts of kinky sex videos. She loved everything from bestiality to gay porn, but her favorite was incest. Something about it made her so wet and desperate. She ached for Andrea's pussy on Saturday nights after long days of working her own.
Dani made sure Andrea knew to stay home one weekend so she could show her a special surprise. When the time came, Andrea was nervous. She feared they would get caught. She couldn't imagine what that would look like to her mother. She'd be disgusted to see her twin daughters rubbing their cunts while watching men and women get their asses licked and fucked.
Dani wanted to go a step further. She wanted to feel Andrea's pussy, to taste it. But first, she had to show Andrea that sex wasn't bad or scary. She made a special list of videos to show to Andrea. It consisted of three videos. First was a typical video of a white man fucking a black woman missionary style.
The last two videos are where Dani really kicked it up and she knew she'd get Andrea with them. The second video was of twin brothers who took turns giving each other messy blowjobs and then they fucked each other. The third and final video showed two teenage girls performing oral sex on each other. The best part? The girls were twins.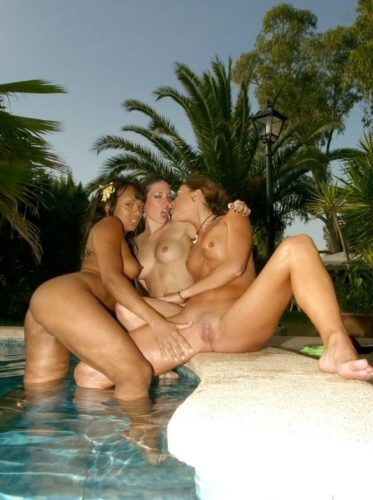 Dani sat her nervous twin down in a seat next to hers and turned on the first video. After it progressed, Andrea started feeling wet. She liked how the woman's tits jiggled every time the huge cock thrusted into her.
– She's pretty… – Andrea said. She wanted to talk, but she was unsure of what to say. She figured that was a start.
– What else do you like about her?
– Well, her nipples look really big. That's pretty sexy. And her hips are big, too. Her skin looks so smooth and soft.
– Most girls are like that.
– Not me. I look weird. – Andrea lowered her head, ashamed. She felt ugly. Her and Dani were identical, but something seemed much more graceful and beautiful about Dani.
– Andrea, I think you're perfect. Dani reached over and squeezed Andrea's hand. She smiled and hugged her sister, suddenly wetter than ever.
– Dani, I want to touch myself.
– Me too. I'll play the next video. I think you'll like it. – Dani started playing the video of the twin brothers. The monitor showed two identically handsome men passionately kissing and flicking their tongues together.
– Whoa. – Andrea whispered. – Are they twins?
– Yep. Just like us.
She smiled at Andrea reassuringly. She then stood and stripped. Andrea did the same.
Both girls leaned back in their chairs and started slowly rubbing their clits
They stared as one brother licked the other's ass. The brothers both moaned, as did Andrea and Dani. Dani felt herself running out of patience and decided to skip to the third video. Andrea smiled as soon as she saw it. She definitely liked the sight of tits and pussies. The twins in the porno rubbed each other's pussies and then moved into a 69 position where they lapped up each other's juices.
– Dani?
– Hmm?
– If, uhm… If I let you taste mine, can I taste yours? Just off our fingers, you don't have to go down there.
She looked away, afraid to hear the answer. Dani reached into her pussy and covered her index and middle fingers with her juice. She told Andrea to take off her shirt and she did. Dani instructed her to close her eyes and focus on what she felt. Dani wasn't sure of her next move, but she knew this was almost too good to be true and she couldn't mess up.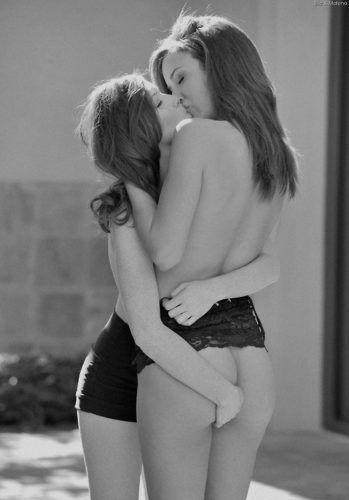 She first kissed her sister on the lips. They hadn't done this since the first time Dani exposed herself to Andrea and they both longed for it. She then forced her wet fingers into Andrea's eager mouth. She sucked and swirled her tongue around them.
– Dani?
– What, Andrea?
– Do whatever you want. I want to learn everything.
It was music to Dani's ears as she bent down and once again pressed her lips to her sister's. She moved them around and parted them to search for her sister's tongue.
– Stick your tongue all the way out of your mouth.
Andrea did so and Dani met it with her own tongue. She held it there for a second and then wiggled the tip of her tongue around Andrea's. She then opened her mouth to take Andrea's tongue into it. She sucked hard and Andrea moaned, excited by this new experience. Dani gathered more of her pussy juice as she continued making out with her sister. She smeared it all over Andrea's puffy nipples and then rubbed it in.
Dani released her mouth from Andrea's and moved it to the large nipples before her. She flicked one with her tongue and then took it into her mouth where she sucked and bit. Andrea began screaming. This new sensation was driving her crazy. She felt like her nipples were attached to her pussy; she felt just as good down there.
Suddenly Andrea's legs started shaking and she had an orgasm. She didn't squirt like she usually does, but she didn't think she would since Dani was only stimulating her nipples. She panted hard as Dani climbed back into her chair.
– Your turn.
Andrea, so turned on by the pleasure she just felt from her sister, lunged at Dani and passionately kissed her on the mouth. She had new confidence about her actions and she rubbed her hand down Dani's body and then met her wet, soft pussy.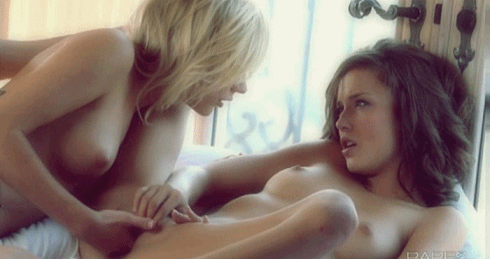 – I like the taste!
– Take more, Andrea. Taste your sister's pussy.
Dani moaned as Andrea reached down and gathered juice onto her small fingers. She brought them up to her mouth and touched her clit as she sucked.
– Is it good? How does my pussy taste? Andrea glanced up at Dani. She was biting her lip, amazed at how sexy the situation was. Andrea pulled her fingers out of her mouth and once again coated them in Dani's pussy juice. She forced her fingers into Dani's mouth. She felt so aroused as her sister's tongue worked its way around all of her fingers.
– I want more, Dani.
– Take more, sissy. It feels so good and you look really sexy right now.
Without warning, Andrea got on her knees and lifted up her sister's legs in one swift motion. Her face was inches away from the one thing she wanted most. She moved her face to Dani's pussy so her nose was touching it. Dani was panting and getting wetter by the second. Andrea stuck out her tongue and licked from her sister's tiny hole up to the large clit, where she sucked and nibbled.
Dani began screaming and within seconds, she was squirting. She didn't have time to warn Andrea and her face ended up coated with her twin sister's cum. Dani quickly stood up, knocking Andrea to the floor.
Dani, still shaking from her orgasm, pushed Andrea so she was laying on the floor. She moved her face close to her pussy and performed the same treatment, except she was able to reach her sister's asshole with her tongue. This drove Andrea wild. She screamed and kicked and squirted on Dani's face and in her mouth.
Once Andrea finished, Dani gave her a final lick and slithered up next to her sister. She cradled Andrea and placed her head on her chest. Both girls sat and relaxed and neither of them could wait for night to come.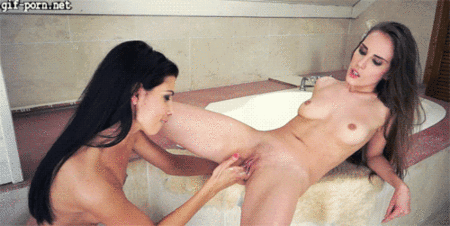 You'll also like these stories: